Web2.0
Stupeflix
Speaker Slides & Video: Web 2.0 Expo San Francisco 2011 - Co-produced by O'Reilly Media & UBM TechWeb, March 28 - 31, 2011, San Francisco. In evolutionary theory, punctuated equilibrium refers to a period of significant environmental stress resulting in rapid, dramatic changes among species.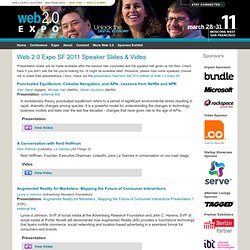 It is a powerful model for understanding the changes in technology, business models and data over the last few decades - changes that have given rise to the age of APIs. Reid Hoffman, Founder, Executive Chairman, LinkedIn, joins Liz Gannes in conversation on our main stage. Lynne d Johnson, SVP of social media at the Advertising Research Foundation and John C. Pour Windows Phone 7, PC et Xbox 360. HootSuite - Social Media Dashboard for Teams using Twitter, Facebook, Linkedin. Pipl - People Search. Yahoo, Others Eyeing Bit.ly. Yahoo and some of the other web giants have been kicking the tires on New York-based URL shortening service Bit.ly, according to a few people in the know.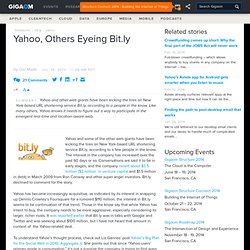 The interest in the company has increased over the past 60 days or so. Conversations are said it to be in early stages, and the company raised about $3.5 million ($2 million in venture capital and $1.5 million in debt) in March 2009 from Ron Conway and other super angel investors. Bit.ly declined to comment for the story.
Yahoo has become increasingly acquisitive, as indicated by its interest in snapping up Dennis Crowley's Foursquare for a rumored $110 million; the interest in Bit.ly seems to be continuation of that trend. EnglEasy. Stupeflix - Video production made easy. Rhomobile - the open mobile framework. You can either spend a tremendous amount of time and money creating and managing different versions of each application — or you can get Motorola Solutions' RhoMobile Suite, a powerful set of development tools that help businesses mobilize their workers, no matter what technology is in their hands.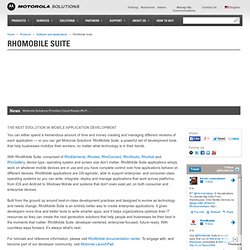 With RhoMobile Suite, comprised of RhoElements, Rhodes, RhoConnect, RhoStudio, RhoHub and RhoGallery, device type, operating system and screen size don't matter. RhoMobile Suite applications simply work on whatever mobile devices are in use and you have complete control over how applications behave on different devices. RhoMobile applications are OS-agnostic, able to support enterprise- and consumer-class operating systems so you can write, integrate, deploy and manage applications that work across platforms, from iOS and Android to Windows Mobile and systems that don't even exist yet, on both consumer and enterprise devices. The Social Internet Survey Software & Online Survey Tool. TC50 DemoPit Startup AskYourTargetMarket Simplifies Market Resea.
TC50 DemoPit company AskYourTargetMarket is hoping to simplify market research for businesses and solutions by offering a comprehensive platform where businesses can both create and deploy surveys.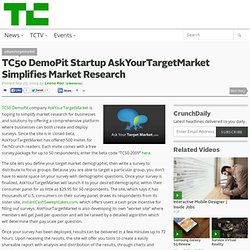 Since the site is in closed beta, AskYourTargetMarket has offered 500 invites for TechCrunch readers. Each invite comes with a free survey package for up to 50 respondents; enter the beta code "TC50-2009″ here. The site lets you define your target market demographic, then write a survey to distribute to focus groups. Because you are able to target a particular group, you don't have to waste space on your survey with demographic questions. Once your survey is finalized, AskYourTargetMarket will launch it to your desired demographic within their consumer panel for as little as $29.95 for 50 respondents.
---