Start Ups
Seed funded startups ripe for shakeout, VCs say
Individual seed investors have been an increasingly powerful force in Silicon Valley's startup funding landscape. But in an onstage conversation at GigaOM's Mobilize conference in San Francisco Tuesday, two venture capital heavyweights said that while the VC industry has been shaken up by the increase of seed backers, the current environment will likely lead to a fall. "There will be a day of reckoning, certainly. There are way too many companies getting seed funding," said Maha Ibrahim, a partner at Canaan Partners.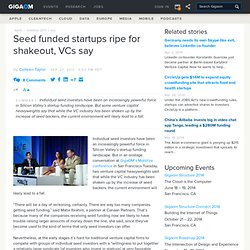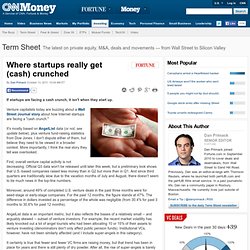 If startups are facing a cash crunch, it isn't when they start up. Venture capitalists today are buzzing about a Wall Street Journal story about how Internet startups are facing a "cash crunch." It's mostly based on AngelList data (or not, see update below), plus venture fund-raising statistics from Dow Jones. I don't dispute either of them, but believe they need to be viewed in a broader context. More importantly, I think the real story they tell was overlooked. First, overall venture capital activity is not decreasing.
Where startups really get (cash) crunched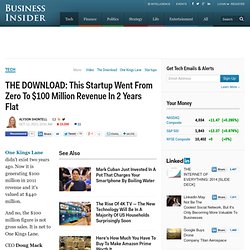 Interview with One Kings Lane CEO Doug Mack
One Kings Lane didn't exist two years ago. Now it is generating $100 million in 2011 revenue and it's valued at $440 million. And no, the $100 million figure is not gross sales.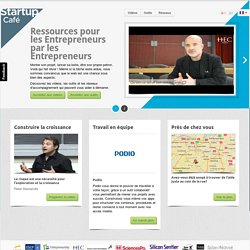 Ressources pour les Entrepreneurs par les Entrepreneurs Monter son projet, lancer sa boite, être son propre patron. Voilà qui fait rêver ! Même si la tâche reste ardue, nous sommes convaincus que le web est une chance sous bien des aspects. Découvrez les videos, les outils et les réseaux d'accompagnement qui peuvent vous aider à démarrer. Accédez aux vidéos Accédez aux outils
Fred Wilson: "Marketing Is For Companies Who Have Sucky Products"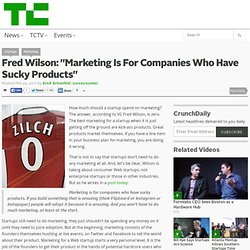 How much should a startup spend on marketing? The answer, according to VC Fred Wilson, is zero. The best marketing for a startup when it is just getting off the ground are kick-ass products.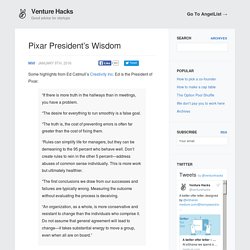 Nivi · February 11th, 2013 AngelList "corporate policy" is that team members should ask forgiveness, not permission. We would rather have someone do something wrong than ask permission to do it.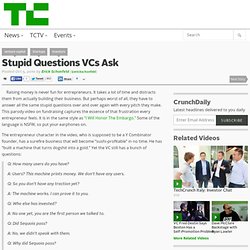 Raising money is never fun for entrepreneurs. It takes a lot of time and distracts them from actually building their business. But perhaps worst of all, they have to answer all the same stupid questions over and over again with every pitch they make. This parody video on fundraising captures the essence of that frustration every entrepreneur feels. It is in the same style as "I Will Honor The Embargo."
Stupid Questions VCs Ask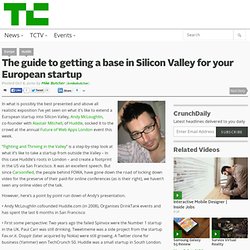 The guide to getting a base in Silicon Valley for your European startup
In what is possibly the best presented and above all realistic exposition I've yet seen on what it's like to extend a European startup into Silicon Valley, Andy McLoughlin, co-founder with Alastair Mitchell, of Huddle, socked it to the crowd at the annual Future of Web Apps London event this week. "Fighting and Thriving in the Valley" is a step-by-step look at what it's like to take a startup from outside the Valley – in this case Huddle's roots in London – and create a footprint in the US via San Francisco. It was an excellent speech. But since Carsonified, the people behind FOWA, have gone down the road of locking down video for the preserve of their paid-for online conferences (as is their right), we haven't seen any online video of the talk.
Quand Loic LeMeur vient en France il passe son temps à nous expliquer qu'il faut arrêter de faire des « me too », que c'est pas en copiant les américains qu'on créera des nouvelles success stories. C'est vrai qu'il y en a pas mal en ce moment, mais que doit en penser? Est ce que ça marche?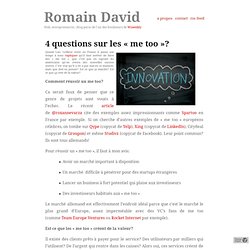 4 questions sur les « me too »?
Metrics for social startups - swombat.com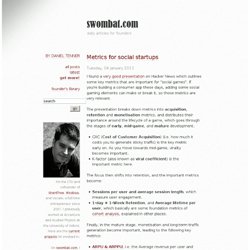 I found a very good presentation on Hacker News which outlines some key metrics that are important for "social games". If you're building a consumer app these days, adding some social gaming elements can make or break it, so those metrics are very relevant. The presentation breaks down metrics into acquisition , retention and monetisation metrics, and distributes their importance around the lifecycle of a game, which goes through the stages of early , mid-game , and mature development. CAC ( Cost of Customer Acquisition ) (i.e. how much it costs you to generate sticky traffic) is the key metric early on. As you move towards mid-game, virality becomes important.
It is the first day of the year 2012 (despite what WordPress says… I think it is on UTC and I don't feel like wasting my time going through their shitty UI to change it). I am not a fan of making "New Year's Resolutions" as I think having them once a year gives people an excuse to wait to make important life goals and does not provide enough accountability on a consistent basis. For me, taking time each month to reflect seems to be a more effective timeframe. Jack Dorsey tweeted today that his resolution was (and always is) to Simplify and that really resonated with me.
StartupHoodlum
Startup School
Customer Development
Writing a Business Plan At Sequoia we like business plans that present a lot of information in as few words as possible. The following business plan format, within 15–20 slides, is all that's needed... read We like business plans that present a lot of information in as few words as possible. The following business plan format, within 15–20 slides, is all that's needed.
17 Mistakes Start-ups Make John Osher has developed hundreds of consumer products, including an electric toothbrush that became America's best-selling toothbrush in just 15 months. He also started several successful companies, including Cap Toys. He built sales to $125 million per year and then sold the company to Hasbro Inc. in 1997. But his most lasting contribution to the business world just may be a list of screw-ups he jotted on the back of a piece of paper. "After I sold my business to Hasbro, I decided I'd make a list of everything I'd done wrong and [had] seen other entrepreneurs do wrong," explains the 57-year-old Jupiter, , serial entrepreneur.
17 Mistakes Start-Ups Make
October 2006 In the Q & A period after a recent talk, someone asked what made startups fail. After standing there gaping for a few seconds I realized this was kind of a trick question. It's equivalent to asking how to make a startup succeed—if you avoid every cause of failure, you succeed—and that's too big a question to answer on the fly. Afterwards I realized it could be helpful to look at the problem from this direction. If you have a list of all the things you shouldn't do, you can turn that into a recipe for succeeding just by negating.
February 2009 One of the things I always tell startups is a principle I learned from Paul Buchheit: it's better to make a few people really happy than to make a lot of people semi-happy. I was saying recently to a reporter that if I could only tell startups 10 things, this would be one of them. Then I thought: what would the other 9 be? When I made the list there turned out to be 13:
Startups Or Behemoths: Which Are We Going To Bet On?
Hey Startups: Don't Launch