Star.wars
Springfield Punx
StarWars.com
Science fiction is a genre of fiction with imaginative but more or less plausible content such as settings in the future , futuristic science and technology , space travel , parallel universes , aliens , and paranormal abilities. Exploring the consequences of scientific innovations is one purpose of science fiction, making it a "literature of ideas". [ 1 ] Science fiction has been used by authors as a device to discuss philosophical ideas such as identity, desire, morality and social structure. Science fiction is largely based on writing rationally about alternative possible worlds or futures. [ 2 ] It is similar to, but differs from fantasy in that, within the context of the story , its imaginary elements are largely possible within scientifically established or scientifically postulated laws of nature (though some elements in a story might still be pure imaginative speculation).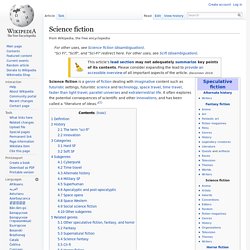 StarWarsShop.com - More Products. More Exclusives.
C-3PO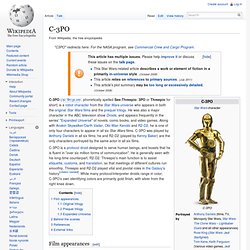 C-3PO ( pron.: / s iː ˈ θ r iː p i . oʊ / , phonetically spelled See-Threepio ; 3PO or Threepio for short) is a robot character from the Star Wars universe who appears in both the original Star Wars films and the prequel trilogy .
R2-D2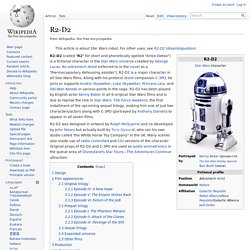 R2-D2 (phonetically spelled Artoo-Detoo , and called " R2 " or " Artoo " for short) is a robot character in the Star Wars universe . An astromech droid (referred to in the novel as a 'thermocapsulary dehousing assister'), R2-D2 is a major character in all six Star Wars films.