Taoism
TaoLongevite
Taoism - Pronunciation Rules
Pinyin to Wade-Giles Table
I Ching (Yi Jing, the Book of Changes) was translated by Dr. James Legge of Oxford University in 1882.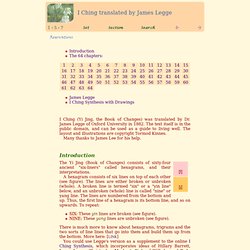 I Ching (Yi Jing, the Book of Changes) in James Legge's translation
28 Lunar Mansions (n, pl) constellations situated along the moon's path as it rotates around the earth each month. They are called "mansions" or "lodges" because they were once understood to be resting places for the moon during its journey. alchemist (n) one who practices alchemy , a Taoist set of procedures and principles meant to prolong human life
Taoism and the Arts of China (Art Institute of Chicago)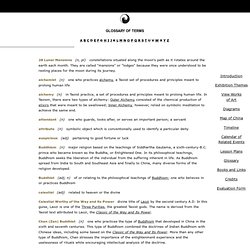 Introduction by Richard Wilhelm Rendered into English by Cary F.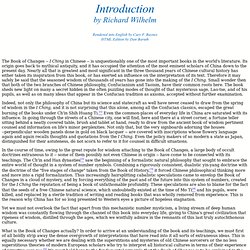 Introduction to the I Ching - By Richard Wilhelm
intro_jung
Comments on the Tao Te Ching
(175+ Translations of Chapter 1) The original text in Wade-Giles Romanization:
Lao Tzu: "Tao Te Ching" (170+ translations of Chapter 1)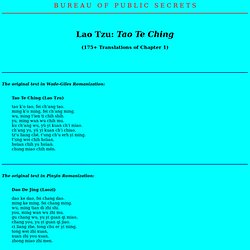 The Tao by Lao-tse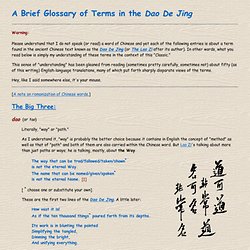 Literally (it is my understanding), "no action." Functionally this concept, which Lao Zi stresses over and again, holds that whatever one does must be so authentically a part of the person as to feel, to seem, and, indeed, to really be, effortless.
A Brief Glossary of Terms in the Dao De Jing
Tao Te Ching by Lao Tzu [Dao De Jing by Lao Zi]
修 xiū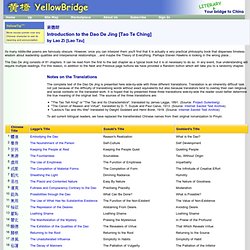 taote_legge
Nan-yung Khu is Granted Instruction by Lao-tzu N an-yung Khu hereupon took with him some rations, and after seven days and seven nights arrived at the abode of Lao-tzu, who said to him, "Are you come from Khû's?" "I am," was the reply.
Taoism - Abstract
Taoism Initiation Page - Online Teachings for Home Study and Practice
Tao-te ching Quotes
iching_wilhelm
Lao-tzu Biography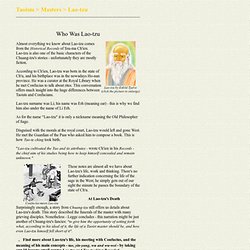 Who Was Lao-tzu Almost everything we know about Lao-tzu comes from the Historical Records of Ssu-ma Ch'ien. Lao-tzu is also one of the basic characters of the Chuang-tzu's stories - unfortunately they are mostly fiction.
I Ching (Yi Jing, the Book of Changes) in James Legge's translation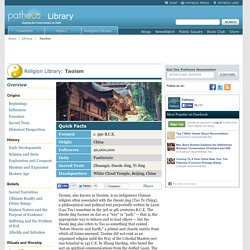 Taoism, also known as Daoism, is an indigenous Chinese religion often associated with the Daode jing (Tao Te Ching), a philosophical and political text purportedly written by Laozi (Lao Tzu) sometime in the 3rd or 4th centuries B.C.E. The Daode jing focuses on dao as a "way" or "path" — that is, the appropriate way to behave and to lead others — but the Daode jing also refers to Tao as something that existed "before Heaven and Earth," a primal and chaotic matrix from which all forms emerged.
Taoism Origins, Taoism History, Taoism Beliefs
Online religious book publisher seeks growth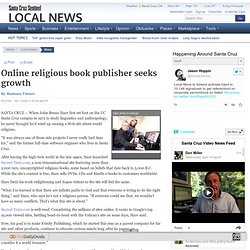 Click photo to enlarge SANTA CRUZ -- When John Bruno Hare first set foot on the UC Santa Cruz campus in 1972 to study linguistics and anthropology, he never thought he'd wind up owning a Web site about world religions.
China WWW Virtual Library - Internet Guide for Chinese Studies (WWW VL/ANU/Heidelberg Univ.): Main Page
Taoism Virtual Library
BBC Radio 4 Programmes - In Our Time, Daoism
Taoism (modernly: Daoism ) is a philosophical and religious tradition that emphasizes living in harmony with the Tao ( modernly romanized as "Dao" ). The term Tao means "way", "path" or "principle", and can also be found in Chinese philosophies and religions other than Taoism. In Taoism, however, Tao denotes something that is both the source and the driving force behind everything that exists.
china_map