The spiritual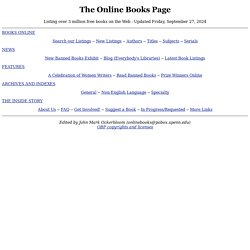 Listing over 1 million free books on the Web - Updated Thursday, January 16, 2014 Search our Listings -- New Listings -- Authors -- Titles -- Subjects -- Serials A public domain metadata gift for our 20th birthday -- Blog (Everybody's Libraries) -- Latest Book Listings A Celebration of Women Writers -- Banned Books Online -- Prize Winners Online General -- Non-English Language -- Specialty
Posted on | April 5, 2014 | No Comments The Moon Appears When the Water i Still – Reflections of the Dhamma by Ian McCrorie. In Dhamma teachings stories, anecdotes and aphorisms, poems are often used.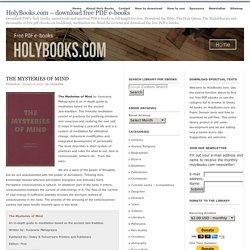 Free Spiritual Books » Perennial wisdom for nothingFree Spiritual Books » Perennial wisdom for nothing
2012 Mayan Calendar Prophecy11:11- Encoded Digital Messages of Awakening12 Around 1440 HZ10 Second 'Tune Up'12 Days of Magic AffirmationsAkashic RecordsAncients, EldersAngelsAnimalsApportArchetypes, SymbolsAscended Masters AscensionAstral ProjectionAstrology IndexAvatarsAudio Classes, Meditations, InitiationsAuraAutomatic ArtAutomatic Writing Balance Partners and MessengersBecoming a Psychic ReaderBecoming a World TeacherBermuda Triangle, Devil's SeaBlack Stone of Mecca Candle WorkCat Headed Beings Cave of FireChanneling From Other RealmsChildren and Metaphysics, Indigo Children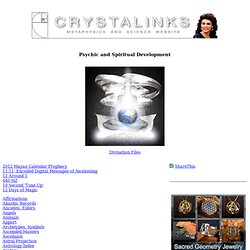 Ancient..History,Magic,Spells,World
Esoteric, Occult, Transcendental
Consciousness expansion as a whole is truly about community, and the spreading of ideas. It is our goal that Esoteric Online could be the type platform where these aspects are expressed freely. Lets bring together the best of what we all have to offer, and establish a foothold for information and collaboration in Sacred Sciences.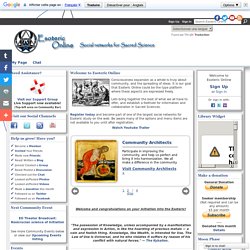 Spirituality and Conciousness