SocialMedia
10 Free SEO Tools We Use Every Day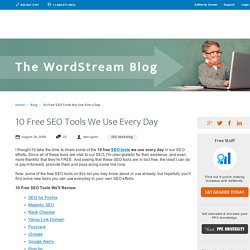 I thought I'd take the time to share some of the 10 free SEO tools we use every day in our SEO efforts . Since all of these tools are vital to our SEO, I'm uber-grateful for their existence, and even more thankful that they're FREE. And seeing that these SEO tools are in fact free, the least I can do is pay-it-forward, promote them and pass along some link love.
"OK, so now that you have a website for your business, it's time to get active on social networks. Go ahead and create accounts for yourself on Facebook, Twitter, Google+ and LinkedIn, and don't forget that Facebook, Google+ and LinkedIn also have special pages for businesses that you need to set up and be active on. Next, create profiles on YouTube, Flickr, SlideShare, Quora, Foursquare and Yelp, MySpace, Bebo, Orkut, Viadeo, Vine, Pinterest and Instagram, and spend time each and every day engaging followers on every network. Oh, and keep an eye out for new social networks so that you can join up early and get a head start on your competition."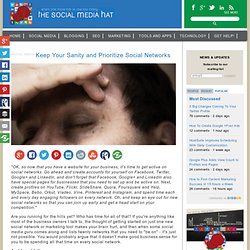 Keep Your Sanity and Prioritize Social Networks
Monitoring Brand Awareness Using Google Alerts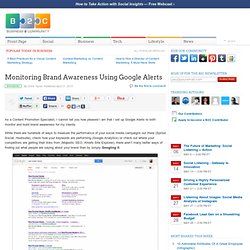 As a Content Promotion Specialist, I cannot tell you how pleased I am that I set up Google Alerts to both monitor and build brand awareness for my clients. While there are hundreds of ways to measure the performance of your social media campaigns out there (Sprout Social, Hootsuite), check how your keywords are performing (Google Analytics) or check out where your competitors are getting their links from (Majestic SEO, Ahrefs Site Explorer), there aren't many better ways of finding out what people are saying about your brand than by simply Googling it. We've all Googled ourselves before. Right? However, doing this on a day-by-day basis can be an arduous task – and sometimes not very fulfilling, should you not appear in any fresh (last 24-48 hour) results. This is where Google Alerts can help you… with a little bit of setting-up first.
Be Rewarded For Being Social. Inspire WiFi 'kick starts' Social Media with Empire Avenue 8+ Million Social Reach across multiple networks, 40% increase in Twitter Followers! Learn More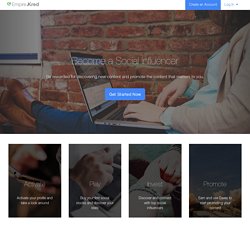 inShare966 Marketers, educators, parents, it seems that almost anyone in the Generation X or Boomer demographic is scratching their heads trying to figure out Generation Y aka the Millennial. After all, it's the first generation to seemingly possess digital prowess as part of their DNA. And, it's the first generation to receive both a birth certificate and a social profile or presence upon delivery into this world.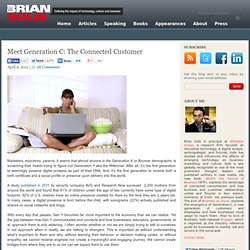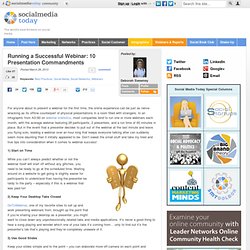 Running a Successful Webinar: 10 Presentation Commandments
For anyone about to present a webinar for the first time, the online experience can be just as nerve-wracking as its offline counterpart of physical presentations in a room filled with strangers. In an infographic from AD:60 on webinar statistics, most companies tend to run one or more webinars each month, with the average webinar featuring 28 participants, 2 presenters, and a run time of 65 minutes in place. But in the event that a presenter decides to pull out of the webinar at the last minute and leave you flying solo, leading a webinar over an hour long that keeps everyone talking after can suddenly seem more daunting than it initially appeared to be. Don't sweat the small stuff and take my tried and true tips into consideration when it comes to webinar success! 1) Start on Time While you can't always predict whether or not the webinar itself will start off without any glitches, you need to be ready to go at the scheduled time.
Waarom niemand je retweet: 3 basisregels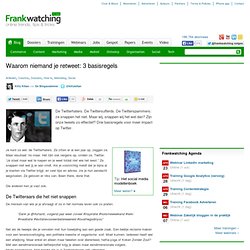 De Twitterhaters. De Twittersufferds. De Twitterspammers: ze snappen het niet.
Een zoekwoord analyse vormt de basis van een succesvolle - zoekmachine optimalisatie - campagne. De vraag die je jezelf hierbij moet stellen: Wat is mijn doelgroep en waar zijn ze naar op zoek? Mensen gebruiken Google omdat zij op zoek zijn naar een antwoord.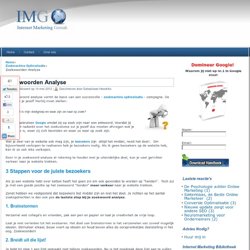 Zoekwoorden Analyse
6 techniques to improve your SEO social indicators
What do social signals have to do with your SEO campaign? Maybe more than you think. And the divide between SEO and social media seems to shrink every day.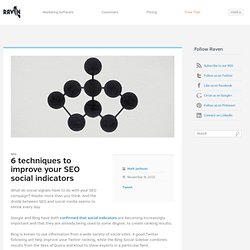 Hieronder vindt u de vertaling van de officiele Gids voor Zoekmachine Optimalisatie, zoals die grotendeels ook bij Google intern wordt gebruikt en deze gids omvat de basisbeginselen van Zoekmachine Optimalisatie Deze handleiding zal geen geheimen prijsgeven over hoe u automatisch hoger in de Resultaten Pagina's terecht komt, het is meer de basis waarmee u rekening moet houden als u een site opbouwt en dit zo optimaal mogelijk wilt doen; voor de zoekmachines, maar vooral ook voor de bezoekers. En uiteindelijk zal een optimale website toch tot de hoogste posities in de SERPs (Search Engine Result Pages) leiden. Veel van de gegeven tips zijn bij velen van u al bekend maar het is altijd handig om ze eens op een rijtje te hebben en, niet onbelangrijk, rechtstreeks vanuit Google. Google wijst er nadrukkelijk op dat u uw optimalisatie inspanningen toch vooral op zaken moet richten die voor uw bezoekers van belang zijn.
ZoekMachine Optimalisatie Handleiding SEO Gids Google SEO Guide, MarketBizz, Diessen 5087 BB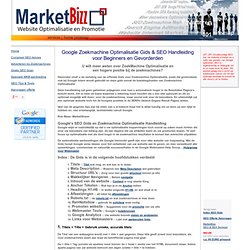 Anno 2012 staan social media en mobile in het centrum van belangstelling. Maar laten we vooral die money maker SEO niet vergeten voor onze websites. Zoekmachines zijn nog steeds een belangrijk medium om traffic en conversies te genereren. Wil je weten hoe je site presteert op SEO gebied? Doe dan de 50 vragen doe-het-zelf SEO review!
De doe-het-zelf SEO review [checklist]
Share, bookmark, email "Using Social Media to Influence Your Brand Image" - AddToAny
Guided tour
Why Personal Branding Is Crucial for Your Small Business Success
What the HELL is social media - in 2 minutes
Followcompany Widget
How Google Is Forever Changing The Webinar
10 ways to encourage customer reviews online
Customer reviews are a hugely important in ecommerce for improving your conversion rate, and can lead to an uplift of 18% in sales. Research has shown that 61% of customers read online reviews before making a purchase decision and 63% of customers are more likely to make a purchase from a site that has user reviews. Annoyingly though, customers generally can't be bothered to leave their feedback. As such you need to find ways of encouraging your customers to leave their feedback without coming across as desperate. It's a topic we've previously touched on in posts looking at how to organise ecommerce product reviews and how to optimise reviews for higher conversion rates.
Handig: alle trends 2013 voor social media, digital marketing, internet en mobile in 1 artikel
Gelukkig 2013! Inmiddels is het jaar 2012 echt voorbij en is 2013 echt aangebroken. In dit eerste artikel van 2013 op Marketingfacts verzamel ik (net als vorig jaar) voor de mensen die nog niet trendmoe zijn de diverse artikelen met trends voor 2013, zodat je ze makkelijk kunt teruglezen en de voor jou interessante trends eruit kunt kiezen. Een klein aantal bekende artikelen en heel veel nieuwe trends. Ik zet veel artikelen, maar ook video's op een rijtje, gerubriceerd naar trends voor social media, mobiel, digital marketing, internet en consumententrends. Bij elkaar zijn het meer dan 165 elkaar al niet overlappende trends.
6 PR and social media predictions for 2013
TextExpander Download Thanks
The Power Of Exponentials: The Social Media Effect In Retailing
55 Ways to Use LinkedIn to Grow Your Business
Social media in 2012: de 10 meest opmerkelijke feiten
Vakantiewoningen, privé-kamers, verhuur per nacht - Accommodaties op Airbnb
Wat wordt er over jouw merk gezegd in de sociale media van Nederland?
Online Reputatie Management - Tribal Internet Marketing
Hoe schrijf je een Social Mediabeleid?
Why 2012 is going to be "The Year of SoLoMo"
Deel 2 van het rapport: 'De Zwarte Kant van Sociale media'
5 areas of social media that are about to get seriously exciting
Handig: Alle 2012 trends voor mobiel, social media, marketing, adverteren en CRM
Grondige vernieuwing bij Twitter - nieuws
Broadcast Yourself
"Let it snow" op Google
Wat moet je doen als Twitter voor jou exit is en je al je tweets wilt verwijderen
Peter's Badges :: Century Club