Pearltrees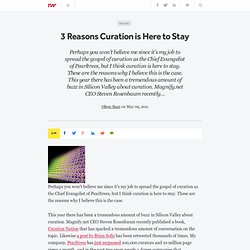 Perhaps you won't believe me since it's my job to spread the gospel of curation as the Chief Evangelist of Pearltrees, but I think curation is here to stay. These are the reasons why I believe this is the case. This year there has been a tremendous amount of buzz in Silicon Valley about curation.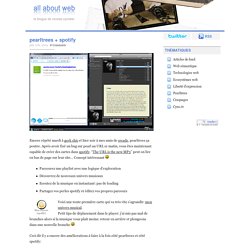 Encore répété mardi à geek chic et hier soir à mes amis de creads , pearltrees ça poutre. Après avoir fixé un bug sur pearl an URL ce matin, vous êtes maintenant capable de créer des cartes dans spotify . " The URL is the new MP3 " peut on lire en bas de page sur leur site… Concept intéressant Parcourez une playlist avec une logique d'exploration Découvrez de nouveaux univers musicaux Ecoutez de la musique en instantané: pas de loading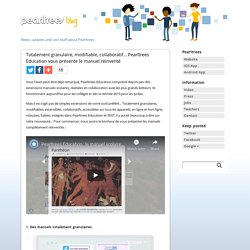 Maintenant, vous pouvez tout organiser dans Pearltrees : documents, photos, musiques, films… Votre bibliothèque devient universelle et vous pouvez retrouver et partager tous vos contenus, où que vous soyez. Organisez TOUS vos fichiers Pour télécharger un fichier dans votre bibliothèque, cliquez sur le bouton "+" pour ajouter des perles et sélectionnez "fichiers".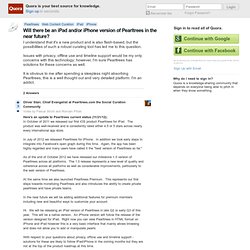 Will there be an iPad and/or iPhone version of Pearltrees in the near future
Here's an update to Pearltrees current status (11/21/12):In October of 2011 we released our first iOS product Pearltrees for iPad. The product was well-received and is consistently rated either 4.5 or 5 stars across nearly every international app store. In July of 2012 we released Pearltrees for iPhone. In addition we took early steps to integrate into Facebook's open graph during this time. Again, the app has been highly regarded and many users have called it the "best version of Pearltrees so far."
Qq articles sur Pearltrees