Social Media
The crowd is bypassing traditional companies by sharing goods, services, space, and money with each other in the Sharing Economy. People are being empowered to build their own goods in the Maker Movement by crowd funding, tapping global marketplaces, and preparing to accelerate this with 3D printing. You see, the crowd, is starting to perform like a company: self-financing, self-designing products, self-manufacturing, and self-selling to each other. So, what does this growing trend mean for traditional businesses?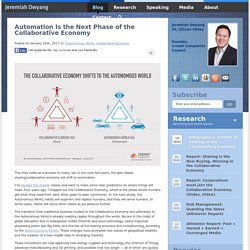 Internet Marketing Strategy: Conversation Marketing
JESS3 Blog
A days-long malware attack this month targeting servers used by search giant Yahoo underscores the unique security challenges that continue to face companies transitioning into the digital marketing arena. The malware, which exploited Java vulnerabilities in ads served on Yahoo sites, affected as many as 27,000 Yahoo users an hour, according to security company Fox-IT. Specifically, the "malvertisements" redirected unsuspecting Yahoo users to sites hosting the Magnitude exploit kit, which is designed to install a variety of trojans and click-fraud malware onto computers. While malvertising remains a largely silent threat (at least until a major company like Yahoo gets hit), the problem is not something to ignore.
SmartBlog on Social Media - Best practices, case studies and insights on social media marketing for business