Social Media
Slideshare: Embed or Download this ReportThe Collaborative Economy Movement Changes Business This report offers critical insight for big brands who are grappling with the emergence of the Collaborative Economy, and for the startups that are driving this growth. For those new to the term, the collaborative economy is a powerful, if nascent, movement in which people are getting the things from each other, it's a combination of trends like the sharing economy, maker movement, and co-innovation. That means that people go to a site like LendingClub to get funding for their new project, rather than a traditional bank. Or, they may go to a site like Etsy or Shapeways to get custom made goods, or go to a site like eBay to buy pre-owned goods, instead of buying new products from retailers.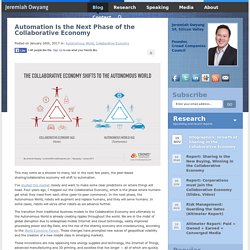 Internet Marketing Strategy: Conversation Marketing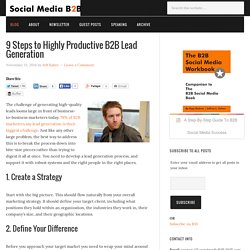 Jeffrey K. Rohrs is the Vice President of Marketing Insights at ExactTarget, a salesforce.com company, and the author of the new book, Audience: Marketing in the Age of Subscribers, Fans & Followers. I had the chance to talk to him about the importance of audience development in B2B marketing and how this idea needs to be considered as a crucial part of achieving success across social media, email and more. What's the premise of your book Audience? Lots of people say every company is a publisher. Every company is a broadcaster.
JESS3 Blog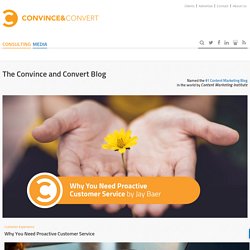 Why Smart Marketing Is About Help, Not Hype The difference between helping and selling is just two letters. But those two letters are critically important to your company's success. You're not competing for attention only against other, similar products. You're competing for attention against everything.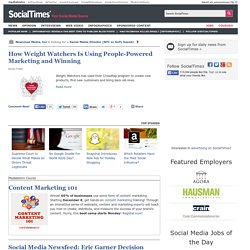 Engagement Metrics Replace Pageviews, Uniques Christie Barakat Visitors who engage with content for three minutes return twice as often as those who read for one minute.
We know two things about millennials: They will soon have record-breaking purchasing power, and they spend tons of time with content created by their peers, otherwise known as UGC (user-generated content). What we didn't know was how much time they spend with UGC and how they feel about it. That is, until now. In January, Ipsos MediaCT, Crowdtap and the Social Media Advertising Consortium partnered to survey 839 millennial (18 to 36 years old) men and women.
SmartBlog on Social Media - Best practices, case studies and insights on social media marketing for business