Social Media
Apps for Business | Official Website. PR Meets Marketing. Social Media in China. Social Media Marketing. Products « Social Media Monitoring and Engagement – Radian6. Trends. Social Media Monitoring Tools: 26 Free Online Reputation Tools. Asia Digital Map. China IWOM Blog- Making Sense of the Buzz.
Mogujie.com launched a new online product, " Free Group Purchase ", at 5 p.m. on the 1st of March, encouraging users to initiate a group purchase on any product they want.
This "C2B" group purchase would be achievedas long as they round up enough participants. So far, more than 15,000 group purchases have been started, 100 of which have been successful. Social platform meishixing.com has at last launched a web version. For what is essentially a Pinterest clone, this web version features organizing and sharing features for foodies to share photos of all their favorite eats.
You're also able to search for the hottest content (or shoulf that be filling?) BlogPulse. Social Media Metrics Superlist: Measurement, ROI, & Key Statistics Resources. Are you using content marketing as part of your digital strategy to grow your business?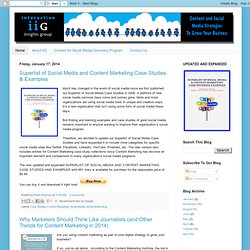 If so, you're not alone. According to the Content Marketing Institute, the lion's share of marketers (some 92%) report using content marketing. In the fast moving world of digital strategy, things are always changing. What should you expect in 2014 to change in the world of content marketing? Home. Internet Marketing News | Marketing Pilgrim.
Social media strategy consulting,Social media tools,Social media marketing solutions. At Sprinklr we don't have clients, we have partners.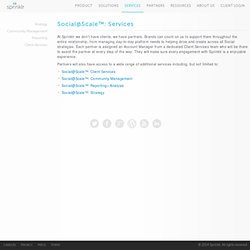 Brands can count on us to support them throughout the entire relationship, from managing day-to-day platform needs to helping drive and create across all Social strategies. Each partner is assigned an Account Manager from a dedicated Client Services team who will be there to assist the partner at every step of the way. They will make sure every engagement with Sprinklr is a enjoyable experience. Social CRM (SCRM) Toolkit: List of Social Media Management Systems | Gauravonomics Blog For Marketers, Entrepreneurs and Activists. Musicmetric – professional music analytics. Walter Adamson. International - Social Media Academy. Being Peter Kim. List of Social Media Management Systems (SMMS) Pain: Social Media Teams Are Challenged To Respond To the Distributed Conversations I'm starting to get a few briefings and requests from strategists LaSandra Brill, about new technologies that enable social marketers to quickly manage, maintain, and conduct reporting on multiple channels.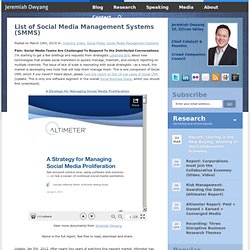 The issue of lack of scale is resonating with social strategists –as a result, the market is developing new tools that will help them manage them. This is one component of Social CRM, which if you haven't heard about, please read the report on the 18 use cases of Social CRM. (Update: This is only one software segment in the overall Social Business Stack, which you should first understand) Above is the full report, feel free to read, download and share.
Update: Jan 5th, 2012. Jeffbullas. I sent an invite to a past colleague of mine to be a friend on Facebook just recently and he sent me back an interesting email, which in essence said. " I only have time for one social media channel (it happened to be LinkedIn), so don't be offended if I politely refuse, but if you want to communicate through LinkedIn, I am more than happy to" This was both refreshingly honest and revealing about the social media "avalanche" that invites us to participate and sweeps past us every day.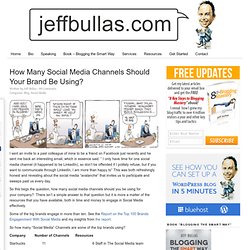 So this begs the question, how many social media channels should you be using for your company? There isn't a simple answer to that question but it is more a matter of the resources that you have available, both in time and money to engage in Social Media effectively. Some of the big brands engage in more than ten. See the Report on the Top 100 Brands Engagenment With Social Media and my insights from the report.
Mashup Roundup. Posted by Stephanie Liu, YouTube APIs and Tools TeamWe've seen some cool implementations in the past few weeks, and wanted to share some of them with you.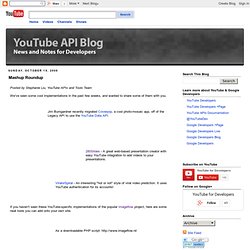 Jim Bumgardner recently migrated Coverpop, a cool photo-mosaic app, off of the Legacy API to use the YouTube Data API. 280Slides - A great web-based presentation creator with easy YouTube integration to add videos to your presentations. ViralorSpiral - An interesting "hot or not" style of viral video prediction. Social Media Mashup Tools. A few interesting tools I've been made aware of recently that online marketers could use for making their social media more interesting or different include the following tools to add text to images or video: BubblePLY – Enables you to add narrative bubbles to video.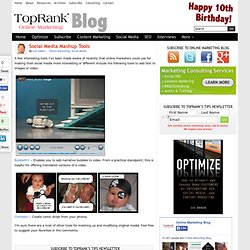 From a practical standpoint, this is helpful for offering translated versions of a video. Comeeko – Create comic strips from your photos. I'm sure there are a host of other tools for mashing up and modifying original media. _communistparty. Kpi. Early efforts in social media marketing have created a tremendous amount of buzz and interest, but surprisingly few case studies focus on monetization.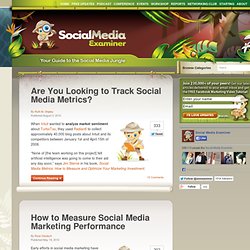 A recent study by Ketchum and Nielsen shows the number-one activity of social media users (online or offline) is reading blogs – even above TV! So it's clear that social media is here to stay, and accountable programs must be created to deliver performance and ROI. Here are 3 steps to help you get started: #1: Define Key Performance Indicators (KPIs) and Measure Against Them. How Are You Measuring Your Community? It feels like I've written this a lot over the past few weeks, but if you weren't tracking and measuring social media and your community efforts in 2009 – you need to get on that.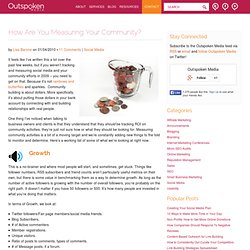 Because it's not rainbows and butterflies and sparkles. Community building is about dollars. More specifically, it's about putting those dollars in your bank account by connecting with and building relationships with real people. One thing I've noticed when talking to business owners and clients is that they understand that they should be tracking ROI on community activities, they're just not sure how or what they should be looking for. Measuring community activities is a bit of a moving target and we're constantly adding new things to the fold to monitor and determine. Social Media Metrics. Activity Metrics PageviewsUnique visitorsMembersPosts (ideas/threads)Number of groups (networks/forums)Comments & TrackbacksTags/Ratings/RankingsTime spent on siteContributorsActive contributorsWord countReferralsCompleted profilesConnections (between members)Ratios: Member to contributor; Posts to comments; Completed profiles to postsPeriods: By day, week, month, yearFrequency: of visits, posts, comments Survey Metrics SatisfactionAffinityQuality and speed of issue resolutionReferral likelihoodRelevance of content, connections ROI Measurements.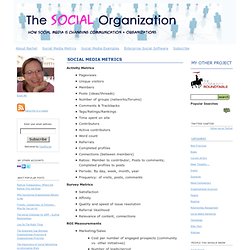 Social Media Measurement KPIs - SocialTech 2010. Jeremiah Owyang , who will be speaking at SocialTech 2010 in March, sent out a Tweet asking if anyone had a "list of Social Media Measurement KPIs. " Among the responses he received, he called this list compiled by Rachel Happe "the best," he found this list compiled by Lisa Barone "interesting as tactical measurements," and also thought that some of the factors compiled by Chris Lake were good, though not clearly organized by "business objective" (I also found this list sort of "kitchen-sink-y"). The length of these lists can be a little daunting and serves to remind me that the key to selecting appropriate KPIs in any endeavor is to keep the number of them manageable.
Sherrilynne Starkie Presentations.
---