Social_entrepreneurship
Social Entrepreneurs 2011: What It Means to Be a B Corporation. To become B Corps, businesses must prove that they care as much about society and the environment as they do about profits.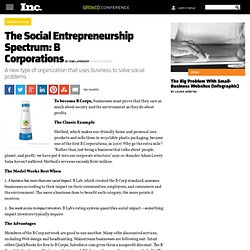 The Classic Example Method, which makes eco-friendly home and personal care products and sells them in recyclable plastic packaging, became one of the first B Corporations, in 2007. Prosper. The Reinvention of Philanthropy: An Interview With The Aspen Institutes' Jonathan Greenblatt. Jonathan Greenblatt currently serves as the Director of The Impact Economy Initiative at the Aspen Institute and is the founder and former president of All for Good (Our Good Works [OGW]), the open source, web-based initiative to engage more Americans in service.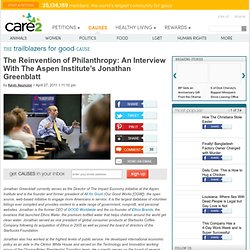 It is the largest database of volunteer listings ever compiled and provides content to a wide range of government, nonprofit, and personal websites. Jonathan is the former CEO of GOOD Worldwide and the co-founder of Ethos Brands, the business that launched Ethos Water, the premium bottled water that helps children around the world get clean water.
Jonathan served as vice president of global consumer products at Starbucks Coffee Company following its acquisition of Ethos in 2005 as well as joined the board of directors of the Starbucks Foundation. Jonathan also has worked at the highest levels of public service. TOMS Adds Sunglassses to Products. After weeks of anticipation, TOMS Shoes has finally unveiled their new One for One product: sunglasses!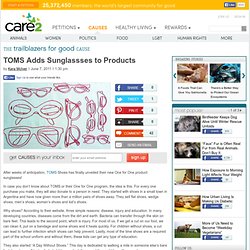 In case you don't know about TOMS or their One for One program, the idea is this. For every one purchase you make, they will also donate to a person in need. They started with shoes in a small town in Argentina and have now given more than a million pairs of shoes away. They sell flat shoes, wedge shoes, men's shoes, women's shoes and kid's shoes.
Why shoes? Jeffrey Hollender Shares Four Reasons He Got Fired from Seventh Generation. Jeffrey Hollender onstage with Gil Friend and Chip Conley shortly after his big announcement (photo courtesy Kate Drane) Jeffrey Hollender took the stage at Sustainable Brands yesterday and he didn't need a powepoint for the message he was going to deliver.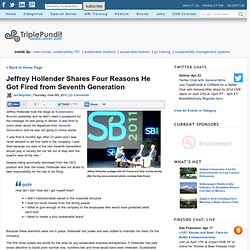 It was time to come clean about his departure from Seventh Generation and he was not going to mince words: "I was fired 6 months ago after 23 years and I was never allowed to set foot back in the company. I was fired because my view of the role Seventh Generation should play in society fell out fell out of step with the board's view of the role." Despite being summarily dismissed from the CEO position and then the board, Hollender was not afraid to take responsibility for his role in his firing. How To Create Infectious Action. How do you connect meaning to social media to create impact?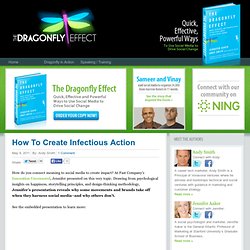 At Fast Company's Innovation Uncensored, Jennifer presented on this very topic. Drawing from psychological insights on happiness, storytelling principles, and design-thinking methodology, Jennifer's presentation reveals why some movements and brands take off when they harness social media–and why others don't. SUSTAINABLE BRANDS '11 | Sustainable Life Media.
Nearly 800 business leaders from 19 countries convened at Sustainable Brands '11 on June 7-10, 2011 for the 5th annual Sustainable Brands Conference.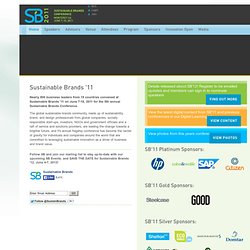 The global sustainable brands community, made up of sustainability, brand, and design professionals from global companies, socially responsible start-ups, investors, NGOs and government officials and a raft of service and solutions providers, are leading the change towards a brighter future, and it's annual flagship conference has become the center of gravity for individuals and companies around the world that are committed to leveraging sustainable innovation as a driver of business and brand value. Follow SB and join our mailing list to stay up-to-date with our upcoming SB Events, and SAVE THE DATE for Sustainable Brands '12, June 4-7, 2012! An Opportunity for Young Progressives to Shine. Calling all progressively-minded youth!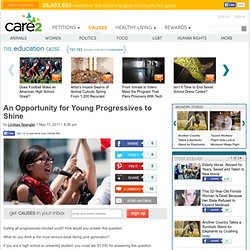 How would you answer this question: What do you think is the most serious issue facing your generation? If you are a high school or university student, you could win $1,000 for answering this question. The progressive news journal, The Nation, is launching its 6th annual student writing contest. Social entrepreneur to feature on The Apprentice: Good or bad for social enterprise? Love them or hate them it's hard to deny that reality TV shows such as Dragons' Den and The Apprentice have generated a renewed interest in business.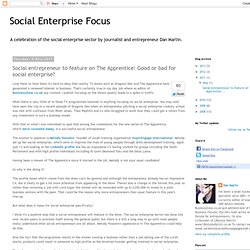 That's certainly true in my day job where as editor of BusinessZone.co.uk any content I publish focusing on the shows usually leads to a spike in traffic. What there is very little of in these TV programmes however is anything focusing on social enterprise. You may well have seen the clip in a recent episode of Dragons' Den when an entrepreneur pitching a social enterprise cookery school was met with confusion from Peter Jones, Theo Paphitis and co who struggled to work how they could get a return from any investment in such a business model. With that in mind I was interested to spot that among the contestants for the new series of The Apprentice, which were revealed today, is a successful social entrepreneur.
How youth hostels have been given a new lifeline by social entrepreneurs. The Youth Hostel Association (YHA) has been providing budget accommodation in England and Wales since before the second world war.
It was set up to offer "young people of limited means better access to the countryside". But keeping up with modern expectations has proved challenging for the association, one of Britain's best known social enterprises. A series of programmes to invest strategically in its hostel network has forced it to close those that it deemed unsustainable. Trailblazers for Good. By Social Entrepreneurs, For Social Entrepreneurs® Welcome to SkollWorldForum.org former Social Edge users!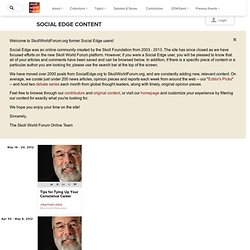 Social Edge was an online community created by the Skoll Foundation from 2003 - 2013. The site has since closed as we have focused efforts on the new Skoll World Forum platform. However, if you were a Social Edge user, you will be pleased to know that all of your articles and comments have been saved and can be browsed below. In addition, if there is a specific piece of content or a particular author you are looking for, please use the search bar at the top of the screen. Sparked (Sparked) Sparked.com - microvolunteering by The Extraordinaries. Takeashine: The First Crowdfunding Platform For Students. In the last three decades, college tuition has grown over 900%.
It is one of the biggest burdens families face today. The inability to pay for higher education is even greater for families from underserved backgrounds. Through the proven effectiveness of crowdfunding, Takeashine's online community platform will help students meet their financial needs for higher education. Governance and Social Development Resource Centre-GSDRC.
Contests. Green business. Social Investment Organization. NextBillion.net | Development through Enterprise. CSI Home. Social Venture Network Europe. Social Enterprise Coalition. Banks and Financial Service Providers Figure Prominently in FTSE4Good Attrition, DJSI Matriculation. September 08, 2005 Banks and Financial Service Providers Figure Prominently in FTSE4Good Attrition, DJSI Matriculation by William Baue Corporate social responsibility plays an important role at banks and financial service companies, which are not only recipients but also increasingly purveyors of socially responsible investment.
SocialFunds.com -- The two leading global socially responsible investment (SRI) index providers, the Dow Jones Sustainability Indexes (DJSI) and FTSE4Good, announced results of their annual reviews yesterday and today, and will reconstitute their indexes over the next weeks. High-profile names stud the DJSI lists, with McDonald's (ticker: MCD), Daimler-Chrysler (DCX), IBM (IBM), Colgate-Palmolive (CL), and Abbott Laboratories (ABT) amongst the 57 additions and Dow (DOW), Alcoa (AA), Fannie Mae (FNM), HJ Heinz (HNZ), Home Depot (HD), Mattel (MAT), and VW (VOW) amongst the 54 deletions.
Global Envision | The Confluence of Global Markets and Poverty Alleviation. Global Social Venture Competition. By Social Entrepreneurs, For Social Entrepreneurs® Ashoka. Principles for Responsible Investment. Social Investment Forum. Entrepreneurship and Education at the Kauffman Foundation.
The William Davidson Institute. Skoll Foundation. Community Development Finance Association-CDFA. ResponsAbility - Social Investment Services AG.
---