Social_entrepreneurship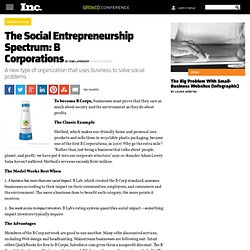 Issie Lapowsky | Inc. magazine From the May 2011 issue of Inc. magazine A new type of organization that uses business to solve social problems
Social Entrepreneurs 2011: What It Means to Be a B Corporation
The Reinvention of Philanthropy: An Interview With The Aspen Institutes' Jonathan Greenblatt
TOMS Adds Sunglassses to Products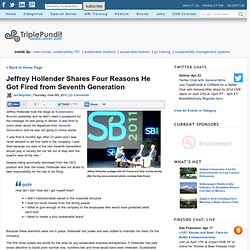 Jeffrey Hollender Shares Four Reasons He Got Fired from Seventh Generation
Jeffrey Hollender onstage with Gil Friend and Chip Conley shortly after his big announcement (photo courtesy Kate Drane) Jeffrey Hollender took the stage at Sustainable Brands yesterday and he didn't need a powepoint for the message he was going to deliver. It was time to come clean about his departure from Seventh Generation and he was not going to mince words: "I was fired 6 months ago after 23 years and I was never allowed to set foot back in the company. I was fired because my view of the role Seventh Generation should play in society fell out fell out of step with the board's view of the role." Despite being summarily dismissed from the CEO position and then the board, Hollender was not afraid to take responsibility for his role in his firing.
How To Create Infectious Action
SUSTAINABLE BRANDS '11 | Sustainable Life Media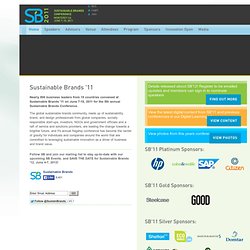 Nearly 800 business leaders from 19 countries convened at Sustainable Brands '11 on June 7-10, 2011 for the 5th annual Sustainable Brands Conference. The global sustainable brands community, made up of sustainability, brand, and design professionals from global companies, socially responsible start-ups, investors, NGOs and government officials and a raft of service and solutions providers, are leading the change towards a brighter future, and it's annual flagship conference has become the center of gravity for individuals and companies around the world that are committed to leveraging sustainable innovation as a driver of business and brand value. Follow SB and join our mailing list to stay up-to-date with our upcoming SB Events, and SAVE THE DATE for Sustainable Brands '12, June 4-7, 2012!
An Opportunity for Young Progressives to Shine
Love them or hate them it's hard to deny that reality TV shows such as Dragons' Den and The Apprentice have generated a renewed interest in business. That's certainly true in my day job where as editor of BusinessZone.co.uk any content I publish focusing on the shows usually leads to a spike in traffic. What there is very little of in these TV programmes however is anything focusing on social enterprise. You may well have seen the clip in a recent episode of Dragons' Den when an entrepreneur pitching a social enterprise cookery school was met with confusion from Peter Jones, Theo Paphitis and co who struggled to work how they could get a return from any investment in such a business model. With that in mind I was interested to spot that among the contestants for the new series of The Apprentice, which were revealed today , is a successful social entrepreneur.
Social entrepreneur to feature on The Apprentice: Good or bad for social enterprise?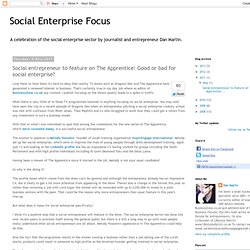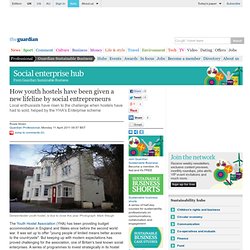 Local enthusiasts have risen to the challenge when hostels have had to sold, helped by the YHA's Enterprise scheme Derwentwater youth hostel, is due to close this year. Photograph: Mark Waugh
How youth hostels have been given a new lifeline by social entrepreneurs
Trailblazers for Good
Sparked (Sparked) on Twitter
Takeashine: The First Crowdfunding Platform For Students
Governance and Social Development Resource Centre-GSDRC
Social Investment Organization
Social Venture Network Europe
Social Enterprise Coalition
September 08, 2005 Banks and Financial Service Providers Figure Prominently in FTSE4Good Attrition, DJSI Matriculation by William Baue Corporate social responsibility plays an important role at banks and financial service companies, which are not only recipients but also increasingly purveyors of socially responsible investment. SocialFunds.com -- The two leading global socially responsible investment (SRI) index providers, the Dow Jones Sustainability Indexes ( DJSI ) and FTSE4Good , announced results of their annual reviews yesterday and today, and will reconstitute their indexes over the next weeks. High-profile names stud the DJSI lists, with McDonald's (ticker: MCD ), Daimler-Chrysler ( DCX ), IBM ( IBM ), Colgate-Palmolive ( CL ), and Abbott Laboratories ( ABT ) amongst the 57 additions and Dow ( DOW ), Alcoa ( AA ), Fannie Mae ( FNM ), HJ Heinz ( HNZ ), Home Depot ( HD ), Mattel ( MAT ), and VW ( VOW ) amongst the 54 deletions.
Banks and Financial Service Providers Figure Prominently in FTSE4Good Attrition, DJSI Matriculation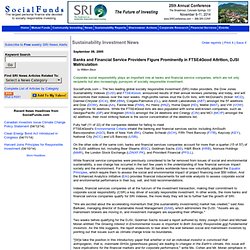 Global Envision | The Confluence of Global Markets and Poverty Alleviation
NESsT
Social Investment Forum
The William Davidson Institute
Community Development Finance Association-CDFA
ResponsAbility - Social Investment Services AG