CO-CREATION
Service-dominant logic and social CRM: A bridge too far?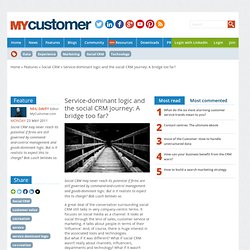 Social CRM may never reach its potential if firms are still governed by command-and-control management and goods-dominant logic. But is it realistic to expect this to change? Bob Lusch believes so. A great deal of the conversation surrounding social CRM still talks in very company-centric terms. It focuses on social media as a channel. It looks at social through the lens of sales, customer service or marketing.
This post is not about introducing new terminology, as its title might suggest. This post is about exploring thoughts and new directions for a marketers approach in an increasingly competitive world. A world in which the Social Customer seems to be calling the shots. A world that is not yet comfortable about sustainable economic recovery and a business world that is interested but somewhat scared to embark upon new ways to interact and build social relationships with their Customers. Value co-creating relationships that is.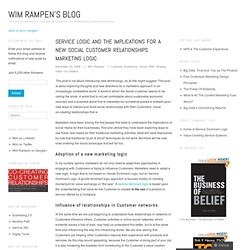 Service Logic and the implications for a new Social Customer Relationships Marketing Logic
Value Co-Creation Canvas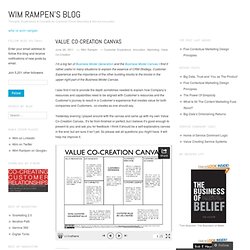 I'm a big fan of Business Model Generation and the Business Model Canvas . I find it rather useful in many situations to explain the essence of CRM Strategy, Customer Experience and the importance of the other building blocks to the blocks in the upper-right part of the Business Model Canvas. I also find it not to provide the depth sometimes needed to explain how Company's resources and capabilities need to be aligned with Customer's resources and the Customer's journey to result in a Customer's experience that creates value for both comp anies and Customers.. co-creates as one should say.
Smart brands are increasingly recruiting their customers for help with a variety of tasks, and recently we came across another interesting example. Earlier this year, Israeli fashion brand Kisim invited visitors to its Facebook page to help design and then name a brand-new leather bag. As part of Kisim's CollecTIK project — "tik" means "bag" in Hebrew — the brand's designers opted to involve customers in the creation process.
Brand's Facebook fans help design and name a new bag