Shop-usa
3D Quad | CurtisYoungblood.com
Sierra RC, FPV Products and Service You Can Trust
GPS module and waypoints for your Multi-rotor / UAV / Drone
Welcome to US based GetFPV.com, your world-wide supplier of quality FPV gear. GetFPV, the best place to get it.™ GetFPV is hiring! -- Check out our currently open positions and consider joining one of the fastest growing FPV retailers and product developers in the USA.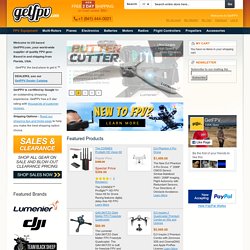 the Home page
NEW ARRIVALS - DronesVision
ZTW GECKO SERIES Airplane/Heli ESCs are competition-grade speed controllers from one of the most tru.. QuickView These receivers are a great option for Hitec 2.4ghz A-FHSS radio system users. They offer excellent ..
Altitude Hobbies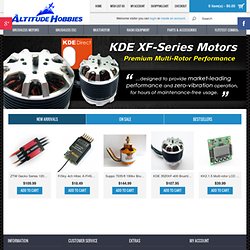 We specialize in radio control flight on electric power with a strong focus on airplanes and multi-rotors. We offer a large selection of quality power systems and all the components you need to build or complete your model right the first time. Our goal is to make you a repeat customer thru excellent customer service and fast shipping, while offering the best of what RC has to offer. We're proud to sell some of the highest quality products made by brands motivated by their passion for RC.
RC Dude Hobbies - Really Cool Radio Control Electric Flight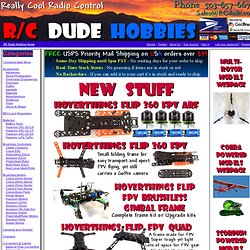 FPV Model:Your Best Hobby Business Partner
USA Walkera Distributor, Align Super Depot, E-flite Specialists, Turbo Ace Exclusive Distributor
DJI Longer Landing Gear F450/F550 (6 legs) sku: V6X Custom longer landing gear for DJI F450/F550 frames, each leg compose of two 1.6mm thick G-10 plate. Specifications: - 1.6mm thick G-10- 2 plate for each leg- Allow 6 inches of clearance- Total weight: 120 grams Included: - 6 legs / screws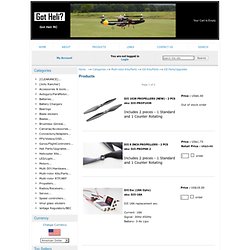 DJI Parts/Upgrades
Digital Products Company...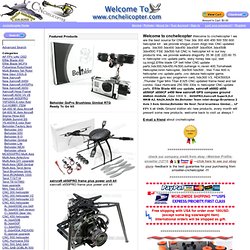 CncHelicoter
Welcome to cnchelicopter Welcome to cnchelicopter ! we are the best source for CNC Trex 3dx 300 400 450 500 550 600 heicopter kit . we provide shogun zoom Align trex CNC updated parts. 3dx300 3dx400 3dx450 3dx450F 3dx450A 3dx450B 3dx450C FSE 3dx500 full CNC rc helicopter kit is our key products line, we provide walkera dragonfly 35 36 22E 22D 60 70 rc helicopter cnc update parts, esky honey bee cp2, belt cp,king2,Eflite blade CP bell hiller CNC update parts,hdx300,hdx450,Hc500,outrange rc,raven 400,Tomahawk Helicopter,ronin helicopter, 3dx500 hdx500 , trex T-rex 600 rc helicopter cnc update parts ,cnc deluxe helicopter game, xmhobbies gyro esc programm card, hdx300 V3, HDX500SA ,Thunder Tiger Mini Titan E325 CNC updated frame head and tail combo.