Anonymisierung Software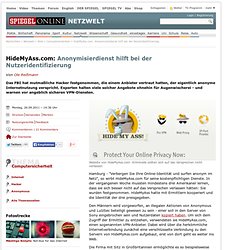 Hamburg - "Verbergen Sie Ihre Online-Identität und surfen anonym im Netz", so wirbt HideMyAss.com für seine kostenpflichtigen Dienste. In der vergangenen Woche mussten mindestens drei Amerikaner lernen, dass sie sich besser nicht auf das Versprechen verlassen hätten: Sie wurden festgenommen. HideMyAss hatte mit Ermittlern kooperiert und die Identität der drei preisgegeben. Den Männern wird vorgeworfen, an illegalen Aktionen von Anonymous und LulzSec beteiligt gewesen zu sein - einer soll in den Server von Sony eingebrochen sein und Nutzerdaten kopiert haben. Um sich dem Zugriff der Ermittler zu entziehen, verwendeten sie HideMyAss.com, einen sogenannten VPN-Anbieter.
HideMyAss.com: Anonymisierdienst hilft bei der Nutzeridentifizierung
Sobald Sie im Internet unterwegs sind, hinterlassen Sie jede Menge Surf-Spuren.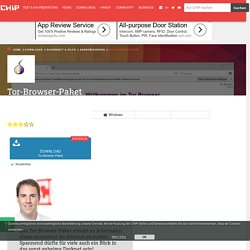 Tor-Browser-Paket
Tor Project: Vidalia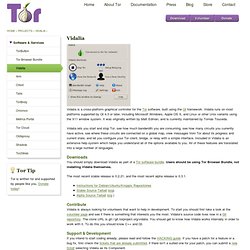 Vidalia is a cross-platform graphical controller for the Tor software, built using the Qt framework. Vidalia runs on most platforms supported by Qt 4.3 or later, including Microsoft Windows, Apple OS X, and Linux or other Unix variants using the X11 window system. It was originally written by Matt Edman, and is currently maintained by Tomás Touceda.
Die besten Tools des Anonymisierers Tor
Anonym surfen
Anonym surfen: Unerkannt unterwegs im Web
Tor, Web-Proxies & Co.: So surfen Sie anonym im Netz
Jeder Nutzer des Internets hinterlässt eine Vielzahl an Spuren, beispielsweise wenn er Suchmaschinen nutzt oder Dateien herunterlädt. Damit diese Daten nicht in die Hände von Kriminellen gelangen, wurde "CyberGhost VPN 5" entwickelt, das in der Basic-Version kostenlos verwendet werden kann. Im Vergleich zur Vorgängerversion bietet das 5er-Release eine überarbeitete Bedienoberfläche, außerdem soll der Dienst allgemein schneller funktionieren und mehr Server bieten.
CyberGhost VPN 2011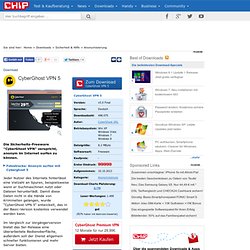 Surf anonymously - Download now and use for free | CyberGhost VPN
Anonymisierung - Downloads