Sculpture
Shawn Smith. Double Dahl (2007) Plywood, ink, acrylic paint 22 x 53 x 16 inches RGB Ibex (2009) Balsa wood, ink, acrylic paint 41 x 28 x 16.5 inches Schrödinger's Hat (2009) Bass wood, ink, gauche, acrylic paint, felt fedora 10 inch diameter x 22 inches Game (2006)Plywood48 x 72 x 48 inches Puff (2011)Balsa wood, bass wood, ink, acrylic paint30 x 28 x 23 inches Anomaly (2011)Bass wood, ink, acrylic paint 48 x 14 x 6 inches.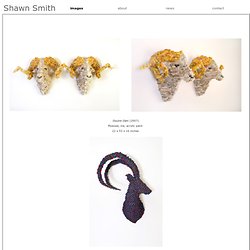 STRANDBEEST. Minimiam. Portrait Sculptures, Sculpting Instruction & Marble Sculptures by Philippe Faraut. Language casts a shadow in Stephen Doyle's paper sculptures. Stephen Doyle's vision unites words and images in unforgettable ways.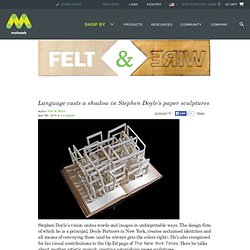 The design firm of which he is a principal, Doyle Partners in New York, creates acclaimed identities and all means of conveying them (and he always gets the colors right). He's also recognized for his visual contributions to the Op-Ed page of The New York Times. Here he talks about another artistic pursuit: creating astonishing paper sculptures. Mike Libby - Insect Lab - Beetles. The Art of Greg Brotherton. William Pye | Water Sculpture.
---