Sculpture
Double Dahl (2007) Plywood, ink, acrylic paint 22 x 53 x 16 inches RGB Ibex (2009) Balsa wood, ink, acrylic paint 41 x 28 x 16.5 inches Schrödinger's Hat (2009) Bass wood, ink, gauche, acrylic paint, felt fedora 10 inch diameter x 22 inches Game (2006)Plywood48 x 72 x 48 inches Puff (2011)Balsa wood, bass wood, ink, acrylic paint30 x 28 x 23 inches Anomaly (2011)Bass wood, ink, acrylic paint 48 x 14 x 6 inches
Shawn Smith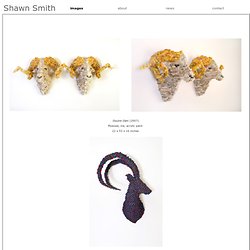 minimiam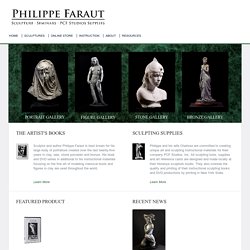 Philippe Faraut is a figurative artist specializing in life-size portrait sculptures and monumental stone sculptures. His media of choice are water-based clay and marble. From his extensive research of the human face he developed a technique of modeling the portrait that he shares with his sculpting students during his numerous sculpting classes and seminars taught throughout the US. In order to assist his students, Philippe has created a set of sculpting supplies, an instructional sculpting video series and two sculpting books detailing his process for portraiture in clay.
Portrait Sculptures, Sculpting Instruction & Marble Sculptures by Philippe Faraut
Language casts a shadow in Stephen Doyle's paper sculptures
Stephen Doyle's vision unites words and images in unforgettable ways. The design firm of which he is a principal, Doyle Partners in New York, creates acclaimed identities and all means of conveying them (and he always gets the colors right). He's also recognized for his visual contributions to the Op-Ed page of The New York Times. Here he talks about another artistic pursuit: creating astonishing paper sculptures.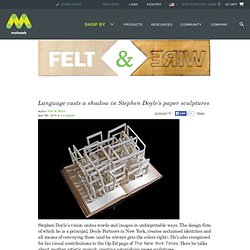 The Art of Greg Brotherton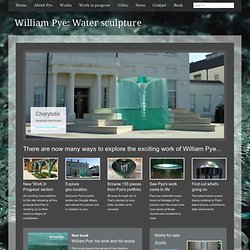 New 'Work In Progress' section An exciting new addition to the site showing all the projects that Pye is working on in their various stages of completion. Explore geo-location Discover Pye's public works via Google Maps, see where his pieces are in relation to you. Browse 155 pieces from Pye's portfolio Browse through all of Pye's pieces by size, date, location and concept.
William Pye | Water Sculpture