Water & Oceans
Oceans. Ocean Elders | OceanElders serves as a catalyst in the conservation of the ocean and its wildlife. Ocean. Water. WATERLIFE - NFB. Oceans. MIDWAY - a film by Chris Jordan.
Water. Pollution (eau) Océans / Continent Plastique. The Truth About Bottled Water. Hydro-Qubec. Soutenez la marche pour l'eau et pour la vie en Equateur. À: M.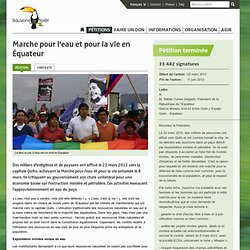 Rafael Correa Delgado, Président de la République de l'Equateur García Moreno N10-43 Entre Chile y Espejo Quito - Equateur ______________________________________________________ Monsieur le Président, Le 22 mars 2012, des milliers de personnes ont afflué vers Quito et ont comme inondé la ville. Ils ne désirent pas (sur)vivre dans un pays détruit par l'exploitation minière et pétrolière. Ils ne sont pas disposés à accepter un futur fait de rivières mortes, de personnes malades, d'extinction d'espèces et de forêts dévastées. Eau. Water. Toda el agua de Europa. ¿Qué parte de Europa, el satélite de Júpiter , está hecha de agua?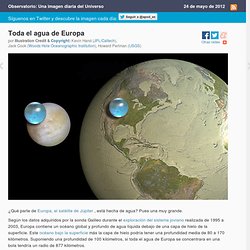 Pues una muy grande. Según los datos adquiridos por la sonda Galileo durante el exploración del sistema joviano realizada de 1995 a 2003, Europa contiene un océano global y profundo de agua líquida debajo de una capa de hielo de la superficie. Este océano bajo la superficie más la capa de hielo podría tener una profundidad media de 80 a 170 kilómetros. NOAA - National Oceanic and Atmospheric Administration. WATERLIFE - NFB. SharkBreak™ - Take your break and relax!™ Access to Clean Water for all Americans – Sign the Water Bill of Rights. Water and Wastewater. Oceans.
---