Business
Business with Seth Godin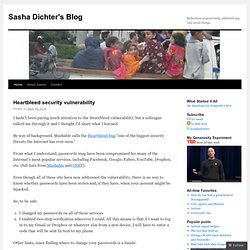 As impact investing goes more mainstream, there is a growing chorus suggesting that impact measurement might be the providence of academics and idealists. (as in, "…we have spent too much time and too many resources discussing impact measurement and trying to measure outcomes. Is an individual who needs eyeglasses better off if she has access to them? If you are wearing a pair while reading this article, you know the answer.
Sasha Dichter's Blog | Reflections on generosity, philanthropy and social change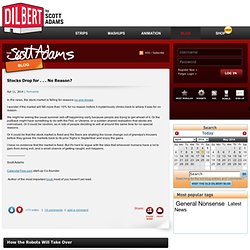 One way that future robots could conquer the world is by violence. But that seems both inefficient and uncreative. Allow me to suggest some smarter ways for robots to do their conquering. I start by imagining what happens when the first computer achieves what is called The Singularity.
Scott Adams Blog: the creator of Dilbert, Wally, Catbert, the Pointy Haired Boss and all your favorite cubicle companions.
Online Copywriting and Content Marketing Strategies
Small Business Marketing Consultants, Strategies and Ideas ::
- Boing Boing
Mark Frauenfelder at 5:26 pm Mon, Jan 13, 2014 • 7 Our friends at Evil Mad Scientist Laboratories painted a leather bomber jacket with the 1970s and 80s "Classic Lego Space" logo. They included step-by-step instructions for painting your own. It involves stripping the shiny stuff off the leather and using special acrylic leather paint. Read the rest Mark Frauenfelder at 4:55 pm Mon, Jan 13, 2014 • 11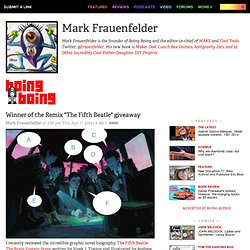 Springwise | New business ideas, trends and innovation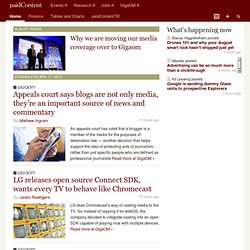 The Economics of Digital Content
Stories for Jan. 13, 2014 Google just made another major acquisition — clean tech and home device star Nest Labs. The $3.2 billion purchase of former Apple executive Tony Fadell's new company comes at a time the search giant is expanding its activities in science, robotics and energy. Read more at GigaOM » Beats Music isn't going to launch for another week, but we found the door to its website unlocked, and couldn't help us but snoop around. Read more at GigaOM »
Presentation Zen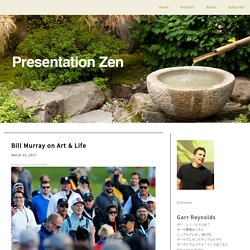 Assembling talking points, lists, and tedious outlines is a rather drab exercise that neither challenges your creative abilities or leads to a rewarding experience for you or your audience. But if you are going to do something different, if you are going to craft a talk that engages, illuminates, and even inspires, then the preparation is going to take creativity. This is especially true for the creation of a short-form presentation such as a TED/TEDx talk, or an Ignite or Pecha Kucha presentation, etc. In spite of much our formal schooling's efforts to mold us into compliance seekers rather than curious and intelligent creatives, we are still at our core creative beings.
For the past decade, I've been evangelizing the new rules of marketing and public relations and so have many of you. Prior to the Web, generating attention meant buying expensive advertising or convincing the media to write or broadcast about us. But now we've got a better way, generating attention by publishing information on the web so people find it while searching with Google and other search engines and discover it because people share on social networks.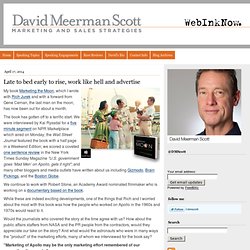 Web Ink Now
Gapingvoid | "Hugh MacLeod" Cartoons drawn on the back of business cards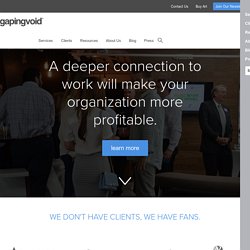 We help leaders lead. We help businesses succeed. We use art to help clients effect real change, both inside and outside the organization. We create work that amplifies your ideas in ways that deeply impact your teams, cus­to­mers and stakeholders. We provide tools and strategies that establish emotional connections with business outcomes and enable businesses to express what actually matters to people. We help you spark mea­ning­ful con­ver­sa­tions and get peo­ple to work smar­ter, more crea­ti­vely, and stay focu­sed on the things that really matter.