Musées 11
mep-fr.org - maison européenne de la photographie / ville de Paris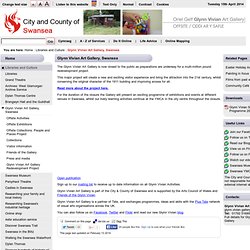 Glynn Vivian Art Gallery, Swansea - City and County of Swansea
The Glynn Vivian Art Gallery is now closed to the public as preparations are underway for a multi-million pound redevelopment project. This major project will create a new and exciting visitor experience and bring the attraction into the 21st century, whilst conserving the original character of the 1911 building and improving access for all. Read more about the project here. For the duration of the closure the Gallery will present an exciting programme of exhibitions and events at different venues in Swansea, whilst our lively learning activities continue at the YMCA in the city centre throughout the closure. Sign up to our mailing list to receive up to date information on all Glynn Vivian Activities.
Museum and Art Gallery
Hatton Gallery • Tyne & Wear Archives & Museums
National Art Library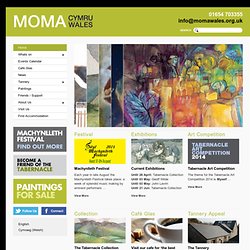 Machynlleth Festival Each year in late August the Machynlleth Festival takes place: a week of splendid music making by eminent performers … View More Current Exhibitions
Moma Wales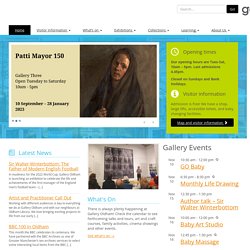 Gallery Oldham
A space for people and ideas Information Exhibitions Events
Shipley Art Gallery • Tyne & Wear Archives & Museums
Home | National Museum Wales
Plan Your Visit What's On Collections News About Us Eating & Drinking Shop University Museums Support Us 13 March 2014 – 22 June 2014 More Info Tickets 24 July 2014 – 2 November 2014 More Info Tickets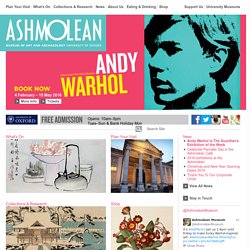 The Ashmolean Museum of Art & Archaeology
University Gallery and Baring Wing
Leighton House Museum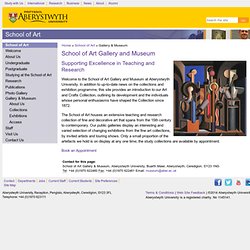 Gallery & Museum
Welcome to the School of Art Gallery and Museum at Aberystwyth University. In addition to up-to-date news on the collections and exhibition programme, this site provides an introduction to our Art and Crafts Collection, outlining its development and the individuals whose personal enthusiasms have shaped the Collection since 1872. The School of Art houses an extensive teaching and research collection of fine and decorative art that spans from the 15th century to contemporary.
Nottingham Castle : Nottingham City Council
Laing Art Gallery • Tyne & Wear Archives & Museums
Iniva - Institute of International Visual Arts
Stirling Smith Art Gallery & Museum new
We need your help ... Every penny helps and if you are able to donate to our campaign we can get one step closer to making the museum even better for visitors, school groups and the collections. You can donate in 2 different ways: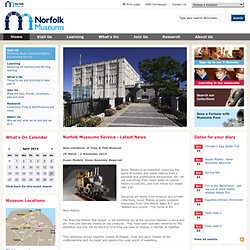 Norwich Castle Museum and Art Gallery is bringing you an exciting programme of birdy events and exhibitions during 2014. This summer Norwich Castle will host 'The Wonder of Birds: Nature Art Culture' (Saturday 24 May - Sunday 14 September 2014). The exhibition will combine art and natural history to explore the cultural impact of birds on humanity. Norwich Castle, Saturday 25 January, 10am - 4.30pm and Sunday 26 January, 1 - 4.30pm.
Norfolk Museums & Archaeology Service - Home
Turner Contemporary
Friday 18th April 2014 Happy Easter weekend! Sun, sea, sand and art... that's what Margate's all about, oh and workshops, delicious food, and 99s! Come explore... :: Friday 18th April 2014 Our #TCstories interviewer @MoyaStirrup has more #Margate stories... read her brilliant blog here http://t.co/8W7b1qciQT :: Friday 18th April 2014 "Education, challenge, inspiration" is what the Foy Family think describes TC. Read their #TCstories w @MoyaStirrup http://t.co/COC6eOR0Ch :: Friday 18th April 2014 To celebrate #WEARETHREE we asked conversation conservationist @MoyaStirrup to find out our community's #TCstories... watch our tweets... :: Thursday 17th April 2014 Our cafe is now open for late night dining on Fridays and Saturdays - 2 courses £15, see our menu selection here http://t.co/3kKHmt4yAj ::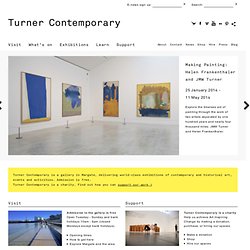 Homepage : Homepage
Stockport Council - Stockport Art Gallery and War Memorial
Whitechapel Gallery
Welcome to the Imperial War Museum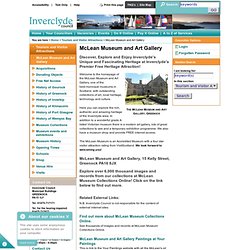 This site uses some anonymous cookies to store information on your computer. Most cookies on this site are essential, and the site won't work as expected without them. These cookies are set when you fill in a form, login or interact with the site by doing something that goes beyond clicking on simple links.
Inverclyde Council • McLean Museum and Art Gallery
William Morris Gallery
Sainsbury Centre for Visual Arts
Hayward Gallery | Southbank Centre.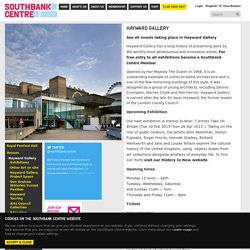 See all events taking place in Hayward Gallery Hayward Gallery has a long history of presenting work by the world's most adventurous and innovative artists. For free entry to all exhibitions become a Southbank Centre Member. Opened by Her Majesty The Queen in 1968, it is an outstanding example of sixties brutalist architecture and is one of the few remaining buildings of this style.
The Hunterian Museum and Art Gallery - Scotland's oldest public museum
Maidstone Museum, Kent - free to visit, great for childrens holiday activities, history and research
Tate Modern: International modern and contemporary art
Museums
St. Barbe Museum & Art Gallery
South London Gallery
fifedirect - Museums & Galleries
The Lowry: A Theatre and Galleries Arts centre in Salford, Greater Manchester with Corporate Hire Facilities.
Sir John Soane's Museum - London
Home | Talbot Rice Gallery
MK Gallery
Serpentine Gallery
The Royal Scottish Academy, Edinburgh, Scotland
Manchester City Galleries - Home
Saatchi Gallery
The Royal Collection - The Queen's Gallery, Palace of Holyroodhouse
National Museums Scotland
South Shields Museum & Art Gallery • Tyne & Wear Archives & Museums
Fruitmarket Gallery, Edinburgh | Contemporary Art in Edinburgh in The Fruitmarket Gallery
National Galleries of Scotland − Home
Shrewsbury Museums Service - Shrewsbury Museum & Art Gallery
Astley Cheetham Art Gallery
McManus Galleries
John Hansard Gallery
Museum and galleries
Aberdeen Art Gallery & Museums | Aberdeen Art Gallery and Museums Explorer
Ulster Museum - National Museums Northern Ireland
Harris Museum and Art Gallery
The Petersfield Museum and the Flora Twort Gallery, Hampshire
York Art Gallery - What's On
Plymouth City Museum and Art Gallery - Plymouth City Museum and Art Gallery
Friends of the Atkinson Art Gallery, Southport, Merseyside, England
Worthing Borough Council - Museum and Art Gallery
Welcome to Worcester City Museums Web Site - Home Page
Whitworth Art Gallery (The University of Manchester)
Manchester Museum (The University of Manchester)
Wolverhampton Art Gallery - Wolverhampton Arts and Museums Service
Initial Access • Introduction
Watford Museum: Telling the story of Watford, past and present
Compton Verney - Home
home
Home | www.pumphousegallery.org.uk
The New Art Gallery Walsall
Yorkshire Sculpture Park
The Hepworth Wakefield
Orleans House Gallery - London Borough of Richmond upon Thames
Tunbridge Wells Museum - Home Page
Home Page | Royal Cornwall Museum
Gainsborough's House - Museum and gallery of the birthplace of the artist Thomas Gainsborough
Burghley
Southend Museums
Museums and Galleries - Southampton City Council
Scarborough - Art Gallery - Scarborough Homepage
Liverpool museums - Lady Lever Art Gallery
Penlee House Gallery and Museum Penzance Cornwall UK
Christ Church Picture Gallery | Christ Church, Oxford
Hermitage Rooms
Royal Academy Home
Home