Musées 11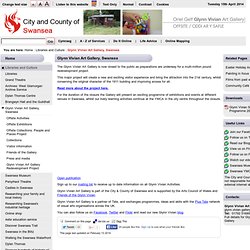 Glynn Vivian Art Gallery, Swansea - City and County of Swansea
The Glynn Vivian Art Gallery is now closed to the public as preparations are underway for a multi-million pound redevelopment project. This major project will create a new and exciting visitor experience and bring the attraction into the 21st century, whilst conserving the original character of the 1911 building and improving access for all. Read more about the project here. For the duration of the closure the Gallery will present an exciting programme of exhibitions and events at different venues in Swansea, whilst our lively learning activities continue at the YMCA in the city centre throughout the closure. Sign up to our mailing list to receive up to date information on all Glynn Vivian Activities.
Museum and Art Gallery
Hatton Gallery • Tyne & Wear Archives & Museums
National Art Library
Moma Wales
Gallery Oldham
Shipley Art Gallery • Tyne & Wear Archives & Museums
Museum of London - English
Doctors, Dissection and Resurrection Men Until 14 April 2013 A major exhibition exploring the relationship between 19th century bodysnatchers and the surgeons they supplied.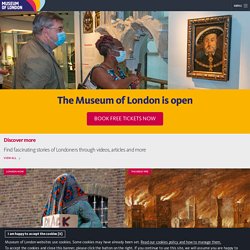 Home | National Museum Wales
The Ashmolean Museum of Art & Archaeology
University Gallery and Baring Wing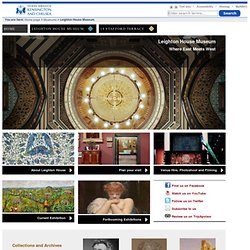 <div>&nbsp;</div> | Skip to Menu | Skip to Content | You are here: Leighton House Museum Where East Meets West Current exhibition: 'Studio Sittings' Photographing Royal Academicians
Leighton House Museum
Gallery & Museum
Nottingham Castle : Nottingham City Council
Laing Art Gallery • Tyne & Wear Archives & Museums
Iniva - Institute of International Visual Arts
Stirling Smith Art Gallery & Museum new
Norfolk Museums & Archaeology Service - Home
Turner Contemporary
Perth Museum and Art Gallery
Stockport Council - Stockport Art Gallery and War Memorial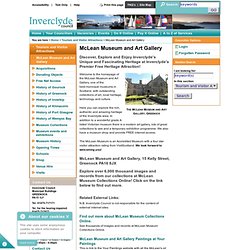 This site uses some anonymous cookies to store information on your computer. Most cookies on this site are essential, and the site won't work as expected without them. These cookies are set when you fill in a form, login or interact with the site by doing something that goes beyond clicking on simple links.
Inverclyde Council • McLean Museum and Art Gallery
William Morris Gallery
Sainsbury Centre for Visual Arts
Hayward Gallery | Southbank Centre.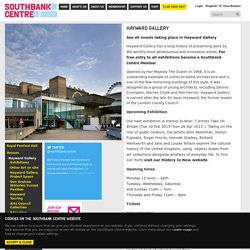 See all events taking place in The Hayward Gallery The Hayward Gallery has a long history of presenting work by the world's most adventurous and innovative artists. For free entry to all shows become a Southbank Centre Member. Opened by Her Majesty The Queen in 1968, it is an outstanding example of sixties brutalist architecture and is one of the few remaining buildings of this style. It was designed by a group of young architects, including Dennis Crompton, Warren Chalk and Ron Herron.
The Hunterian Museum and Art Gallery - Scotland's oldest public museum
Maidstone Museum, Kent - free to visit, great for childrens holiday activities, history and research
Museums
St. Barbe Museum & Art Gallery
South London Gallery
fifedirect - Museums & Galleries
The Lowry: A Theatre and Galleries Arts centre in Salford, Greater Manchester with Corporate Hire Facilities.
Home | Talbot Rice Gallery
MK Gallery
The Royal Scottish Academy, Edinburgh, Scotland
Manchester City Galleries - Home
The Royal Collection - The Queen's Gallery, Palace of Holyroodhouse
National Museums Scotland
South Shields Museum & Art Gallery • Tyne & Wear Archives & Museums
Fruitmarket Gallery, Edinburgh | Contemporary Art in Edinburgh in The Fruitmarket Gallery
National Galleries of Scotland − Home
You are here: Home : Shrewsbury Museum and Art Gallery Shrewsbury Museum & Art Gallery at Rowley's House occupies two adjoining buildings, one of which is timber-framed (originally built as a merchant's warehouse in the 16th or early 17th Century) and the other a stone and brick building built around 1618 (the mansion of the merchant William Rowley). The buildings are among the finest in Shrewsbury. The ground floor of Rowley's House is now the temporary home of Shrewsbury's Visitor Information Centre.
Shrewsbury Museums Service - Shrewsbury Museum & Art Gallery
Astley Cheetham Art Gallery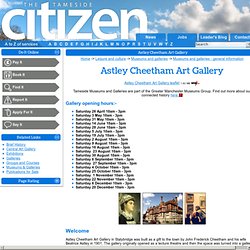 Please Note: The Gallery is only open during August Summer Holidays Welcome Astley Cheetham Art Gallery in Stalybridge was built as a gift to the town by John Frederick Cheetham and his wife Beatrice Astley in 1901. The gallery originally opened as a lecture theatre and then the space was turned into a gallery to house the Astley Cheetham Art Collection, bequeathed in 1932.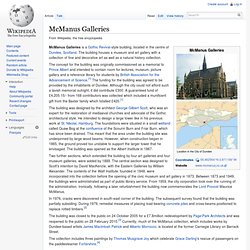 McManus Galleries
McManus Galleries is a Gothic Revival -style building, located in the centre of Dundee , Scotland . The building houses a museum and art gallery with a collection of fine and decorative art as well as a natural history collection. The concept for the building was originally commissioned as a memorial to Prince Albert and intended to contain room for lectures, museum, picture gallery and a reference library for students by British Association for the Advancement of Science . [ 1 ] The funding for the building was agreed to be provided by the inhabitants of Dundee. Although the city could not afford such a lavish memorial outright, it did contribute £300. A guaranteed fund of £4,205 15/- from 168 contributors was collected which included a munificent gift from the Baxter family which totalled £420. [ 1 ]
Marischal Museum Introduction page. University of Aberdeen
John Hansard Gallery
Museum and galleries
Vivacity is an independent, not-for-profit organisation with charitable status. We manage many of Peterborough's most popular culture and leisure facilities on behalf of Peterborough City Council. Peterborough and its surrounding area has a rich history and heritage which tells a fascinating story. Whether you call Peterborough home, live nearby, or are just visiting, you can explore it in lots of different ways.
Aberdeen Art Gallery & Museums | Aberdeen Art Gallery and Museums Explorer
Ulster Museum - National Museums Northern Ireland
Harris Museum and Art Gallery
The Petersfield Museum and the Flora Twort Gallery, Hampshire
Jersey Museum and Art Gallery - Jersey - The Art Fund – national fundraising charity for works of art
York Art Gallery - What's On
Plymouth City Museum and Art Gallery - Plymouth City Museum and Art Gallery
Friends of the Atkinson Art Gallery, Southport, Merseyside, England
Worthing Borough Council - Museum and Art Gallery
Welcome to Worcester City Museums Web Site - Home Page
Whitworth Art Gallery (The University of Manchester)
Manchester Museum (The University of Manchester)
Wolverhampton Art Gallery - Wolverhampton Arts and Museums Service
Initial Access • Introduction
Watford Museum: Telling the story of Watford, past and present
Compton Verney - Home
home
Home | www.pumphousegallery.org.uk
The New Art Gallery Walsall
Yorkshire Sculpture Park
The Hepworth Wakefield
Orleans House Gallery - London Borough of Richmond upon Thames
Tunbridge Wells Museum - Home Page
Home Page | Royal Cornwall Museum
Gainsborough's House - Museum and gallery of the birthplace of the artist Thomas Gainsborough
Welcome to The Potteries Museum & Art Gallery - Stoke-on-Trent City Council
Welcome to Gladstone Pottery Museum - Stoke-on-Trent City Council
Burghley
Southend Museums
Museums and Galleries - Southampton City Council
Museums Sheffield | Museums Sheffield Home Page
Scarborough - Art Gallery - Scarborough Homepage
Liverpool museums - Lady Lever Art Gallery
Penlee House Gallery and Museum Penzance Cornwall UK
Christ Church Picture Gallery | Christ Church, Oxford
Hermitage Rooms
Guildhall Art Gallery
Northampton Museum & Art Gallery is the home of the World Famous Shoe Collection | Northampton Borough Council