Resources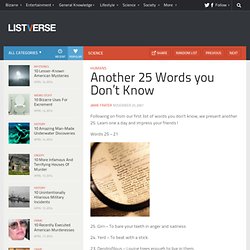 Another 25 Words you Don't Know
Following on from our first list of words you don't know, we present another 25. Learn one a day and impress your friends! Words 25 – 21 25.
origins of words and phrases
Fun With Words: Collective Nouns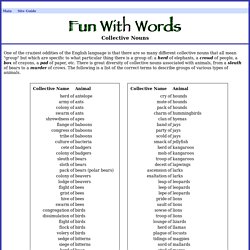 One of the craziest oddities of the English language is that there are so many different collective nouns that all mean "group" but which are specific to what particular thing there is a group of: a herd of elephants, a crowd of people, a box of crayons, a pad of paper, etc. There is great diversity of collective nouns associated with animals, from a sleuth of bears to a murder of crows. The following is a list of the correct terms to describe groups of various types of animals.
Online Etymology Dictionary
WHATSTHISW?RD / solutions for j??ter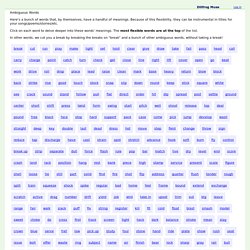 Ambiguous Words Here's a bunch of words that, by themselves, have a handful of meanings. Because of this flexibility, they can be instrumental in titles for your songs/poems/stories/etc. Click on each word to delve deeper into these words' meanings. The most flexible words are at the top of the list.