Réseaux sociaux Généralistes
The social network for network marketers. From the founders of: (over 10 Million hits a month) See how BizOppers can boost your income in video below: the new way home business is done Guaranteed to breath new life into all your business opportunities Grab more eyeballs for your biz opp than any other marketing strategy - FREE!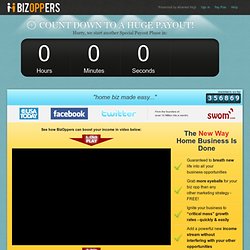 Ignite your business to "critical mass" growth rates - quickly & easily Add a powerful new income stream without interfering with your other opportunities. Bienvenue, Réseau social Shopaneo - Réseau social Shopaneo. Flink12. Tweaz. Friendster. Skyrock.com. Buzz. Google Buzz n'existe plus.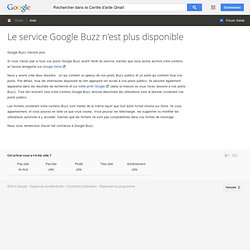 Si vous n'avez pas lu tous vos posts Google Buzz avant l'arrêt du service, sachez que nous avons archivé votre contenu et l'avons enregistré sur Google Drive. Nous y avons créé deux dossiers : un qui contient un aperçu de vos posts Buzz publics et un autre qui contient tous vos posts. Par défaut, tous les internautes disposant du lien approprié ont accès à vos posts publics. Ils peuvent également apparaître dans les résultats de recherche et sur votre profil Google (dans la mesure où vous l'avez associé à vos posts Buzz). Tout lien existant vers votre contenu Google Buzz renvoie désormais les utilisateurs vers le dossier contenant vos posts publics. Peoplesound. Elgg. Livejournal. Hibe. Vivabook. MyBlogLog.
ShoutLife.com - a fresh approach to social networking. Copains d'avant - photos de classe et retrouvailles d'anciens élèves. Retrouvez un copain d'avant perdu de vue. Orkut. Plaxo. Ning.
Tagged. MOVIM - Plateforme Sociale Libre. Netlog. DIASPORA* ALPHA. Facebook. Outils facebook.
---