Réseaux et media sociaux
Class of 2011: Social Media High School Yearbook. Réseaux sociaux thématiques. Social Media / E-marketing / Marketing viral / Search marketing / E-commerce. Quelques chiffres sur l'impact de Facebook pour les marques. 11% des seniors sont déjà sur Facebook aux USA. Study: You've Never Met 7% Of Your Facebook "Friends" A just-released Pew study on the ways people use social networking sites has found, unsurprisingly, that the most popular social network is Facebook, with 92% of social networking users reporting that they have a Facebook account.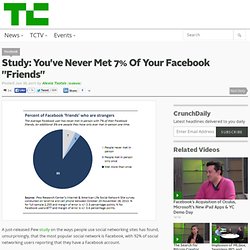 The study also found that on average Facebook users have about 229 Friends, with about 22% of their total Friends list being comprised of people they know from high school, 12% extended family, 10% coworkers, 9% college friends, 8% immediate family, 7% people from extracurricular groups and 2% being neighbors.
According to Pew, the average Facebook user has never met 7% of their Facebook "Friends" in real life, which means that on average about 16 people on a given Facebook Friends list are actually more like strangers. Users on average have only met 3% of their list (around 7 people) just once. Mark Zuckerberg : Facebook devrait être autorisé aux enfants de moins de 13 ans. Mercredi 25 mai Réseaux sociaux - 25 mai 2011 :: 11:58 :: Par Eric La loi américaine interdit à Facebook d'avoir des membres plus jeunes que 13 ans pour les protéger des prédateurs sexuels.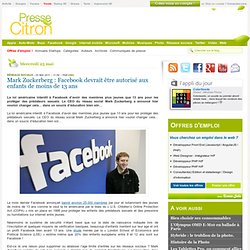 Facebook : la vague bleue. Carte d'une domination mondiale. Vendredi 17 juin Réseaux sociaux - 17 juin 2011 :: 08:46 :: Par Eric Même s'il se dit depuis quelques jours que Facebook serait en perte de vitesse dans quelques pays depuis le mois dernier, sa croissance globale ne semble pas vraiment faiblir, puisque d'autres contrées compensent largement une certaine stagnation par un taux d'adoption à deux chiffres.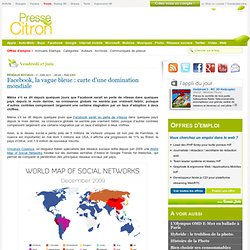 Facebook vous permet de visualiser graphiquement vos données. Bonjour et bon week-end Aujourd'hui, je vous présente « SocialMemories« , une application Facebook qui reprend votre activité sociale sur Facebook, qui l'analyse et qui vous la représente dans un ouvrage imprimé.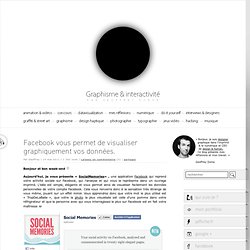 L'idée est simple, élégante et vous permet ainsi de visualiser facilement les données personnelles de votre compte Facebook. Cela vous renverra donc à la sensation très étrange de vous même, jouant sur un effet miroir. Vous apprendrez donc que votre mot le plus utilisé est « TropDeLaBalle », que votre la photo la plus visualisée est celle d'une pomme dans votre réfrigirateur et que la personne avec qui vous interragissez le plus sur Facebook est en fait votre maîtresse Cela n'est donc pas sans rappeler l'Egobook dont je vous avais parlé il y a quelques temps, mais avec un tout autre style qui me fait vraiment beaucoup penser au travail de Nicholas Felton (et ses fameux Feltron Rapport). André Mondoux | www.revue-sociologique.org. Médias sociaux > Social CRM : répondez à vos clients mécontents.
Internet, est un formidable outil de veille et d'écoute des conversations pour les marques.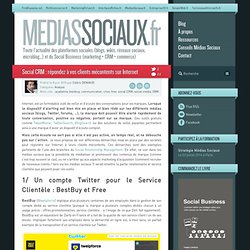 Lorsque le dispositif d'alerting est bien mis en place et bien rôdé sur les différents médias sociaux (blogs, Twitter, forums, …), la marque doit pouvoir être alerté rapidement de toute conversation, positive ou négative, portant sur sa marque. Des outils gratuits comme TweetMeme, TwitterSearch, BlogSearch ou des solutions de veille payantes permettent ainsi à une marque d'avoir un dispostif d'écoute complet. Mais cette écoute ne sert pas si elle n'est pas active, en temps réel, et ne débouche pas sur l'action. Mining social networks: Untangling the social web. TELECOMS operators naturally prize mobile-phone subscribers who spend a lot, but some thriftier customers, it turns out, are actually more valuable.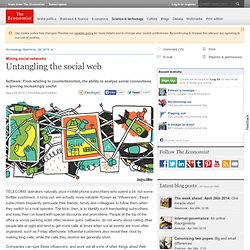 Known as "influencers", these subscribers frequently persuade their friends, family and colleagues to follow them when they switch to a rival operator. The trick, then, is to identify such trendsetting subscribers and keep them on board with special discounts and promotions. People at the top of the office or social pecking order often receive quick callbacks, do not worry about calling other people late at night and tend to get more calls at times when social events are most often organised, such as Friday afternoons.
Influential customers also reveal their clout by making long calls, while the calls they receive are generally short. A tester. 5 Useful Facebook Trend and Search Services. As the world's largest social network, Facebook is a fascinating place to find out what's hot, what's news, and discover the latest meme.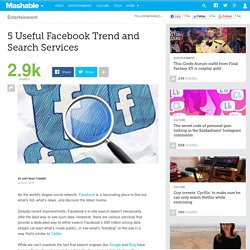 Despite recent improvements, Facebook's in-site search doesn't necessarily offer the best way to see such data. However, there are various services that provide a dedicated way to either search Facebook's 500 million-strong data stream (at least what's made public), or see what's "trending" on the site in a way that's similar to Twitter. While we can't overlook the fact that search engines like Google and Bing have begun offering "social search," we think the five services listed below offer a more useful way to find out what people are saying about a particular topic, or even find out what's being "Liked" in your social circle. 1.
---