Research & Reference
RSC-Northwest Team curation acljohn Dec 6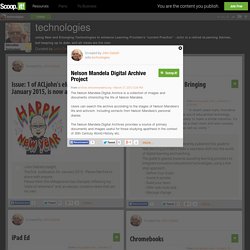 The Nelson Mandela Digital Archive is a collection of images and documents chronicling the life of Nelson Mandela. Users can search the archive according to the stages of Nelson Mandela's life and activism. Including extracts from Nelson Mandela's personal diaries. The Nelson Mandela Digital Archives provides a source of primary documents and images useful for those studying apartheid in the context of 20th Century World History etc.
Nelson Mandela Digital Archive Project | technologies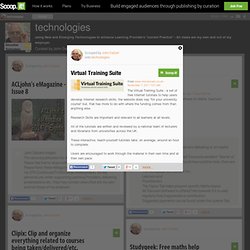 The Virtual Training Suite - a set of free Internet tutorials to help users develop Internet research skills; the website does say "for your university course" but, that has more to do with where the funding comes from than anything else. Research Skills are important and relevant to all learners at all levels. All of the tutorials are written and reviewed by a national team of lecturers and librarians from universities across the UK.
Virtual Training Suite | technologies
UK's open access full-text search engine to aid research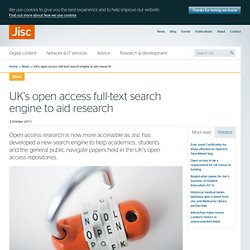 Open access research is now more accessible as Jisc has developed a new search engine to help academics, students and the general public navigate papers held in the UK's open access repositories. Jisc has funded the Open University's Knowledge Media Institute (KMi) to create an innovative new search facility which searches not just the abstract but the full text of the article. When researchers use current systems like Google Scholar to search academic papers they can find themselves denied access to the full article, particularly when subscription fees are required. They also typically have to search across a number of open access repositories or use searches that harvest data from different sources. But now, using the COnnecting REpositories tool or CORE, people can search the full text of items held in 142 approved Open Access repositories.
Turnitin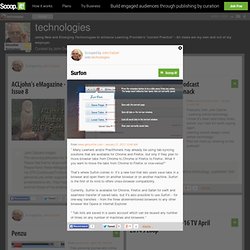 Many Learners and/or Practitioners may already be using tab-syncing solutions that are available for Chrome and Firefox, but only if they plan to move browser tabs from Chrome to Chrome or Firefox to Firefox. What if you want to move the tabs from Chrome to Firefox or vice-versa? That's where Surfon comes in.
Surfon | technologies
State Of The Internet Now | technologies
search-cube
search-cube offers a straightforward search box for entering search terms. The search results it yields, however, are images of home pages. These home pages are arranged on the six faces of a cube, with 16 sites displayed on each face.
Search Results by reading age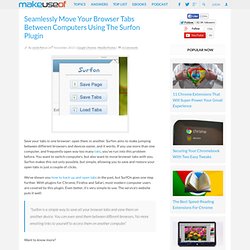 Seamlessly Move Your Browser Tabs Between Computers Using The Surfon Plugin
Save your tabs in one browser; open them in another. Surfon aims to make jumping between different browsers and devices easier, and it works. If you use more than one computer, and frequently open way too many tabs, you've run into this problem before. You want to switch computers, but also want to move browser tabs with you. Surfon makes this not only possible, but simple, allowing you to save and restore your open tabs in just a couple of clicks.
If you're looking for a speedy Search Engine Optimization tools to optimize a website's performance, take a look at the diverse evaluative tools on the Siteopsys website. Siteopsys currently offers more than 20 research and analytical tools classified into 7 different categories, based on their usage areas. Siteopsys plans to develop more analysis driven Search Engine Optimization tools (SEO Tools) in the future. Most of these tools are FREE and are available for usage at absolutely no charge, "for now". Siteopsys' SEO tools are really fast as they use advanced Grid Computing and Cloud Computing technologies.
Siteopsys: SEO Tools | technologies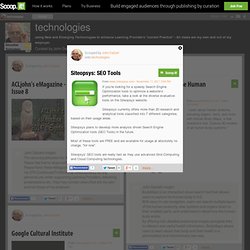 scrible | smarter online research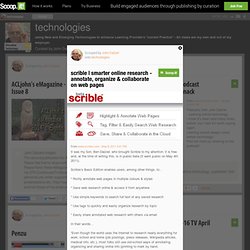 It was my Son, Ben Dalziel, who brought Scrible to my attention; it is free and, at the time of writing this, is in public beta (It went public on May 4th 2011). Scrible's Basic Edition enables users, among other things, to... * Richly annotate web pages in multiple colours & styles * Save web research online & access it from anywhere * Use simple keywords to search full text of any saved research * Use tags to quickly and easily organize research by topic
Sciweavers - Explore State-of-the-art in your Research Field | technologies
Sobotong|Bilingual Search Engine | technologies
Search EBooks - An eBook Search Engine
The web is full of ebooks, you can see mine here, but finding them isn't always easy. You can search by file type on Google or visit any number of document hosting services like Issuu, but even then you might be missing something good. Search EBooks is a service dedicated to helping you find free ebooks.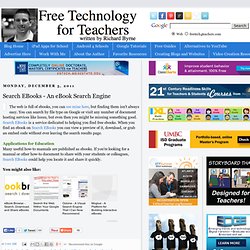 ReadCube | Free Reference Manager - Academic Software For Research | technologies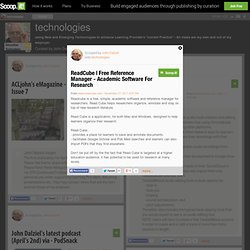 Readcube is a free, simple, academic software and reference manager for researchers. Read Cube helps researchers organize, annotate and stay on top of new research literature. Read Cube is a application, for both Mac and Windows, designed to help learners organize their research.
Qwiki
Paper vs digital: Why you can't flog a dead encyclopaedia
We're living through the closing chapter of paper and the printed word - and we shouldn't mourn their passing. Written in London and dispatched a day later from a coffee shop via a free wi-fi service at 20Mbps in Woodbridge, Suffolk. After 244 years, the Encyclopaedia Britannica has come to the end of the road.
Oolone.com visual search engine | technologies
New Video: Plagiarism Explained by Common Craft
Today we're publishing a new video: Plagiarism Explained by Common Craft One of our most suggested titles, this video is aimed at educators who are on the front lines of helping students of all ages understand and avoid plagiarism. In researching this video it became clear that there are two types of plagiarism - intentional and unintentional. While we cover intentional plagiarism, we also highlight the situation where a person has positive intentions, but lacks information about what constitutes plagiarism and how to avoid it. This video is currently available to Common Craft members with captions in English.
M-library support project - information gathering Survey
LSIS inherits the NLN materials
Published: 22 July 2011 We are pleased to announce that the NLN materials, a huge range of well-respected online teaching and learning resources, have been transferred to LSIS this week. Originally funded by the Skills Funding Agency, the materials represent one of the most substantial and wide-ranging collections of e-learning materials in the UK.
There have been a few posts on the blog about QR codes, but so far we haven't looked at how to change them visually to fit into branding guidelines. Jacqui Lockwood from University of Warwick worked on a project to do just that for their library, and this post shares her experiences and provides you with tips for doing the same. Jacqui Lockwood is the Learning Grid Officer at the University of Warwick Library. Her role mainly involves working alongside the Learning Grid Coordinators, assisting in the smooth running of the four Grid sites and developing the service to ensure it is at the forefront of innovative teaching and learning within the university.
m-libraries | Supporting the m-library community
ManualsLib - Makes it easy to find manuals online! | technologies
Listsear.ch | technologies
Libraries lead the way providing tools for visually impaired students
Kindle Cloud Reader
JISC Content
JISC Collections - The trusted experts in negotiating, procuring, and licensing digital content for libraries
Library 2.0
Poll Results: What Technologies will impact libraries in 2-5 years?
Humanities Resource List
Hubii
How to do research - The KYVL Research Portal
How can we legally lend digital content to our students via a Kindle? > JISC Legal > ManageContent
British Library's early newspaper archive goes online | Media
How To Cite A Tweet In Academic Papers
Google The Right Way [Infographic]
Google Inside Search · Playground | technologies
Glean Comparison Search: An Educational Research and Search Tool | technologies
FLYABIT | Digital experience and social curation window. | technologies
Einstein Archives
Famous Scientists: Get Information On Famous Scientists, Mathematicians & Inventors
Five Handy Things You Can Do with Google's New Knowledge Graph Search
Documentary.net - Watch free documentaries online | technologies
Digital Literacy - Education
Digital literacy | by Gavin Dudeney| British Council | BBC | Digital Literacy
Capturing the Impact of Libraries | Impact of libraries
Chrome Browser on a USB Flash Drive – With Accessibility
Digital literacy projects « Web n' Circle
Cambridge Digital Library - University of Cambridge | technologies
Bloomin' Android by Kathy Schrock | technologies
Behold | Search High Quality Flickr Images | technologies
Apture
cheater_full
bib.ly | Bible reference shortener and site linker | technologies
Are you an Accidental Outlaw? Take the test .... > JISC Legal > ManageContent
Adult and Community Learning News
18 Usability Resources for Librarians
21 Useful Cloud Computing Resources for Librarians | technologies
10 Trends on Information Literacy and LILAC 2011 | Impact of libraries
WhoIs Project: A Tool to Investigate Information Authority, Authenticity, Ownership and Perspective | technologies
Attrakt | technologies
474747.net | Best Websites in One Start Page
200,000 Martin Luther King, Jr. Papers Go Online
World Digital Library Home | technologies
World Development Indicators - Definitions and Visualizations | technologies
What are the copyright issues in lending Kindles and ebooks to our students? > JISC Legal > ManageContent
Wiki Summarizer | technologies
What is a browser?