Renewable energy
A microbial fuel cell ( MFC ) or biological fuel cell is a bio- electrochemical system that drives a current by mimicking bacterial interactions found in nature . MFCs can be grouped into two general categories, those that use a mediator and those that are mediator-less. The first MFCs, demonstrated in the early 20th century, used a mediator, this is a chemical that transfers electrons from the bacteria in the cell to the anode. Mediator-less MFCs are a more recent development dating to the 1970s; in this type of MFC bacteria in mediator-less MFCs typically have electrochemically active redox proteins such as cytochromes on their outer membrane that can transfer electrons directly to the anode. [ 1 ] Since the turn of the 21st century MFCs have started to find a commercial use in the treatment of waste water. [ 2 ] [ edit ] History The idea of using microbial cells in an attempt to produce electricity was first conceived in the early twentieth century.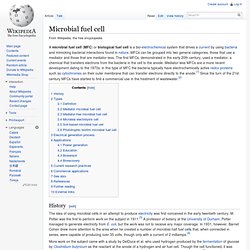 Microbial fuel cell
3D animation of a fuel injected V8
BMW Hydrogen 7 3D Animation
Demonstration model of a direct-methanol fuel cell. The actual fuel cell stack is the layered cube shape in the center of the image Scheme of a proton conducting fuel cell A fuel cell is a device that converts the chemical energy from a fuel into electricity through a chemical reaction with oxygen or another oxidizing agent. [ 1 ] Hydrogen is the most common fuel, but hydrocarbons such as natural gas and alcohols like methanol are sometimes used. Fuel cells are different from batteries in that they require a constant source of fuel and oxygen to run, but they can produce electricity continually for as long as these inputs are supplied. Welsh Physicist William Grove developed the first crude fuel cells in 1839.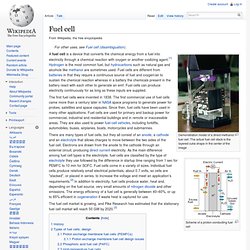 Glowing Jellyfish
India looks to alternative energy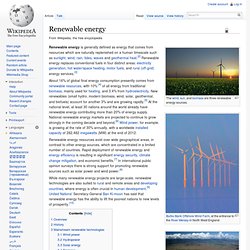 In 2010 renewable energy accounted for 16.7% of total energy consumption. Biomass heat accounted for 11.4%, and hydropower 3.3%. Renewable energy is energy that comes from resources which are continually replenished such as sunlight , wind , rain , tides , waves and geothermal heat .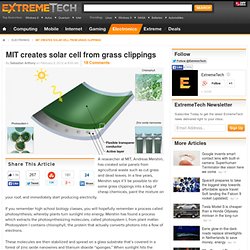 A researcher at MIT, Andreas Mershin, has created solar panels from agricultural waste such as cut grass and dead leaves. In a few years, Mershin says it'll be possible to stir some grass clippings into a bag of cheap chemicals, paint the mixture on your roof, and immediately start producing electricity. If you remember high school biology classes, you will hopefully remember a process called photosynthesis, whereby plants turn sunlight into energy. Mershin has found a process which extracts the photosynthesizing molecules, called photosystem I, from plant matter. Photosystem I contains chlorophyll, the protein that actually converts photons into a flow of electrons. These molecules are then stabilized and spread on a glass substrate that's covered in a forest of zinc oxide nanowires and titanium dioxide "sponges."
BMW Hydrogen 7 - Hydrogen Motors
Hydrogen 7