Renewable energy
Water purifier
Microbial fuel cell. A microbial fuel cell (MFC) or biological fuel cell is a bio-electrochemical system that drives a current by using bacteria and mimicking bacterial interactions found in nature.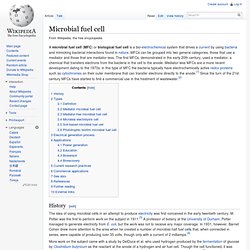 MFCs can be grouped into two general categories, those that use a mediator and those that are mediator-less. The first MFCs, demonstrated in the early 20th century, used a mediator: a chemical that transfers electrons from the bacteria in the cell to the anode. Mediator-less MFCs are a more recent development dating to the 1970s; in this type of MFC the bacteria typically have electrochemically active redox proteins such as cytochromes on their outer membrane that can transfer electrons directly to the anode.[1] Since the turn of the 21st century MFCs have started to find a commercial use in the treatment of wastewater.[2] History[edit] The idea of using microbial cells in an attempt to produce electricity was first conceived in the early twentieth century.
3D animation of a fuel injected V8. BMW Hydrogen 7 3D Animation. Fuel cell. Demonstration model of a direct-methanol fuel cell.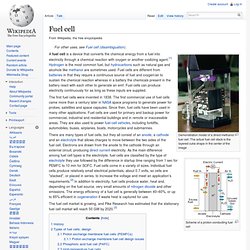 The actual fuel cell stack is the layered cube shape in the center of the image Scheme of a proton-conducting fuel cell The first fuel cells were invented in 1838. The first commercial use of fuel cells came more than a century later in NASA space programs to generate power for probes, satellites and space capsules. Since then, fuel cells have been used in many other applications. Glowing Jellyfish. India looks to alternative energy.
Energy from Thorium. Renewable energy. Renewable energy is generally defined as energy that comes from resources which are naturally replenished on a human timescale such as sunlight, wind, rain, tides, waves and geothermal heat.[2] Renewable energy replaces conventional fuels in four distinct areas: electricity generation, hot water/space heating, motor fuels, and rural (off-grid) energy services.[3] About 16% of global final energy consumption presently comes from renewable resources, with 10% [4] of all energy from traditional biomass, mainly used for heating, and 3.4% from hydroelectricity.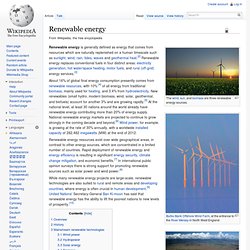 New renewables (small hydro, modern biomass, wind, solar, geothermal, and biofuels) account for another 3% and are growing rapidly.[5] At the national level, at least 30 nations around the world already have renewable energy contributing more than 20% of energy supply. Donald Sadoway: Liquid Battery. MIT : Grass Solar Power. A researcher at MIT, Andreas Mershin, has created solar panels from agricultural waste such as cut grass and dead leaves.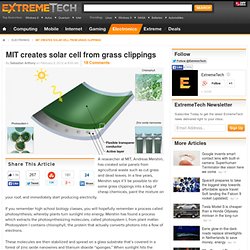 In a few years, Mershin says it'll be possible to stir some grass clippings into a bag of cheap chemicals, paint the mixture on your roof, and immediately start producing electricity. If you remember high school biology classes, you will hopefully remember a process called photosynthesis, whereby plants turn sunlight into energy. Mershin has found a process which extracts the photosynthesizing molecules, called photosystem I, from plant matter. Photosystem I contains chlorophyll, the protein that actually converts photons into a flow of electrons. These molecules are then stabilized and spread on a glass substrate that's covered in a forest of zinc oxide nanowires and titanium dioxide "sponges." BMW Hydrogen 7 - Hydrogen Motors.
I do not remember going to an auto show in Germany without seeing a prototype BMW hydrogen.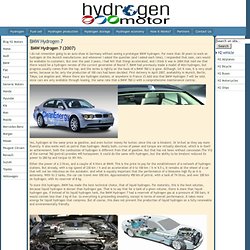 For more than 30 years to work on hydrogen at the Munich manufacturer, and whenever I asked the question (and I asked each time), I responded that soon, cars would be available to customers. But over the past 3 years, I had felt that things accelerated, and I think it was in 2004 that told me that there would be a hydrogen version of the current generation of Round 7. BMW had previously made a model of Mini hydrogen, but progress usually comes from the top, and the series is rightly on the basis of a BMW 760 Li is gone.
Hydrogen 7.
---