Renewable Energy
Unknown Mathematician Proves Surprising Propert...
Epilogue: Farmer takes the waste and odor out of hog manure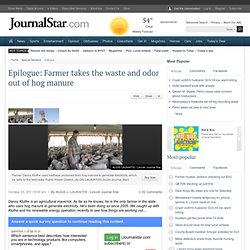 Danny Kluthe is an agricultural maverick. As far as he knows, he is the only farmer in the state who uses hog manure to generate electricity. He's been doing so since 2005. We caught up with Kluthe and his renewable energy operation recently to see how things are working out.
Hydro-electric power via Shutterstock Scotland can generate all its domestic electricity using renewable methods by 2020 , the Government has confirmed. However, it will be challenge to reach the target and green energy generation will need to be supported by at least 2.5 GW from thermal power units that will be increasing their carbon capture and storage rates. The Government also aims to completely remove carbon from electricity generation by 2030, under plans outlined in the Electricity Generation Policy Statement (EGPS), which has just been released. Fergus Ewing, Scotland's Energy Minister, says, "We know there is doubt and scepticism about our 100 per cent renewables target, and the financial and engineering challenges required to meet it.
Total green electricity generation for Scotland | Energy
MindTreeHealth | Problem solving for conscious people
Cargo boat and US navy ship set sail on 'green' algal oil in marine fuel trials | Environment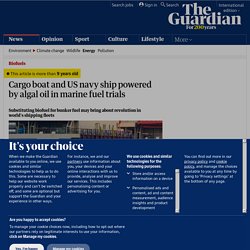 Trials of the algal oil have been carried out on a Maersk cargo ship. Photograph: Murdo Macleod for the Guardian Giant cargo boats and US navy warships have been successfully powered on oil derived from genetically modified algae in a move which could herald a revolution in the fuel used by the world's fleets – and a reduction in the pollution they cause. The results of substituting algal oil for low-grade, "bunker" fuel and diesel in a 98,000-tonne container ship are still being evaluated by Maersk, the world's biggest shipping company, which last week tested 30 tonnes of oil supplied by the US navy in a vessel travelling from Europe to India.
Main Page - PESWiki
Lutec Australia Pty Ltd - How the Lutec Engine Works
In order to gain an understanding of the operation of a LEA (Lutec Electricity Amplifier) it must be understood that there are actually three separate and completely individual events occurring in the one machine. Each of the three is equally important because without one of them operating in a completely synchronistical manner with the others, the end result would not achieve the efficiency levels required. Each of the three events should first be viewed in isolation and then when they are drawn together as they are in the LEA, an understanding of the operating principles will become clear. The First Event is a Pulsed DC Motor.
Energy & Sustainability :: Feature Articles :: October 26, 2009 :: :: Email :: Print See Inside Wind, water and solar technologies can provide 100 percent of the world's energy, eliminating all fossil fuels. Here's how By Mark Z. Jacobson and Mark A.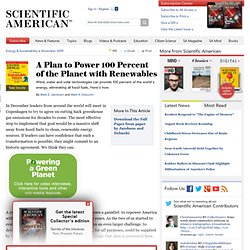 Moving Planet | A day to move beyond fossil fuels.
STEAM ENGINE 12KW GENERATOR Solar Mirror Array
How Solar Energy is Converted
Cost of fuel is major expense for U.S. military
Newport, R.I. - When Adm. Gary Roughead sees the price of oil rise by $1 per barrel, he knows it will cost the Navy an additional $33 million for fuel. Roughead, chief of naval operations, and other speakers at the U.S. Naval War College's forum on energy and national security Tuesday, agreed that the nation's dependence on oil is untenable, given the cost, demand and finite supply. They differed, however, on what should be done and how soon. Amory B.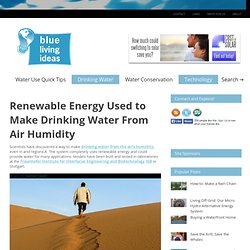 Renewable Energy Used to Make Drinking Water From Air Humidity – Blue Living Ideas
Scientists have discovered a way to make drinking water from the air's humidity, even in arid regions. The system completely uses renewable energy and could provide water for many applications. Models have been built and tested in laboratories at the Fraunhofer Institute for Interfacial Engineering and Biotechnology IGB in Stuttgart. Image by hamed saber Scientists can make drinking water from desert air. Even in areas where there is no surface water or plant life, there is still moisture in the air.
digtheheat.com Geothermal Energy Info
"Green Nukes" An Important Climate Change Mitigation Tool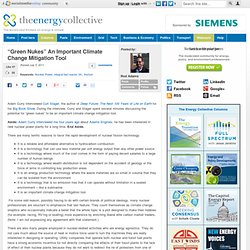 Adam Curry interviewed Curt Stager , the author of Deep Future: The Next 100 Years of Life on Earth for his Big Book Show . During the interview, Curry and Stager spent several minutes discussing the potential for "green nukes" to be an important climate change mitigation tool. Aside: Adam Curry interviewed me four years ago about Adams Engines ; he has been interested in new nuclear power plants for a long time. End Aside.
Researchers Improve Construction Machines Fuel by 50%
Researchers have harnessed the energy generated by heavy machines, and used it to cut their fuel consumption by half (Photo: Aalto University) Image Gallery (4 images) Many hybrid cars feature regenerative braking - they harness the energy generated when they brake, and store it in the battery for later use.
Researchers halve machines' fuel consumption, by turning them into hybrids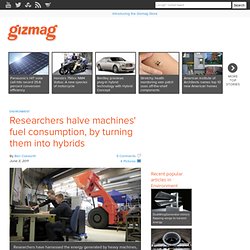 This seems such an obvious idea; why is it not standard design and construction approach for all heavy machinery? by xodarap Jul 21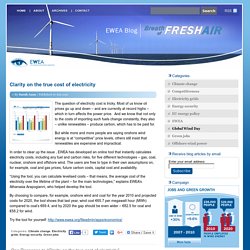 The question of electricity cost is tricky. Most of us know oil prices go up and down – and are currently at record highs – which in turn affects the power price. And we know that not only to the costs of importing such fuels change constantly, they also – unlike renewables – produce carbon, which has to be paid for. But while more and more people are saying onshore wind energy is at "competitive" price levels, others still insist that renewables are expensive and impractical. In order to clear up the issue , EWEA has developed an online tool that instantly calculates electricity costs, including any fuel and carbon risks, for five different technologies – gas, coal, nuclear, onshore and offshore wind.
Blog » Clarity on the true cost of electricity
Solar electricity isn't the only renewable energy whipping boy out there. Wind power has also taken more than its share of lumps, frequently saddled with a reputation for excessive noise and energy inefficiency. Plus, if some of the rumors are true, wind harvesters of the world have steadily been turning the planet's bird population into an airborne puree of blood and feathers. To be fair, wind turbines do kill birds -- but so do vehicles, skyscrapers , pollution and the introduction of invasive species into their habitats. Humans have had bird blood on their hands for ages, and as daunting as a field of wind turbines may look, they're responsible for statistically few bird deaths -- less than 1 in every 30,000 [source: U.S.
5 Myths About Renewable Energy"
A winning solution for renewable energy and CO2 reduction?
Two scientists are proposing the use of high-pressure carbon dioxide, instead of water, for extracting geothermal heat from the Earth Image Gallery (2 images) A promising new innovation in geothermal technology , that offers a novel solution to climate change, has been created by two researchers from the University of Minnesota's Department of Earth Sciences.
Denmark Leads the Way with Carbon Neutral Homes - a News & Politics video
Scotland Reaches > 30% Mark 2011 and Aims for 100% by 2020
Scotland inches toward wind energy goals
GLASGOW, Scotland, June 14 (UPI) -- The opening of two wind power facilities in Scotland help move the country closer to its renewable energy goals, the country's leader said. Two wind farms, which combined will generate enough power to meet the energy demands of more than 100,000 households, have opened in Scotland. "The opening of the Arecleoch and Mark Hill windfarms here in South Ayrshire is a significant milestone for ScottishPower Renewables," Scottish First Minister Alex Salmond said in a statement.
US Funds Massive Solar Energy Project - a News & Politics video
Colorado Town Reaches for 80% Renewable Energy by 2025
Arizona Renewable Energy Sub-Page
Nebraska Energy Office
U.S. Energy Information Administration - EIA - Independent Statistics and Analysis
In 2010 renewable energy accounted for 16.7% of total energy consumption. Biomass heat accounted for 11.4%, and hydropower 3.3%. Renewable energy is energy that comes from resources which are continually replenished such as sunlight , wind , rain , tides , waves and geothermal heat .
List of countries by electricity production from renewable sources
Nuclear power in Germany
Nuclear power in Germany accounted for 17.7% of national electricity supply in 2011, compared to 22.4% in 2010. [ 1 ] [ 2 ] German nuclear power began with research reactors in the 1950s and 1960s with the first commercial plant coming online in 1969. It has been high on the political agenda in recent decades, with continuing debates about when the technology should be phased out. The topic received renewed attention at the start of 2007 due to the political impact of the Russia-Belarus energy dispute and in 2011 after the Fukushima I nuclear accidents . [ 3 ] On 30 May 2011, Germany formally announced plans to abandon nuclear energy completely within 11 years. The plan included the immediate permanent closure of six nuclear power plants that had been temporarily shut down for testing in March 2011, and two more that have been offline a few years with technical problems. The remaining nine plants will be shut down between now and 2022.
Carbon cycle
Cost of electricity by source
Environmental concerns with electricity generation
Intermittent energy source
Northeast Sustainable Energy Association HOME
Bonneville Environmental Foundation - Renewable Energy
Energy Through Enterprise
Welcome to Green-e!
NV Renewable Energy
Dirty Energy Money | Oil Change International
Statkraft is Europe's largest renewable energy company - Statkraft
Renewable Energy Directory
Renewable Energy
Music Saves Mountains - artists against mountaintop removal coal mining
z e a n - Investigación y Difusión de soluciones sustentables, energía renovable, arte, espiritualidad y expresión
The Veggie Van Organization
Climate Reality
Carbon Sequestration (Storing It)
Renewable Energy - Blue Ocean Institute
Reinventing Fire
Search How to Sites for Renewable Energy Reference Material