Renewable Energy
How Information Can Save Energy. In 2007, an astounding 2.2 million residents of Sydney, Australia turned off their lights in the first ever Earth Hour organized by the World Wildlife Fund (WWF).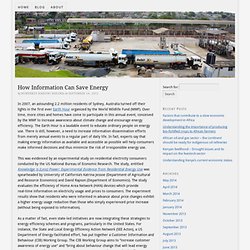 Over time, more cities and homes have come to participate in this annual event, conceived by the WWF to increase awareness about climate change and encourage energy efficiency. The Earth Hour is a laudable event to educate ordinary people on energy use. There is still, however, a need to increase information dissemination efforts from merely annual events to a regular part of daily life. In fact, experts say that making energy information as available and accessible as possible will help consumers make informed decisions and thus minimize the risk of irresponsible energy use.
Converting Plastic Waste Into Fuel In Africa. Researchers in Africa namely Messrs Michael Commeh, Isaiah Nimako and Nene Amoatey, all came from Kwame Nkrumah University of Science and Technology (KNUST) saw the need to alleviate the number of wastes including plastics in the country.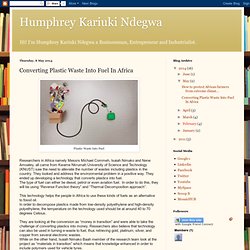 They looked and address the environmental problem in a positive way. They ended up developing a technology that converts plastics into fuel. The type of fuel can either be diesel, petrol or even aviation fuel. In order to do this, they will be using "Reverse Function theory" and "Thermal Decomposition approach". This technology helps the people in Africa to use these kinds of fuels as an alternative to fossil oil. Energy Research for Sustainable Development. In my past article on the importance of energy information, I mentioned that an efficient knowledge dissemination system would help consumers make informed and wise choices regarding energy consumption.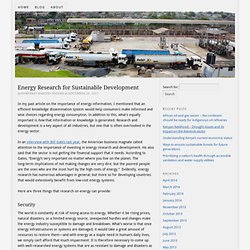 In addition to this, what's equally important is how that information or knowledge is generated. Research and development is a key aspect of all industries, but one that is often overlooked in the energy sector. In an interview with Bill Gates last year, the American business magnate called attention to the importance of investing in energy research and development. Biomass Energy in Africa. In my previous blogs, I talked much about the benefits of renewable energy and its different forms, namely: geothermal, wind, community energy, and waste-to-energy.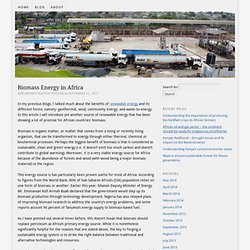 In this article I will introduce yet another source of renewable energy that has been showing a lot of promise for African countries: biomass. Biomass is organic matter, or matter that comes from a living or recently living organism, that can be transformed to energy through either thermal, chemical or biochemical processes. Perhaps the biggest benefit of biomass is that is considered as sustainable, clean and 'green' energy (i.e. it doesn't emit too much carbon and doesn't contribute to global warming). Moreover, it is a very viable energy source for Africa because of the abundance of forests and wood (with wood being a major biomass material) in the region.
Ways on how African industries can save energy. Worldwide energy prices have indeed increased dramatically.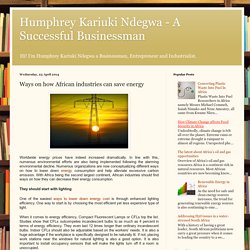 In line with this, numerous environmental efforts are also being implemented following the alarming environmental decline. Numerous organizations are now conceptualizing different ways on how to lower down energy consumption and help alleviate excessive carbon emission. With Africa being the second largest continent, African industries should find ways on how they can decrease their energy consumption. Business World Press - Weekly dose of online repository of business news, updates, and commentaries around the world. The use of green electricity will boost economic opportunities in Kenya.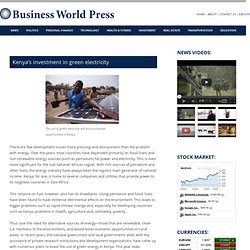 There are few development issues more pressing and omnipresent than the problem with energy. Over the years, most countries have depended primarily on fossil fuels and non-renewable energy sources (such as petroleum) for power and electricity. The benefits of converting Biogas waste to power in Africa. Biogas is a renewable source of energy generated from both animal and human excreta as well as green waste.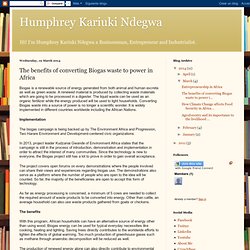 A renewed material is produced by collecting waste materials which are going to be processed in a digester. The liquid waste can be used as an organic fertilizer while the energy produced will be used to light households. Converting Biogas waste into a source of power is no longer a scientific wonder. ENCYCLOPEDIA OF ALTERNATIVE ENERGY AND SUSTAINABLE LIVING. Renewable energy. Renewable energy is generally defined as energy that comes from resources which are naturally replenished on a human timescale such as sunlight, wind, rain, tides, waves and geothermal heat.[2] Renewable energy replaces conventional fuels in four distinct areas: electricity generation, hot water/space heating, motor fuels, and rural (off-grid) energy services.[3] About 16% of global final energy consumption presently comes from renewable resources, with 10% [4] of all energy from traditional biomass, mainly used for heating, and 3.4% from hydroelectricity.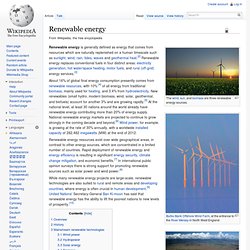 New renewables (small hydro, modern biomass, wind, solar, geothermal, and biofuels) account for another 3% and are growing rapidly.[5] At the national level, at least 30 nations around the world already have renewable energy contributing more than 20% of energy supply. Intermittent energy source. An intermittent energy source is any source of energy that is not continuously available due to some factor outside direct control.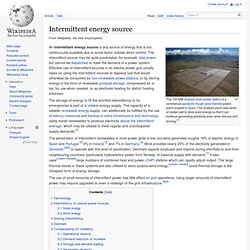 The intermittent source may be quite predictable, for example, tidal power, but cannot be dispatched to meet the demand of a power system. Effective use of intermittent sources in an electric power grid usually relies on using the intermittent sources to displace fuel that would otherwise be consumed by non-renewable power stations, or by storing energy in the form of renewable pumped storage, compressed air or ice, for use when needed, or as electrode heating for district heating schemes. Main Page - PESWiki. Wind & Solar.
Calculating. Magneto Electrics. Waste to Energy. Carbon Sequestration (Storing It) Dirty Energy. Tar Sands. Methane. Biomass. Environmental concerns with electricity generation.
The environmental impact of electricity generation is significant because modern society uses large amounts of electrical power.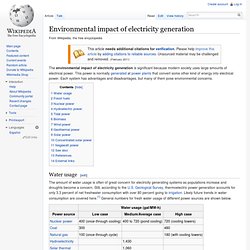 This power is normally generated at power plants that convert some other kind of energy into electrical power. Each system has advantages and disadvantages, but many of them pose environmental concerns. Cost of electricity by source. Cost factors[edit] While calculating costs, several internal cost factors have to be considered.[2] (Note the use of "costs," which is not the actual selling price, since this can be affected by a variety of factors such as subsidies and taxes): Capital costs (including waste disposal and decommissioning costs for nuclear energy) - tend to be low for fossil fuel power stations; high for wind turbines, solar PV; very high for waste to energy, wave and tidal, solar thermal, and nuclear.Fuel costs - high for fossil fuel and biomass sources, low for nuclear, and zero for many renewables.Factors such as the costs of waste (and associated issues) and different insurance costs are not included in the following: Works power, own use or parasitic load - that is, the portion of generated power actually used to run the stations pumps and fans has to be allowed for.
Blog » Clarity on the true cost of electricity. The question of electricity cost is tricky. Most of us know oil prices go up and down – and are currently at record highs – which in turn affects the power price. And we know that not only to the costs of importing such fuels change constantly, they also – unlike renewables – produce carbon, which has to be paid for. But while more and more people are saying onshore wind energy is at "competitive" price levels, others still insist that renewables are expensive and impractical.
In order to clear up the issue , EWEA has developed an online tool that instantly calculates electricity costs, including any fuel and carbon risks, for five different technologies – gas, coal, nuclear, onshore and offshore wind. Carbon cycle. This diagram of the fast carbon cycle shows the movement of carbon between land, atmosphere, and oceans in billions of tons of carbon per year. Yellow numbers are natural fluxes, red are human contributions in billions of tons of carbon per year. White numbers indicate stored carbon. The carbon cycle is the biogeochemical cycle by which carbon is exchanged among the biosphere, pedosphere, geosphere, hydrosphere, and atmosphere of the Earth.
5 Myths About Renewable Energy" Solar electricity isn't the only renewable energy whipping boy out there. Wind power has also taken more than its share of lumps, frequently saddled with a reputation for excessive noise and energy inefficiency. Plus, if some of the rumors are true, wind harvesters of the world have steadily been turning the planet's bird population into an airborne puree of blood and feathers.
To be fair, wind turbines do kill birds -- but so do vehicles, skyscrapers, pollution and the introduction of invasive species into their habitats. Humans have had bird blood on their hands for ages, and as daunting as a field of wind turbines may look, they're responsible for statistically few bird deaths -- less than 1 in every 30,000 [source: U.S. A winning solution for renewable energy and CO2 reduction? Two scientists are proposing the use of high-pressure carbon dioxide, instead of water, for extracting geothermal heat from the Earth Image Gallery (2 images) A promising new innovation in geothermal technology, that offers a novel solution to climate change, has been created by two researchers from the University of Minnesota's Department of Earth Sciences.
"Green Nukes" An Important Climate Change Mitigation Tool. Renewable Energy Used to Make Drinking Water From Air Humidity – Blue Living Ideas.
GeoThermal
Blue Energy. Smart grid. Vehicle. Energy Trees & Teams. Clean Energy Blogs, Articles. Renewable Energy in situ.
---
1buzz Aug 6 2012

Thank you pdk112 we are acting on a local level & social meada will deliver a global strength its up to us.

1buzz Aug 6 2012

The rwnewabel revalution starts in your mind then your home join us. thank you pdk117

pdk117 Aug 6 2012

Thank you for the partnership. Strong team.

1buzz Apr 27 2012

buzz8019 has shared a video with you on YouTube:
Hi Mat Sorry not to get back to you sooner. I hope to buy some ethanol from you>my projects are going slowly more work than thought. Hope to get our 1999 Axiam light alloy plastic car (Kubota 2 cylinder diesel running bio-diesel start then bio-fuel ethanol-hydrogen vaporisation made at home 13 bhp
"Gashole" — Are there any alternatives to oil that will secure America's energy future? T...
---