Renewable Energy Sources
University of Colorado - The Renewable and Sustainable Energy Institute (RASEI) - Renewable and Sustainable Energy Institute
CORE Colorado - Home
Alliance for Sustainable Colorado
COLORADO RENEWABLE ENERGY SOCIETY
Our MISSION is to lead Colorado and its people to an energy-efficient (EE) and renewable-energy (RE) economy through education, policy, and economic development. The Colorado Renewable Energy Society (CRES) is the only Colorado membership organization dedicated to the advancement of all forms of renewable energy (RE), energy efficiency (EE), and their synergy with sustainability and economic development. We are dedicated to raising awareness and providing educational activities to increase the adoption of existing and emerging EE/RE technologies, techniques, and policies.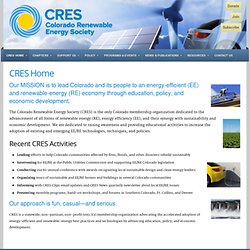 Environmentally and socially responsible business practices 927_ 11/22/10- Sustainability is more than a sound byte - it's a sound business strategy that can determine whether your business is purely surviving or truly thriving. But where to begin? That's where CORE comes in. CORE is a non-profit organization dedicated to helping companies understand and implement sustainability policies and practices into their operations.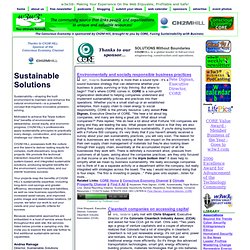 The Conscious Economy Channel - CORE fusing sustainability with success!
Greenience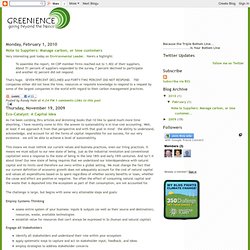 In his new book, 'Green Recovery', Andrew Winston espouses 'Getting Lean' as a cornerstone strategy for companies looking to emerge from the economic downturn as a more sustainable entity. As Winston states: "Get Lean on Stuff, Not People." According to 'Green Recovery', one of the four pillars of 'Getting Lean' is "Travel Less: Telecommuting and Teleconferencing".
Venture capital firms have invested almost $20 billion into hundreds of greentech startups since 2005. All of these firms are looking to launch a disruptive force into their target markets, scale rapidly and grow quickly. Very few of these firms will actually make it. We put our energy analysts, reporters and editors to the task of picking fifty VC startups in greentech that have at least a fighting chance of succeeding as VC-funded start-ups and making an impact on our energy-intensive lives. Selection criteria: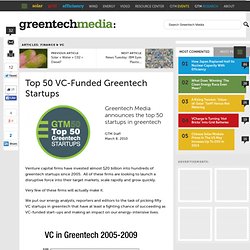 Top 50 VC-Funded Greentech Startups
Announcing the 2010 GoingGreen Silicon Valley 100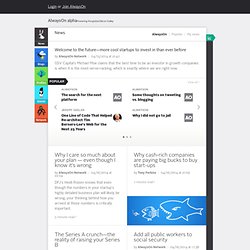 guest You must enter your email Your password is incorrect You must enter your password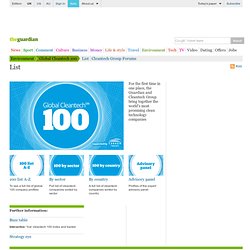 Environment Guardian Global Cleantech 100 List 2009 | Global Cleantech 100
Input into which companies should be included in the Global Cleantech 100 was received from hundreds of cleantech experts around the world – investors, entrepreneurs, and other industry insiders, members of the worldwide Cleantech Network as well as experts within the Cleantech Group itself. Industry experts were asked to put forward which private cleantech companies, in their viewpoint, show the most commercial promise, which have the most potential and highest likelihood of achieving high growth and high market impact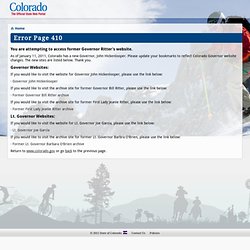 As of January 11, 2011, Colorado has a new Governor, John Hickenlooper. Please update your bookmarks to reflect Colorado Governor website changes. The new sites are listed below. Thank you. If you would like to visit the website for Governor John Hickenlooper, please use the link below:
Press Release - Colorado New Energy Economy Companies
Disclaimer: The information presented on the DSIRE web site provides an unofficial overview of financial incentives and other policies. It does not constitute professional tax advice or other professional financial guidance, and it should not be used as the only source of information when making purchasing decisions, investment decisions or tax decisions, or when executing other binding agreements. Please refer to the individual contact provided below each summary to verify that a specific financial incentive or other policy applies to your project. While the DSIRE staff strives to provide the best information possible, the DSIRE staff, the N.C. Solar Center, N.C.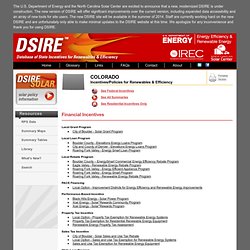 DSIRE: Incentives/Policies by State: Colorado : Incentives/Policies for Renewables & Efficiency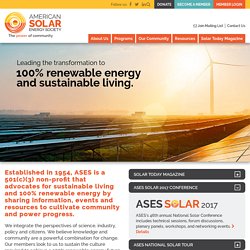 Solar Wins! All Solar Decathlon Homes Achieve Energy Balance All the homes in this year's Solar Decathlon achieved net-zero energy balance, making more energy from… PreviousNext About ASES
Resources Council
The American Wind Energy Association hosted the release of its U.S. Wind Industry Annual Market Report Year Ending 2013 at TradeWind Energy's headquarters in Lenexa, Kansas. With wind power now producing almost 20 percent of the state's generation, up from just over 11 percent in 2012, Kansans are benefitting from a low-cost, fixed-price power source that diversifies the energy mix while driving local economic development. Speakers included Rob Freeman, CEO of TradeWind Energy, Elizabeth Salerno, AWEA's Vice President of Industry Data & Analysis Elizabeth Salerno, Randi Tveitaraas Jack, International Development Manager for the Kansas Department of Commerce, Steve Goble the U.S. Service Sales Manager for kk-electronic and Pete Ferrell Rancher and Project Manager for Energy for Generations.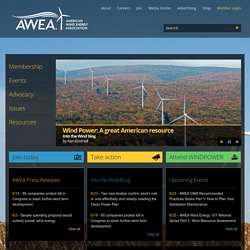 Midtex Oil Now Offering E85 in San Marcos, Texas The Spirit-branded convenience store is the fifth retail station in the state to offer the fuel blend.… Read More. 85-Cent Discount on E85 Offered in Minnesota
Choose Ethanol | Home
Advanced Biofuels Association - Building Better Fuels™
The Colorado Cleantech Industries Association represents the interests of the state's cleantech industry. Our mission is to establish Colorado as a leader in clean technology by providing representation, advocacy, relevant programming and capacity development...More > CCIA is one of the first regional cleantech organizations to partner with Advanced Energy Economy. We look forward to supporting the growth of energy jobs, promoting energy security and lending our voice to the national energy conversation...More >
Colorado Cleantech Industry Association: CCIA
United States Atlas of Renewable Resources
Renewable Energy News
Update (Jul 16, 2010): Expanding on a Washington Post op-ed, Vinod Khosla delineates his argument "about the deficiencies of an isolated cap-and-trade or carbon-pricing bill," and joins the climate technology consensus. Khosla writes, "If we want to make a significant difference, we need to get on the path to reducing carbon worldwide by 80 percent now by focusing on what I call "carbon reduction capacity building" -- in other words, we need to develop radical carbon-reduction technologies. A utility cap (or a carbon price) won't build capacity -- it will just increase our utility costs and decrease our manufacturing competitiveness without any increase in our technological competitiveness.
The Emerging Climate Technology Consensus
Update! 15 PowerPoint Slides That Shook the Earth : Greentech Media
If you attend enough cleantech events or are pitched by enough startups, you start to see the same few PowerPoint slides over and over again. Here is a collection of the best or at least the most notorious and historically significant slides in our industry. This collection has been one of our most popular pieces and I'm taking the opportunity to update some of the charts and add some additional commentary. After publishing this list to an overwhelming response, we heard from the original architects of some of these iconic greentech slides and we made sure to give them their overdue credit.
Climate Science Watch | Promoting integrity in the use of climate science in government
REPP: HOME
Software Tools | Natural Resources Canada's CanmetENERGY | Leadership in ecoInnovation
Journal of Renewable and Sustainable Energy
Strategies | Climate