Renewable Energy Sources
Solar Power. University of Colorado - The Renewable and Sustainable Energy Institute (RASEI) - Renewable and Sustainable Energy Institute. CORE Colorado - Home. Alliance for Sustainable Colorado. COLORADO RENEWABLE ENERGY SOCIETY. The Conscious Economy Channel - CORE fusing sustainability with success! Environmentally and socially responsible business practices 927_ 11/22/10- Sustainability is more than a sound byte - it's a sound business strategy that can determine whether your business is purely surviving or truly thriving.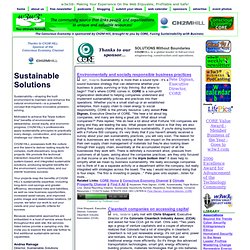 But where to begin? That's where CORE comes in. CORE is a non-profit organization dedicated to helping companies understand and implement sustainability policies and practices into their operations. Greenience. Top 50 VC-Funded Greentech Startups. Venture capital firms have invested almost $20 billion into hundreds of greentech startups since 2005.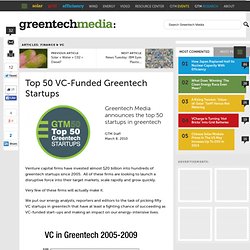 All of these firms are looking to launch a disruptive force into their target markets, scale rapidly and grow quickly. Very few of these firms will actually make it. We put our energy analysts, reporters and editors to the task of picking fifty VC startups in greentech that have at least a fighting chance of succeeding as VC-funded start-ups and making an impact on our energy-intensive lives. Selection criteria: Announcing the 2010 GoingGreen Silicon Valley 100. Guest You must enter your email Your password is incorrect You must enter your password.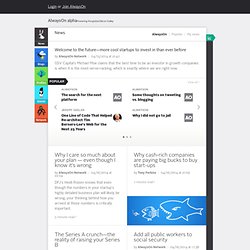 Environment Guardian Global Cleantech 100 List 2009 | Global Cleantech 100. Press Release - Colorado New Energy Economy Companies. As of January 11, 2011, Colorado has a new Governor, John Hickenlooper.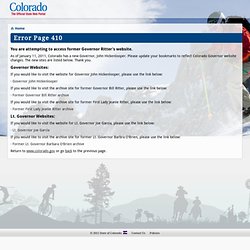 Please update your bookmarks to reflect Colorado Governor website changes. The new sites are listed below. Thank you. If you would like to visit the website for Governor John Hickenlooper, please use the link below: Colorado. Disclaimer: The information presented on the DSIRE web site provides an unofficial overview of financial incentives and other policies.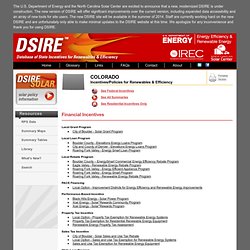 It does not constitute professional tax advice or other professional financial guidance, and it should not be used as the only source of information when making purchasing decisions, investment decisions or tax decisions, or when executing other binding agreements. Please refer to the individual contact provided below each summary to verify that a specific financial incentive or other policy applies to your project. While the DSIRE staff strives to provide the best information possible, the DSIRE staff, the N.C. Solar Center, N.C. American Solar Energy Society: The Solar Nonprofit Advancing Education, Research, Advocacy, News, and Insight Since 1954.
Home | SEIA - Solar Energy Industries Association. Resources Council. AMERICAN WIND ENERGY ASSOCIATION | Welcome to AWEA. Choose Ethanol | Home. Advanced Biofuels Association - Building Better Fuels™ Colorado Cleantech Industry Association: CCIA. United States Atlas of Renewable Resources. Renewable Energy News. The Emerging Climate Technology Consensus. Update (Jul 16, 2010): Expanding on a Washington Post op-ed, Vinod Khosla delineates his argument "about the deficiencies of an isolated cap-and-trade or carbon-pricing bill," and joins the climate technology consensus.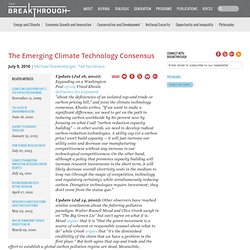 Khosla writes, "If we want to make a significant difference, we need to get on the path to reducing carbon worldwide by 80 percent now by focusing on what I call "carbon reduction capacity building" -- in other words, we need to develop radical carbon-reduction technologies. A utility cap (or a carbon price) won't build capacity -- it will just increase our utility costs and decrease our manufacturing competitiveness without any increase in our technological competitiveness. Update! 15 PowerPoint Slides That Shook the Earth : Greentech Media. If you attend enough cleantech events or are pitched by enough startups, you start to see the same few PowerPoint slides over and over again.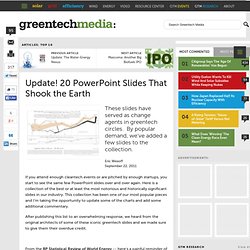 Here is a collection of the best or at least the most notorious and historically significant slides in our industry. This collection has been one of our most popular pieces and I'm taking the opportunity to update some of the charts and add some additional commentary. After publishing this list to an overwhelming response, we heard from the original architects of some of these iconic greentech slides and we made sure to give them their overdue credit. Climate Science Watch | Promoting integrity in the use of climate science in government. U.S. DOE Energy Efficiency and Renewable Energy (EERE) Home Page. Rocky Mountain Institute - Driving the Efficient Use of Resources. REPP: HOME. Green Business News, Resources, and Sustainability Career Tools | Business.
Renewable Energy World - Renewable Energy News, Jobs, Events, Companies, and more. Software Tools | Natural Resources Canada's CanmetENERGY | Leadership in ecoInnovation. Natural Resources Canada's CanmetENERGY is the Canadian leader in clean energy research and technology development.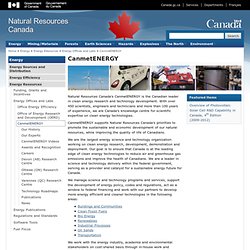 With over 450 scientists, engineers and technicians and more than 100 years of experience, we are Canada's knowledge centre for scientific expertise on clean energy technologies. CanmetENERGY supports Natural Resources Canada's priorities to promote the sustainable and economic development of our natural resources, while improving the quality of life of Canadians. We are the largest energy science and technology organization working on clean energy research, development, demonstration and deployment. Our goal is to ensure that Canada is at the leading edge of clean energy technologies to reduce air and greenhouse gas emissions and improve the health of Canadians. We are a leader in science and technology delivery within the federal government, serving as a provider and catalyst for a sustainable energy future for Canada. Journal of Renewable and Sustainable Energy. Journal of Renewable and Sustainable Energy is an online-only broadly scoped journal dedicated to all the areas of renewable and sustainable energy that are relevant to the physical science and engineering communities.As an electronic-only, web-based journal with rapid publication time, Journal of Renewable and Sustainable Energy is responsive to the many new developments expected in this field.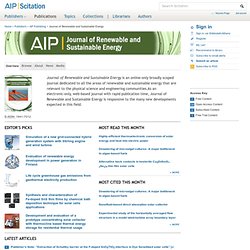 Most Read This Month Article Highly-efficient thermoelectronic conversion of solar energy and heat into electric power View Description Hide DescriptionElectric power may, in principle, be generated in a highly efficient manner from heat created by focused solar irradiation, chemical combustion, or nuclear decay by means of thermionic energy conversion. As the conversion efficiency of the thermionic process tends to be degraded by electron space charges, the efficiencies of thermionic generators have amounted to only a fraction of those fundamentally possible.
Strategies | Climate. National Renewable Energy Laboratory (NREL) Home Page.
---