Religious Studies
Has Religion Made Useful Contributions to Civilization?
Has Religion Made Useful Contributions to Civilization? by Bertrand Russell My own view on religion is that of Lucretius. I regard it as a disease born of fear and as a source of untold misery to the human race.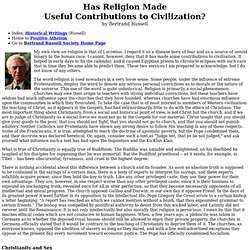 Religion Maps
Animated History of Religion
The Kybalion PDF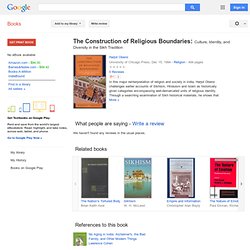 In this major reinterpretation of religion and society in India, Harjot Oberoi challenges earlier accounts of Sikhism, Hinduism and Islam as historically given categories encompassing well-demarcated units of religious identity. Through a searching examination of Sikh historical materials, he shows that early Sikh tradition was not concerned with establishing distinct religious boundaries. Most Sikhs recognized multiple identities grounded in local, regional, religious, and secular loyalties. Consequently, religious identities were highly blurred and several competing definitions of what constituted a Sikh were possible. In the closing decades of the nineteenth century, however, the Singh Sabha, a powerful new Sikh movement, began to view the multiplicity in Sikh identity with suspicion and hostility. Aided by social and cultural forces unleashed by the British Raj, the Singh Sabha sought to recast Sikh tradition and purge it of diversity.
The Construction of religious ...
Neopaganism is the fastest growing new religion in the West. Between the World: Readings in Contemporary Neopaganism provides an engaging and well-rounded introduction to this often misunderstood spiritual tradition. This provocative new volume breaks away from the negative doomsday cult focus of existing books on new religious movements and provides a clear focus on feminist spirituality, women and religion, and goddess worship. It offers a spiritual context for paganism and introduces the "language" of paganism and earth religions.
Between the Worlds: Readings in ...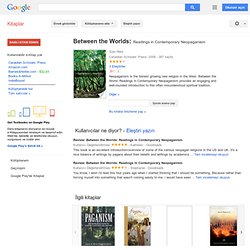 Doing ethnographic research ...
Whether simply uneasy or downright hostile, the relation between religion and liberal democracy in this country has long been vexed and complex--and crucial to what America is and aspires to be. Amid increasingly contentious exchanges over fundamentalism, abortion rights, secularism, and pluralism, this book reminds us of the critical role that religion plays in the health and well-being of a democracy. A healthy democracy draws strength from a rich civic and social life, many forms of which are religious. Moreover, these contributions are anchored in the intrinsic commitments of faith, commitments that extend over time, linking generations past and present. Strengthening these commitments and practices, the authors suggest, will also fortify pluralistic civil society and democratic participation.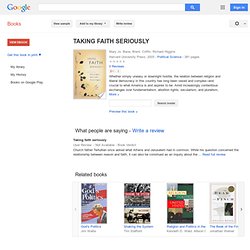 Taking faith seriously
The Measurement Wizard allows you to browse 114 key concepts used in the study of religion, view how survey researchers have attempted to measure them, and quickly compare the results of over 7,689 survey questions taken from our Data Archive. Download learning modules to interactively explore religion topics. Find syllabi, assignments, and links for teaching religion in multiple disciplines. Review rank-ordered data on religion in the U.S. and around the world.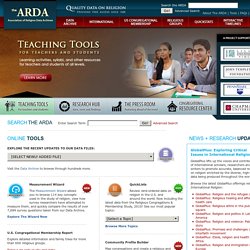 The Association of Religion Data Archives
Heathen Ethnicity Project
RELIGIOUS CONVICTION IN LIBERAL POLITICSRELIGIOUS CONVICTION IN LIBERAL POLITICS. Is it possible for a deeply religious person to be a good citizen in a liberal. democracy? ...assets.cambridge.org/97805218/12245/frontmatter/9780521812245_frontmatter.pdf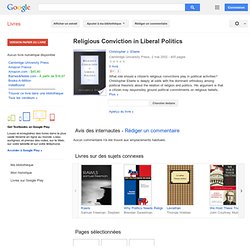 Religious conviction in liberal politics
Democracy and the new religious ...
Stevens Organizational Vitality.pdf (application/pdf Object)
Last Seminary - Christianity & the Origin of Science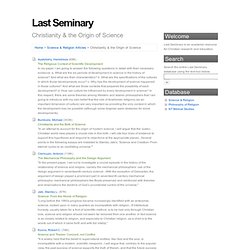 Jaki, Stanley L. Science: From the Womb of Religion "Long before the 1960s progress became increasingly identified with an enterprise, science, looked upon in many quarters as incompatible with religion...If intellectual honesty, usually taken for a fruit of scientific method, is to be had only through Christian love, science and religion should not seem far removed from one another. In fact science is as closely related to religion, and especially to Christian religion, as a child is to the womb out of which it came forth and with full vitality."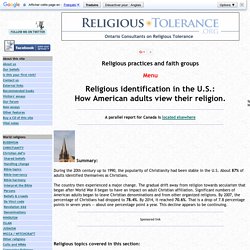 Religious identification in the U.S.
Religious practices and faith groups Menu Sponsored link.
The Graduate Center, CUNY
<div class="browser-warning"> For full functionality of this site it is necessary to enable JavaScript. Here are the <a href="http://www.enable-javascript.com/" target="_blank"> instructions how to enable JavaScript in your web browser</a>. </div>