Religious Studies
Has Religion Made Useful Contributions to Civilization? Has Religion Made Useful Contributions to Civilization?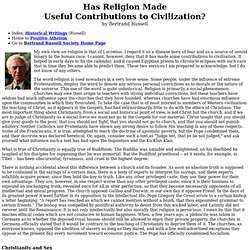 By Bertrand Russell My own view on religion is that of Lucretius. I regard it as a disease born of fear and as a source of untold misery to the human race. Religion Maps. Animated History of Religion. The Kybalion PDF.
The Construction of religious ... Between the Worlds: Readings in ... Religious Studies. American Religion. Doing ethnographic research ... Taking faith seriously. The Association of Religion Data Archives. Comparative Religion. Heathen Ethnicity Project. Sociology of Religion. Religious conviction in liberal politics.
Pagan Studies
Democracy and the new religious ... Stevens Organizational Vitality.pdf (application/pdf Object) Last Seminary - Christianity & the Origin of Science. Jaki, Stanley L.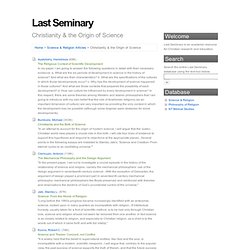 Science: From the Womb of Religion "Long before the 1960s progress became increasingly identified with an enterprise, science, looked upon in many quarters as incompatible with religion...If intellectual honesty, usually taken for a fruit of scientific method, is to be had only through Christian love, science and religion should not seem far removed from one another. In fact science is as closely related to religion, and especially to Christian religion, as a child is to the womb out of which it came forth and with full vitality. " Religious identification in the U.S. Religious practices and faith groups Menu Sponsored link.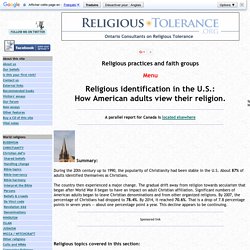 The Graduate Center, CUNY. <div class="browser-warning"> For full functionality of this site it is necessary to enable JavaScript.
Here are the <a href=" target="_blank"> instructions how to enable JavaScript in your web browser</a>. </div>
---