Masonic
George Washington Masonic Aprons
Brother George Washington's Masonic Apron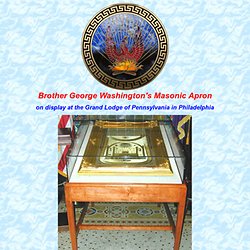 The affection each man held for the other is legendary. So, too, is the legacy of Masonic history developed through that affection. For many years Masons and non-Masons believed that the white silk apron known as the Lafayette Apron, had been embroidered by Madame Lafayette and presented to Bro.
Brother Washington's Masonic Apron - Masonic Library and Museum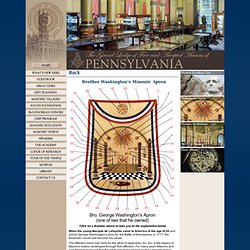 Freemasonry is a fraternal organisation that arose from obscure origins in the late 16th to early 17th century.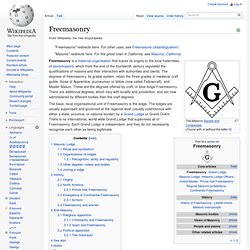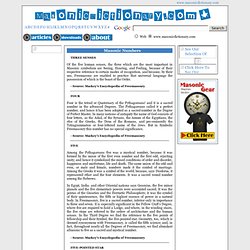 Masonic Dictionary | Masonic Numbers | www.masonicdictionary.com
Of the five human senses, the three which are the most important in Masonic symbolism are Seeing, Hearing, and Feeling, because of their respective reference to certain modes of recognition, and because, by their use, Freemasons are enabled to practice that universal language the possession of which is the boast of the Order.
A Symbol of Geometry; of exact science. Passed over with but a few words of ritual, it is Masonically most interesting. It appears on the frontispiece of Anderson's Constitutions, published in 1723; Street states it is the earliest example of a printed symbol of Freemasonry.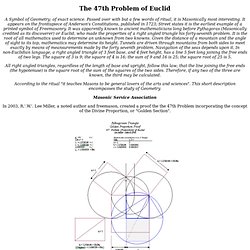 The 47th Problem of Euclid
FAM-Code, the Masonic Cipher & Symbols Font
Freemason Symbols Represent the Heart of Freemasonry Freemason Symbols And Their Masonic Symbolism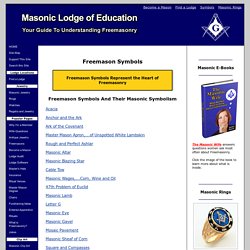 Sublime Prince of the Royal Secret - Morals and Dogma by Albert Pike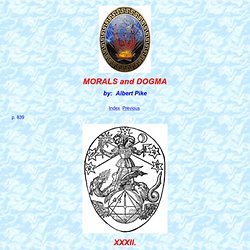 MORALS and DOGMA by: Albert Pike Index Previous p. 839
VOL. LXVIII No. 18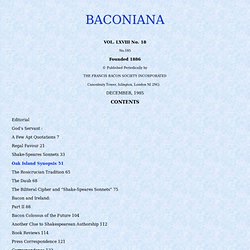 mckaig
Thank you for the video! I have always believed that most of the people have the miss guided conception that "TPTB" , masons , whatever some would call them have as ultimate purpose the total control of the world or global power , because the people on the real top of things are definitely not stupid if they are where they are. Controlling assets and power is such a material thing and useless to a future human race in comparison with the one and most important purpose of this universe which is survival.
Freemasonry: The Great Cross and the End of Time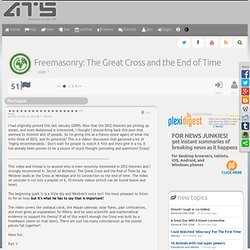 The Degrees of the Scottish Rite
An ancient painting of Nüwa and Fuxi unearthed in Xinjiang, holding the tools of creation - compass and square.
Nüwa and Fuxi in Chinese Mythology: Compass & Square - NothingWavering.org - LDS & Mormon Blog Portal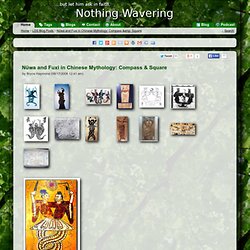 This website began when Dr Robert Lomas of the University's School of Management , decided to create an electronic database of the Masonic material held in many of the University's Special Collections as part of his on-going research into the cultural origin of scientific ideas.
University of Bradford : Web of Hiram