MEDIA
Nieman Reports. Anja Niedringhaus, NF '07, a Pulitzer Prize-winning photographer for the Associated Press, was killed in Afghanistan on April 4 while covering preparations for the presidential election on Saturday.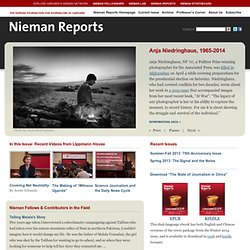 Niedringhaus, who had covered conflicts for two decades, wrote about her work in a 2012 essay that accompanied images from her most recent book, "At War": "The legacy of any photographer is her or his ability to capture the moment, to record history. For me it is about showing the struggle and survival of the individual." Informationliberation - The news you're not supposed to know... The Independent | News | UK and Worldwide News | Newspaper. Nieman Watchdog > Commentary > Big Brother now has a name: Lockheed Martin.
COMMENTARY | January 13, 2011 The nation's largest defense contractor doesn't just make cluster bombs, overpriced fighter jets and ballistic missiles.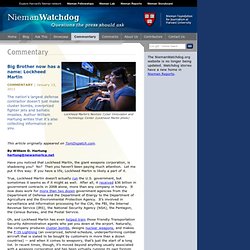 Author William Hartung writes that it's also collecting information on you. This article originally appeared on TomDispatch.com. By William D.
Google+
International News and World Headlines at GlobalPost. NEWS TOOLS. CONSERVATIVE. LIBERAL. TRADITIONAL.
---