Vegetarian
Readers' recipe swap: Roast | Felicity Cloake. Cook readers never fail to surprise: I expected a volley of roast lamb and ribs of beef this week, but instead I found myself cooking Portuguese sea bream and searching for Syrian pepper.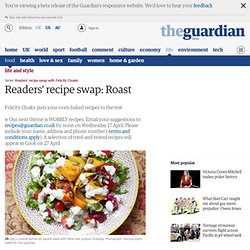 Roasting concentrates flavours, and that rings true for my top two recipes this week, Katherine Hackworthy's sweetly spiced cake is beautifully moist and fluffy, while Cheeku Bhasin's colourful salad made the perfect spring lunch. No horseradish required. The winning recipe: spicy roasted butternut squash salad with tahini and yoghurt dressing I created a delicious spicy, butternut squash salad that I cannot stop eating! Cabbage and Carrot Noodles — Recipes for Health. Recipage. Guaranteed Crispy Sweet Potato Fries & Sriracha Mayo Dip. Let's get one thing straight.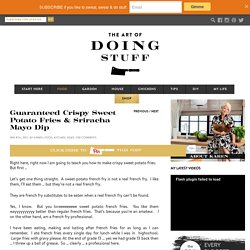 A sweet potato french fry is not a real french fry. I like them, I'll eat them … but they're not a real french fry. They are french fry substitutes to be eaten when a real french fry can't be found. Yes, I know. But you loveeeeeeeee sweet potato french fries. Nigel Slater's spinach pie and apple focaccia recipes. A spot of baking.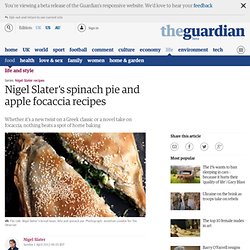 It is rare that a week goes by without a bit of baking going on in my kitchen. A pie. Mixed vegetables and yoghurt with green chilli oil recipe, plus beef pie | Yotam Ottolenghi. Yotam Ottolenghi's mixed vegetables and yoghurt: A real scene-stealer of a dish.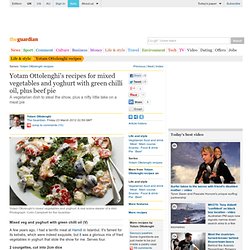 Photograph: Colin Campbell for the Guardian Mixed veg and yoghurt with green chilli oil (V) A few years ago, I had a terrific meal at Hamdi in Istanbul. It's famed for its kebabs, which were indeed exquisite, but it was a glorious mix of fried vegetables in yoghurt that stole the show for me. Serves four. Protein Power Goddess Bowl. Thank you all so much for your votes in Project Food Blog!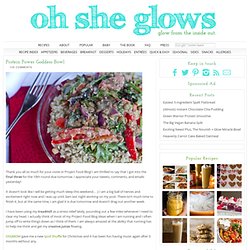 I am thrilled to say that I got into the final three for the 10th round due tomorrow. I appreciate your tweets, comments, and emails yesterday! It doesn't look like I will be getting much sleep this weekend… ;) I am a big ball of nerves and excitement right now and I was up until 3am last night working on my post. There isn't much time to finish it, but at the same time, I am glad it is due tomorrow and doesn't drag out another week. I have been using my treadmill as a stress relief lately, pounding out a few miles whenever I need to clear my head.
LENTIL, TAMARIND AND DATE DHANSAK. CORSICAN OMELETTE. Bear with me - as telephonists like to say - while I gush for a bit.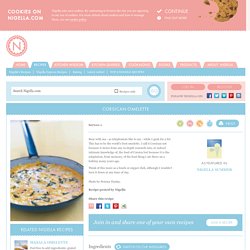 This has to be the world's best omelette. I call it Corsican not because it stems from any in-depth research into, or indeed intimate knowledge of, the food of Corsica but because it is the adaptation, from memory, of the best thing I ate there on a holiday many years ago. Think of this more as a lunch or supper dish, although I wouldn't turn it down at any time of day. Kookoo sabzi or herb omelette recipe. The word kookoo actually applies to a range of eggy dishes, which can be made with ingredients as diverse as aubergine and sugar.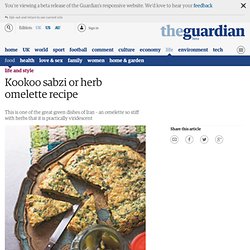 This recipe can be prepared in the form of baby patties, or you can make it as one large omelette and cut it into wedges (I nearly always opt for the latter, as I am very cack-handed). They are great as a lunch or light supper option, with some bread and salad, or you can tart them up into a dinner party starter – but in Iran kookoo are most often used as a sandwich filling together with fresh herbs and spicy pickled cucumbers. You can replace the coriander, parsley and fenugreek with a bag of sabzi kookoo dried herb mix, available from Middle Eastern supermarkets. Serves 6 as a snack1 bunch coriander 1 bunch flat-leaf parsleyfew sprigs fenugreek1 small bunch spring onions6 eggs1 dessertspoon flour ½ teaspoon baking powdersalt and pepperolive oil, for frying. Cheese-baked egg-stuffed tomatoes recipe. Cheese-baked egg-stuffed tomatoes.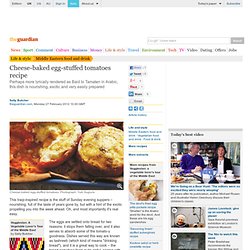 Photograph: Yuki Sugiura This Iraqi-inspired recipe is the stuff of Sunday evening suppers – nourishing, full of the taste of years gone by, but with a hint of the exotic propelling you into the week ahead. Oh, and most importantly it's real easy. The eggs are settled onto bread for two reasons: it stops them falling over, and it also serves to absorb some of the tomato-y goodness. Dishes served this way are known as tashreeb (which kind of means "drinking bread"), and it is a great way to cook – the bread somehow feels quite sinful, oozing with vegetable "dripping", and what may be a simple vegetable concoction is rendered something more substantial and filling. Carrot and mung bean salad, plus red lentil soup with fried tofu and chilli oil recipes | Yotam Ottolenghi. Carrot and mung bean salad (V) Forget mung beans' reputation as healthy yet bland – used right, they soak up loads of flavour.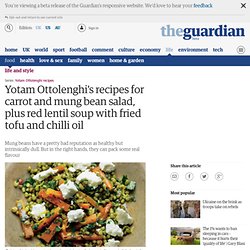 Serves four. Open kibbeh, plus pearl barley tabouleh with marinaded feta recipes | Yotam Ottolenghi | Food and drink. Open kibbeh.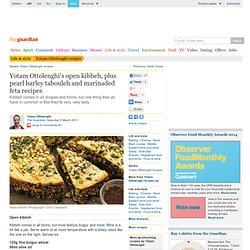 Photograph: Colin Campbell Open kibbeh Kibbeh comes in all forms, but most feature bulgur and meat. Mine is a bit like a pie. The new vegetarian: Root mash with wine-braised shallots | Yotam Ottolenghi. Boozy braised shallots on top of a rich root veg mash – what could be more warming on a cold winter's day? Photograph: Colin Campbell There's nothing more marvellously wintery than orange root veg mash; some butter is all it needs. Aubergine kuku | Yotam Ottolenghi | Vegetarian. Yotam Ottolenghi's aubergine kuku: a bit like a frittata, only better. Photograph: Colin Campbell A meeting with a passionate Iranian cook has pushed me to make more use of some core ingredients of this wonderful cuisine.
Dried barberries (zereshk in Persian) are sold in Middle Eastern and Asian grocers. Fried cauliflower with tahini recipe | Yotam Ottolenghi | Vegetarian | Food. Fried cauliflower with tahini. Photograph: Colin Campbell for the Guardian On a recent visit to Israel, I was astounded by new uses for tahini, in both simple eateries and upmarket restaurants. Local connoisseurs prefer specific brands, usually Palestinian. In Britain, I would make a real effort to get a good Lebanese variety such as Al Yaman, available from Middle Eastern grocers. Butternut squash and tahini spread recipe, plus batata harra | Yotam Ottolenghi. Butternut squash and tahini spread (V) Tara Wigley, who assists me in my recipe testing, emailed me about this one with "I could eat this by the bucket" in the subject field.
And she's right – once you start eating it, it is hard to put aside. Butternut squash frittata recipe. Serves 2 generously as a main course or makes 6 portions to share for a picnic. ½ butternut squash¼ bunch sage, shredded200g goat's cheese (or feta)10 eggs Preheat the oven to 180C. Peel and dice the squash into 1cm chunks. Vegetable curry recipes | Hugh Fearnley-Whittingstall. Mutton, potato and lime curry recipe, plus crushed carrots with yoghurt and pistachios | Yotam Ottolenghi. Winter Squash Soufflé and Greens Recipe. Healthy Vegetarian Recipes: Lemon Couscous with Chickpeas, Cilantro, Raisins and Almonds. Butternut Squash and Brie Pizza Recipe. Pesto Pizza with Butternut Squash Recipe. TOMATO CURRY WITH COCONUT RICE.
---