Sweet
Multigrain Waffles Recipe. I've been playing around with multigrain flour blends lately.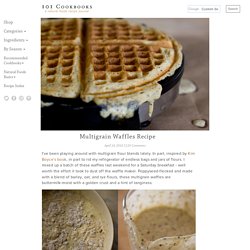 In part, inspired by Kim Boyce's book, in part to rid my refrigerator of endless bags and jars of flours. I mixed up a batch of these waffles last weekend for a Saturday breakfast - well worth the effort it took to dust off the waffle maker. Poppyseed-flecked and made with a blend of barley, oat, and rye flours, these multigrain waffles are buttermilk-moist with a golden crust and a hint of tanginess.
I know I'm going to get a lot of questions about substituting flours here. The bulk of this blend is barley flour. Recipage. Food - Recipes : Basic pancakes with sugar and lemon. Mini German Pancakes. Here's a fun breakfast you can make this weekend.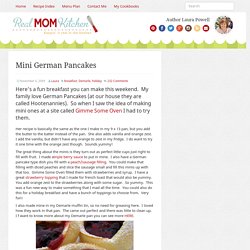 My family love German Pancakes (at our house they are called Hootenannies). So when I saw the idea of making mini ones at a site called Gimme Some Oven I had to try them. Her recipe is basically the same as the one I make in my 9 x 13 pan, but you add the butter to the batter instead of the pan. She also adds vanilla and orange zest.
Cinnamon Roll Pancakes. Cinnamon Roll Pancakes Updated 9/22/11 to Add: If you're coming here to sample these delicious Cinnamon Roll Pancakes, you just might like the latest recipe that I've posted for Pumpkin Cinnamon Roll Pancakes too.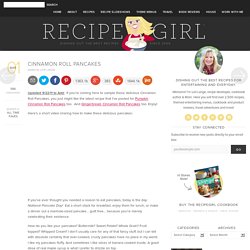 And Gingerbread- Cinnamon Roll Pancakes too. Enjoy! Oat Bran and cottage cheese drop scones. Dukan Pancakes / Muffins. Blueberry Vanilla Bean Pancakes with Blueberry Glaze. Our weekday mornings usually go a little something like this.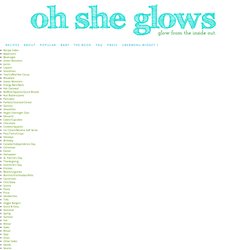 We awake to alarm clock #1. It's Sketchie and he's impatient. He's been awake prowling the house since who knows when. Healthy Spelt Pancakes For One. Do you like pancakes?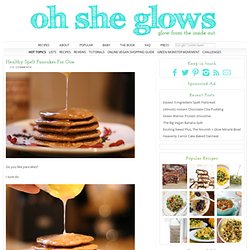 I sure do. I am a pancake lover, but I typically don't make them for the following reasons: I am not a fan of how many pancakes most recipes make when I just want a single servingWhenever I make pancakes on weekends, it always turns into a big production. Mess, drips, pans, spills, small kitchen fires…you get the idea. But I am no quitter, my friends. Big Pancake. This month on TheKitchn.com we're playing with the theme of Three Square Meals and we're starting with breakfast.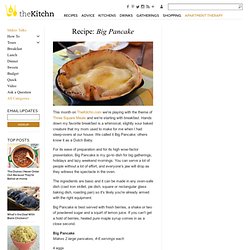 Hands down my favorite breakfast is a whimsical, slightly sour baked creature that my mom used to make for me when I had sleep-overs at our house. We called it Big Pancake; others know it as a Dutch Baby. Quick, Easy and Moist Whole Wheat Muffins. These muffins are also dependent on the whole wheat.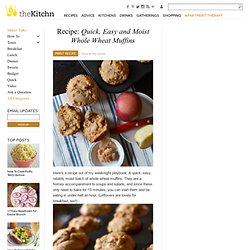 Whole wheat isn't just a health statement here; the taste of the whole grain makes a nutty, pleasant flavor. I think these muffins would be slightly boring if made with just white flour. I like the extra dimension that whole wheat gives, and the fact that whole wheat flour is lower in gluten than regular all-purpose flour also means a more tender muffin. Banana Bread Scones with Brown Sugar Glaze. A bit of whole wheat flour in place of some of the all-purpose would give these a nice earthy depth, something that I plan on trying soon.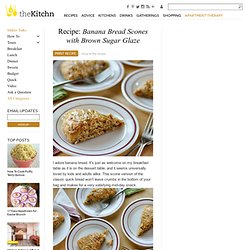 I also toned down my love of cinnamon in this recipe to make them a bit more universally palatable. If you're a fellow spice-fiend, feel free to add an extra teaspoon or two of cinnamon along with a good grating of fresh nutmeg. Banana Bread Scones with Brown Sugar Glaze Makes 8 scones. Healthy Snack Recipe: 4-Ingredient Banana Oat Bars Recipes from The Kitchn. Bananas are an amazing fruit.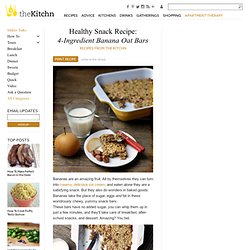 All by themselves they can turn into creamy, delicious ice cream, and eaten alone they are a satisfying snack. But they also do wonders in baked goods: Bananas take the place of sugar, eggs and fat in these wondrously chewy, yummy snack bars. These bars have no added sugar, you can whip them up in just a few minutes, and they'll take care of breakfast, after-school snacks, and dessert. Amazing? Clean Eating Protein Pancakes. Golden Oat Pancakes. Breakfast Recipe: The BEST Pancakes Ever! Pancakes get high marks for being one of the most comforting of comfort foods.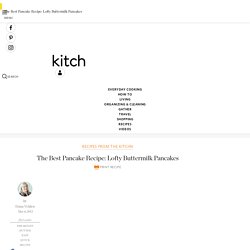 What this means is that everybody has their family favorite, resulting in thousands of recipes to choose from. But here's one with a unique twist, a shortcut actually, that hands-down produces the best pancakes I have ever made. Recipage. Recipage. Vegan & Gluten-Free Vanilla Blueberry Buckwheat Pancakes. It's a dreary, rainy Thursday morning, so I can safely assume that you're probably thinking about the weekend, including the food you want to make. Am I right or am I right? Enter pancakes. Pancakes are quite possibly one of the easiest things to prepare on a weekend. Any food that can be prepared successfully while half asleep is a winner in my books. I made these a couple weekends ago when I was feeling bored of my usual pancakes and I've since made 4 batches. How to Make and Shape Homemade Croissants. Previous image Next image Crispy on the outside, chewy in the middle.
Perfect. It's probably a good thing that croissants are so fussy to make or we'd be eating them every day. Recipage. Clean Eating Oatmeal Recipes. Almond Butter Granola - 10 New Ways to Eat Oatmeal - Shape Magazine - Page 3. Bake up a batch of this almond butter granola over the weekend and enjoy it throughout the week on top of yogurt, in a bowl with milk, or simply by the handful.
Ingredients:Makes eight 1/4 c. servings4 tbsp. almond butter4 tbsp. honey1/2 tsp. cinnamon1/2 tsp. vanilla extract2 tbsp. chia seeds2 c. oats Directions:Preheat oven to 325 degrees and spray cookie sheet with cooking spray. Combine almond butter and honey in a bowl and microwave until almond butter is slightly melted (about 30 seconds). My Favourite Homemade Granola (to date!) I think Mother Nature was reading my blog post yesterday and decided to play a trick on me. I woke up to a fresh blanket of snow this morning. It is gorgeous out there right now!
---