Raspberry Pi
Digital Radio Astronomy
Why Raspberry Pi can be as vital to the UK as the Spectrum or BBC Micro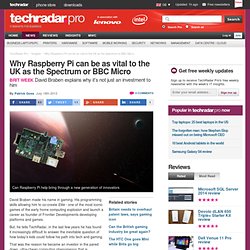 David Braben made his name in gaming. His programming skills allowing him to co-create Elite - one of the most iconic games of the early home computing explosion and launch a career as founder of Frontier Developments developing platforms and games. But, he tells TechRadar, in the last few years he has found it increasingly difficult to answer the inevitable question of how today's kids could follow his path into tech and gaming.
Raspberry Pi Remote Connections Without A Network! This is a ultra-cut down version of the detail Guide To…Direct Network Connection , if you run into problems or do not know anything about networks then follow that guide! No keyboard or screen available for your Raspberry Pi, but you have a laptop? The answer is a simple network cable!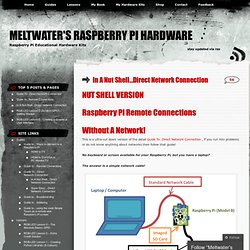 In A Nut Shell…Direct Network Connection | Meltwater's Raspberry Pi Hardware
Just when you thought you can no longer squeeze anything else into the tiny Raspberry Pi computer, think again: the puny device is getting a video camera. A report on PC World said developers expect to make the HD camera available by early spring, though the camera's specifications have yet to be finalized. "The first cameras are expected to come with a 15-centimeter (just under 6 inches) flat cable and sell for around $25. The lens on the camera is similar to those found on many camera phones and is expected to provide 5 megapixels," PC World said .
Credit card-sized Raspberry Pi computer gets a video cam! | SciTech | GMA News Online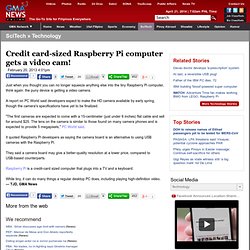 Build Your Own Raspberry Pi Portable, The Pi-to-Go Handset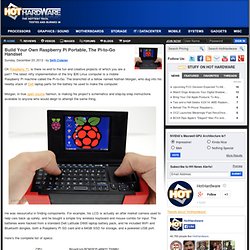 Oh Raspberry Pi , is there no end to the fun and creative projects of which you are a part? The latest nifty implementation of the tiny $35 Linux computer is a mobile Raspberry Pi machine called the Pi-to-Go. The brainchild of a fellow named Nathan Morgan, who dug into his nearby stack of Dell laptop parts for the battery he used to make the computer. Morgan, in true open source fashion, is making his project's schematics and step-by-step instructions available to anyone who would deign to attempt the same thing. He was resourceful in finding components. For example, his LCD is actually an after market camera used to help cars back up safely, and he bought a simple tiny wireless keyboard and mouse combo for input.
Setting Up Your Raspberry Pi For Headless Use With SSH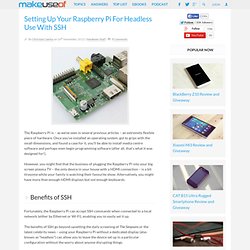 The Raspberry Pi is – as we've seen in several previous articles – an extremely flexible piece of hardware. Once you've installed an operating system, got to grips with the small dimensions, and found a case for it, you'll be able to install media centre software and perhaps even begin programming software (after all, that's what it was designed for!). However, you might find that the business of plugging the Raspberry Pi into your big screen plasma TV – the only device in your house with a HDMI connection – is a bit tiresome while your family is watching their favourite show. Alternatively, you might have more than enough HDMI displays but not enough keyboards.
The super low cost computer called the Raspberry Pi is mind-blowing and awesome. As TechCrunch recently reported , the $25 to $35 mini computer on a circuit board is designed to give kids around the globe an easy way to learn computer programming. But the Raspberry Pi is not like a computer you get from Apple or pickup at the local Best Buy. It's not as simple as plug and play. It takes a bit of extra work and time.
Getting Started With The Raspberry Pi Is Not As Easy As Pie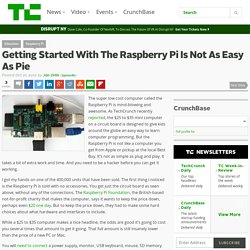 Raspberry Pi doubles down on RAM, doesn't up its price
The pint-sized development platform better known as Raspberry Pi has gained an onboard RAM upgrade without any typical price increase. Purchasers will now have access to 512 MB of RAM instead of the previous 256 MB, which will allow multiple programs to be ran simultaneously or programs with higher memory requirements. Good Guy Gregg, err, I mean Raspberry Pi Foundation has decided to keep the pricing at the tiny $35 so that as many people as possible can take advantage of the development board. Even Upton said this was one of the most common suggestions for a "Model C" that would cost more money if produced. "This would be useful for people who want to use the Pi as a general-purpose computer, with multiple large applications running concurrently," he wrote on the official blog. To take advantage of the new RAM that is shipping on boards, users will have to update the firmware running on the system.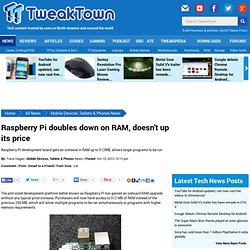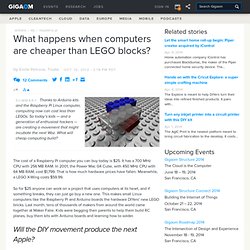 What happens when computers are cheaper than LEGO blocks?
The cost of a Raspberry Pi computer you can buy today is $25. It has a 700 MHz CPU with 256 MB RAM. In 2001, the Power Mac G4 Cube, with 450 MHz CPU with 64 MB RAM, cost $1,799. That is how much hardware prices have fallen. Meanwhile, a LEGO X-Wing costs $59.99. So for $25 anyone can work on a project that uses computers at its heart, and if something breaks, they can just go buy a new one.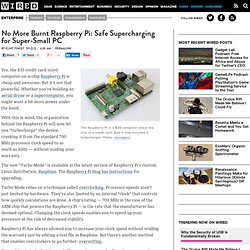 Yes, the $35 credit card-sized computer-on-a-chip Raspberry Pi is cheap and awesome. But it's not that powerful. Whether you're building an aerial drone or a supercomputer , you might want a bit more power under the hood. With this in mind, the organization behind the Raspberry Pi will now let you "turbocharge" the device, cranking it from the standard 700 MHz processor clock speed to as much as 1GHz — without voiding your warranty. The new "Turbo Mode" is available in the latest version of Raspberry Pi's custom Linux distribution, Raspbian . The Raspberry Pi blog has instructions for upgrading.
No More Burnt Raspberry Pi: Safe Supercharging for Super-Small PC | Wired Enterprise
Here's a simple supercomputer you could build for around $4,000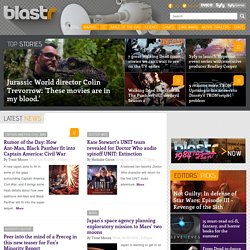 Technology is obviously catching up to our current definition of "supercomputer." I mean, when someone can just buy 64 Raspberry Pi computers, get them all talking to each other in a framework built out of Lego, and then call that "super," it sure seems like we need a new word for these things , doesn't it? Engineers at the University of Southampton, being fans of Moore's Law, noticed how the price of putting together a supercomputer has jumped off of a cliff recently, plummeting from millions of dollars to hundreds of thousands to just tens of thousands. That's pretty cheap, but in an effort to go even cheaper, the engineers decided to take advantage of the most bang for the buck computing power available, the teeny tiny and dirt cheap Raspberry Pi. For just $35, the Raspberry Pi includes (among other things) a 700 MHz processor, an Ethernet port and expandable storage in the form of an SD card slot.
Hack Your Kindle to Use It as a Raspberry Pi Screen
The bare essentials ... the Raspberry Pi retails for $40. It's not an Apple. It's not a BlackBerry. But the new, equally fruitily named Raspberry Pi hopes to reintroduce the iGeneration to the joys of tinkering with technology. It comes with a $40 price tag - almost the price of a tray of mangos in high season - but the credit card-size Raspberry Pi is a very different computer proposition. It is stripped down to the bare essentials.
Raspberry Pi Computer | How tinkering can bear fruit
The University of Cambridge has launched a free online course designed to help programming enthusiasts write their own operating system for the Raspberry Pi computer. Called " Baking Pi – Operating Systems Development ", the course consists of twelve lessons, introducing the basics of assembly language programming and OS building to people who don't have much experience with either. Raspberry Pi, created by the non-profit Raspberry Pi Foundation, is a basic ARM-powered computer that can be connected to a TV or monitor via HDMI. It can be used for many of the things that your desktop PC does, including office work, Internet browsing and high-definition video playback – all possible through a circuit board the size of a credit card – but its real purpose is educational play.
TechWeekEurope UKUniversity Of Cambridge Launches Free Raspberry Pi OS Course
The dark pi rises
Pwnie Express is happy to announce the initial release of Raspberry Pwn! Security enthusiasts can now easily turn their Raspberry Pi into a full-featured security penetration testing and auditing platform! This fully open-source release includes the following testing tools: SET, Fasttrack, kismet, aircrack-ng, nmap, dsniff, netcat, nikto, xprobe, scapy, wireshark, tcpdump, ettercap, hping3, medusa, macchanger, nbtscan, john, ptunnel, p0f, ngrep, tcpflow, openvpn, iodine, httptunnel, cryptcat, sipsak, yersinia, smbclient, sslsniff, tcptraceroute, pbnj, netdiscover, netmask, udptunnel, dnstracer, sslscan, medusa, ipcalc, dnswalk, socat, onesixtyone, tinyproxy, dmitry, fcrackzip, ssldump, fping, ike-scan, gpsd, darkstat, swaks, arping, tcpreplay, sipcrack, proxychains, proxytunnel, siege, sqlmap, wapiti, skipfish, w3af
Raspberry Pwn: A pentesting release for the Raspberry Pi | Pwnie Express
5 Cool Projects for Your Raspberry Pi
22 April 2012 Last updated at 23:26 GMT By Leo Kelion Technology reporter More than five million copies of the various ZX Spectrum computers were sold over the family's eight year lifespan, not including third-party clones. Click here to see how the computer's design evolved The ZX Spectrum is 30 years old.
ZX Spectrum's chief designers reunited 30 years on
ZX Spectrum engineer backs Raspberry Pi
Good Ideas and Notebooks | evsc
Students get their hands on a Raspberry Pi - 6/1/2012
APC
PR120522-APC-Final
Raspberry Pi review
Raspberry Pi sails through CE tests, ready for sale
Pint-sized computer has real purpose - The Irish Times - Thu, Apr 05
ModMyPi case covers the $35 Raspberry Pi PC for about $13
Designer creating new versions of Raspberry Pi - ZDNet
Raspberry Pi Fedora Remix, our recommended distro, is ready for download!
Psst, kid... Wanna learn how to hack?
Raspberry Pi Fedora Remix launches
Developers: What Does One Serve With Raspberry Pi?
Raspberry Pi, activist tool
Raspberry Pi announces the Gertboard expansion board – Computer Chips & Hardware Technology
Setting up a VM for Raspberry Pi development using Virtualbox, Scratchbox2 & qemu (Part 1) « Executing Gummiworms
Raspberry Pi case printed in 3D from Shapeways rev 1
Raspberry Pi computers sell out on launch
raspberry pi