Réaliser des BD/Comics
BD | Webinar Aquafadas. The Interactive Comic Builder: Overview. Comics and Cartoons. Create Comics with Chogger. Comiqs | Server Error. Photo Effects and Photo Editing with One Click - BeFunky.com. Pikikids. Bitstrips - Welcome! Pixton | Faire un dessin - Créer une BD. MAKE BELIEFS COMIX! Online Educational Comic Generator for Kids of All Ages. Howtoons. Comic Creator.
The Comic Creator invites students to compose their own comic strips for a variety of contexts (prewriting, pre- and postreading activities, response to literature, and so on).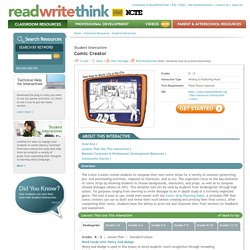 The organizers focus on the key elements of comic strips by allowing students to choose backgrounds, characters, and props, as well as to compose related dialogue (shown at left). This versatile tool can be used by students from kindergarten through high school, for purposes ranging from learning to write dialogue to an in-depth study of a formerly neglected genre. The tool is easy to use, made even easier with the Comic Strip Planning Sheet, a printable PDF that comic creators can use to draft and revise their work before creating and printing their final comics. After completing their comic, students have the ability to print out and illustrate their final versions for feedback and assessment. Logiciel éducatif | Enseigner avec la BD | Bitstrips pour écoles. ToonDoo - World's fastest way to create cartoons!
Using comic strip tools to create content. Here's a quick idea for some fun website content that takes seconds to make, and which can really personalise a story and make it sing a little... add a bespoke comic strip.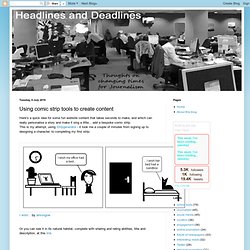 This is my attempt, using Stripgenerator - it took me a couple of minutes from signing up to designing a character, to completing my first strip: I wish... by alisongow Or you can see it in its natural habitat, complete with sharing and rating abilities, title and description, at this link. Anyway, this one is obviously not reportage (although I'm fairly sure I've channelled my cat's fondest wish accurately) but I do like it as an option for web journalists who want to add a bit of spark to an article or blog post, or who fancy having a daily strip in the best traditions of those ol' dead tree publications. Create Your Own Comic | Marvel Super Hero Squad | The Official Web Site.
---