Geolocalisation transmedia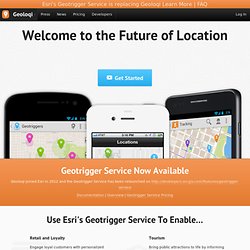 A Private Realtime Platform for Location Sharing
Public Alerts The Hawthorne Bridge will be closed Saturday from 9am to Noon. http://pdx.gov/hao9 Energy Saver
Telling stories through Foursquare: Derby 2061
Richard Birkin of production company Mudlark is experimenting with using Foursquare as a storytelling platform, turning it into a wormhole to the future.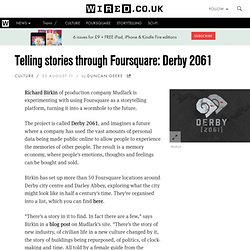 About // broadcastr
Je n'en sais pas plus sur cette idée (toujours en bêta, à la recherche de 100 testeurs/auteurs), mais elle m'a assez interpelé pour que j'aie envie d'en parler. Pleens est un projet cartographique des émotions : les utilisateurs d'iPhone sont en effet encouragés à se connecter à l'appli' pour en manifester une, au moment où ils se trouvent dans un lieu, et ainsi la géocaliser. Lien avec l' écriture numérique : Pleens, de l'éditeur Gallizio , prévoit l'édition des fragments, de manière à construire une narration avec l'ensemble des émotions récoltées et des notes rédigées qui doivent les accompagner.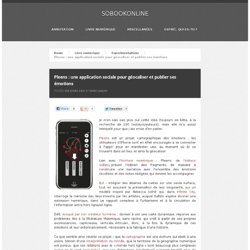 Pleens : une application sociale pour géocaliser et publier ses émotions | SoBookOnline, remarques sur le livre numérique, enrichi et social | SoBookOnline, remarques sur le livre numérique, enrichi et social
Карта Радиации/ Radiation map
My Favorite App at SXSW
There are many apps on your smart phone. How many do you really use?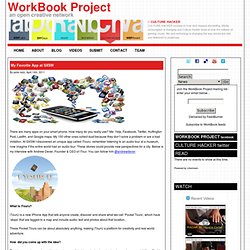 ideascanners: Invisible Cities is a transmedia... - Explore Media
7scenes
The Welikia Project, formerly known as Mannahata,... - An Artful Tumblrful of Odd
blog.walking-the-edit
Walking the Edit - Home
A totally new medium for storytelling
6,000 Stories You Can Take With You (And Counting) With the Broadcastr app, there is a new story to discover around every corner.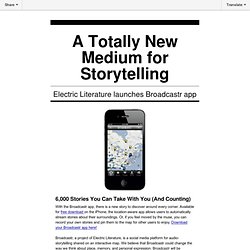 As some of you may have seen from my tweet during DIY DAYS I was impressed by Broadcastr and its capabilities. Scott Macauley, editor of Filmmaker Magazine (who was nice enough to allow me to pick his brain for a bit after the talk) had a fireside chat with Scott Lindenbaum of Broadcastr and Electric Lit. Broadcastr is a mashup (remember when those were novel?)
5 Ways a Filmmaker Could Use Broadcastr to Promote Their Film » Beyond the Box Office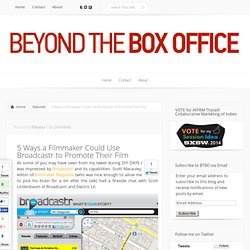 Space + Time + Story = Intersect (and Why I Like it!) | Everything To Everything
Geoloqi - A secure, real-time mobile and web platform for location sharing.
Voxora | Voicemail for Places