Geolocalisation transmedia
CLAMEURS est le média audio, géolocalisé et participatif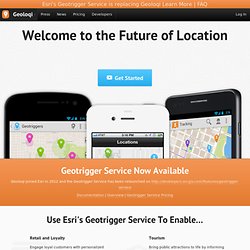 A Private Realtime Platform for Location Sharing
Public Alerts The Hawthorne Bridge will be closed Saturday from 9am to Noon. http://pdx.gov/hao9 Energy Saver
Telling stories through Foursquare: Derby 2061
Richard Birkin of production company Mudlark is experimenting with using Foursquare as a storytelling platform, turning it into a wormhole to the future.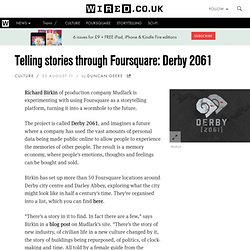 Animaps
About // broadcastr
Je n'en sais pas plus sur cette idée (toujours en bêta, à la recherche de 100 testeurs/auteurs), mais elle m'a assez interpelé pour que j'aie envie d'en parler. Pleens est un projet cartographique des émotions : les utilisateurs d'iPhone sont en effet encouragés à se connecter à l'appli' pour en manifester une, au moment où ils se trouvent dans un lieu, et ainsi la géocaliser. Lien avec l' écriture numérique : Pleens, de l'éditeur Gallizio , prévoit l'édition des fragments, de manière à construire une narration avec l'ensemble des émotions récoltées et des notes rédigées qui doivent les accompagner.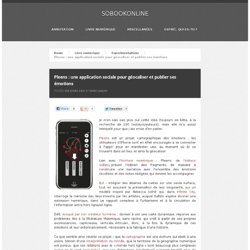 Pleens : une application sociale pour géocaliser et publier ses émotions | SoBookOnline, remarques sur le livre numérique, enrichi et social | SoBookOnline, remarques sur le livre numérique, enrichi et social
Use Tripline for history and social studies projects
Pachube - data infrastructure for the Internet of Things
RDTN.ORG
Карта Радиации/ Radiation map
GeoCommons
My Favorite App at SXSW
There are many apps on your smart phone. How many do you really use?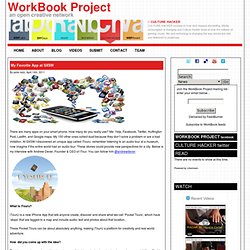 The witness, le transmedia dont vous êtes le héros « ubimedia garden
ideascanners: Invisible Cities is a transmedia... - Explore Media
La ville est un roman
7scenes
The Welikia Project, formerly known as Mannahata,... - An Artful Tumblrful of Odd
blog.walking-the-edit
Walking the Edit - Home
A totally new medium for storytelling
6,000 Stories You Can Take With You (And Counting) With the Broadcastr app, there is a new story to discover around every corner.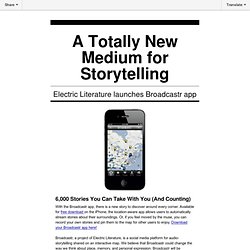 As some of you may have seen from my tweet during DIY DAYS I was impressed by Broadcastr and its capabilities. Scott Macauley, editor of Filmmaker Magazine (who was nice enough to allow me to pick his brain for a bit after the talk) had a fireside chat with Scott Lindenbaum of Broadcastr and Electric Lit. Broadcastr is a mashup (remember when those were novel?)
5 Ways a Filmmaker Could Use Broadcastr to Promote Their Film » Beyond the Box Office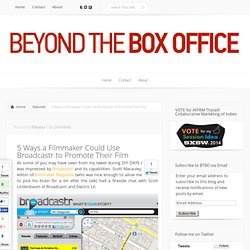 Space + Time + Story = Intersect (and Why I Like it!) | Everything To Everything
Geoloqi - A secure, real-time mobile and web platform for location sharing.
Voxora | Voicemail for Places