Geolocalisation transmedia
CLAMEURS est le média audio, géolocalisé et participatif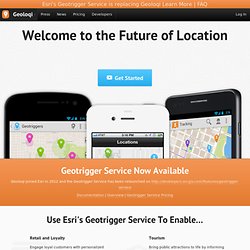 A Private Realtime Platform for Location Sharing
Public Alerts The Hawthorne Bridge will be closed Saturday from 9am to Noon. http://pdx.gov/hao9 Energy Saver
Telling stories through Foursquare: Derby 2061
Richard Birkin of production company Mudlark is experimenting with using Foursquare as a storytelling platform, turning it into a wormhole to the future. The project is called Derby 2061, and imagines a future where a company has used the vast amounts of personal data being made public online to allow people to experience the memories of other people. The result is a memory economy, where people's emotions, thoughts and feelings can be bought and sold. Birkin has set up more than 50 Foursquare locations around Derby city centre and Darley Abbey, exploring what the city might look like in half a century's time. They're organised into a list, which you can find here.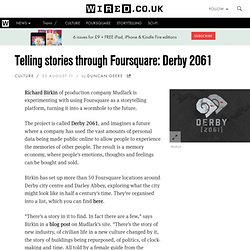 Animaps
About // broadcastr
Je n'en sais pas plus sur cette idée (toujours en bêta, à la recherche de 100 testeurs/auteurs), mais elle m'a assez interpelé pour que j'aie envie d'en parler. Pleens est un projet cartographique des émotions : les utilisateurs d'iPhone sont en effet encouragés à se connecter à l'appli' pour en manifester une, au moment où ils se trouvent dans un lieu, et ainsi la géocaliser. Lien avec l' écriture numérique : Pleens, de l'éditeur Gallizio , prévoit l'édition des fragments, de manière à construire une narration avec l'ensemble des émotions récoltées et des notes rédigées qui doivent les accompagner.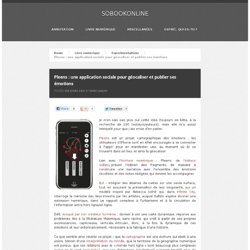 Pleens : une application sociale pour géocaliser et publier ses émotions | SoBookOnline, remarques sur le livre numérique, enrichi et social | SoBookOnline, remarques sur le livre numérique, enrichi et social
Use Tripline for history and social studies projects
Pachube - data infrastructure for the Internet of Things
RDTN.ORG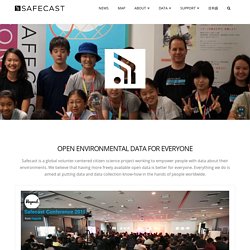 We frequently get emails from people traveling to Japan asking if it's safe to eat the food in country, for fear of contamination from Fukushima and thought the answer we've been sending out recently would be helpful/informative for others as well. SAFECAST is not equipped yet to do our own food measurements, but we cooperate with independent food measurement labs and constantly monitor both official and independent results. There has been a lot of confusion about how food is being checked, how often, and by whom. This is mainly because the food monitoring system was not initially intended for informing the public as much as for providing guidance to producers and local government agriculture officials.
Карта Радиации/ Radiation map
GeoIQ's enterprise analytics, enhanced visualization and data support features are now available for free to all GeoCommons users. Easily find answers to complex questions and share them with the world. With increased speed, greater usability, bigger data visualization, and cross browser support, you can now animate and visualize massive amounts of data in seconds - from IE to iPad. GeoCommons enables everyone to find, use and share geographic data and maps. Easily create rich interactive visualizations to solve problems without any experience using traditional mapping tools. Visualize data from numerous sources to identify trends that were before unseen.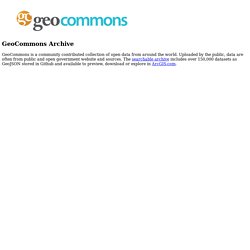 GeoCommons
My Favorite App at SXSW
There are many apps on your smart phone. How many do you really use? Me: Yelp, Facebook, Twitter, Huffington Post, Lastfm, and Google maps. My 100 other ones collect dust because they don't solve a problem or are a bad imitation. At SXSW I discovered an unique app called iTouru: remember listening to an audio tour at a museum, now imagine if the entire world had an audio tour. These stories could provide new perspectives for a city.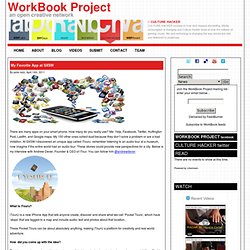 The witness, le transmedia dont vous êtes le héros « ubimedia garden
ideascanners: Invisible Cities is a transmedia... - Explore Media
La ville est un roman
7scenes
The Welikia Project, formerly known as Mannahata,... - An Artful Tumblrful of Odd
blog.walking-the-edit
En collaboration avec le laboratoire TaM de l'Université de Genève, Memoways a soumis au concours Open Data des TPG's le projet "Roule ton film". Il s'agissait de proposer aux Transports Publics Genevois, via un concours d'appel à projets lancé cet automne, une application mobile innovante qui utilise leurs données d'une manière ou d'une autre. Nous avons mis sur rails le concept de Walking the Edit, traduit le mode interactif et non linéaire de "Marche ton film" vers les possibilités d'un mode personnalisé et linéaire de "Roule ton film". Résultats du concours: nous avons reçu une mention pour notre projet.Une mention pour une application "inutile", alors que les deux premiers prix vont à des applications "utiles" (ou utilitaristes): c'est une bonne chose que les adeptes de l'open data s'ouvrent à des projets qui n'ont pas de vocation objective ni utilitariste.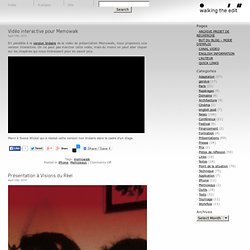 Walking the Edit - Home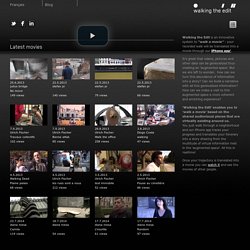 Loaded: 0% Progress: 0% Walking the Edit is an innovative system to "walk a movie" : your recorded walk will be translated into a movie through our iPhone app'.
A totally new medium for storytelling
6,000 Stories You Can Take With You (And Counting) With the Broadcastr app, there is a new story to discover around every corner. Available for free download on the iPhone, the location-aware app allows users to automatically stream stories about their surroundings. Or, if you feel moved by the muse, you can record your own stories and pin them to the map for other users to enjoy. Download your Broadcastr app here! Broadcastr, a project of Electric Literature, is a social media platform for audio-storytelling shared on an interactive map.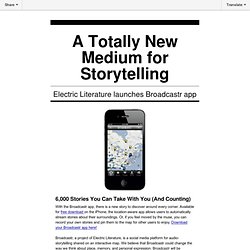 As some of you may have seen from my tweet during DIY DAYS I was impressed by Broadcastr and its capabilities. Scott Macauley, editor of Filmmaker Magazine (who was nice enough to allow me to pick his brain for a bit after the talk) had a fireside chat with Scott Lindenbaum of Broadcastr and Electric Lit. Broadcastr is a mashup (remember when those were novel?)
5 Ways a Filmmaker Could Use Broadcastr to Promote Their Film » Beyond the Box Office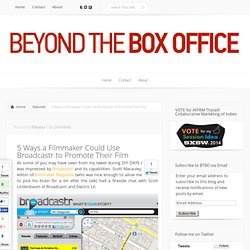 Space + Time + Story = Intersect (and Why I Like it!) | Everything To Everything
Geoloqi - A secure, real-time mobile and web platform for location sharing.
Public Alerts The Hawthorne Bridge will be closed Saturday from 9am to Noon. http://pdx.gov/hao9 Energy Saver You forgot to turn the lights off at work again!
Voxora | Voicemail for Places