Publishing
Customized YouTube embeds with the extra row of features require Flash support. For devices that do not currently support Flash (e.g. iPhone/iPad, Android phones without a Flash browser), these customized embeds will gracefully emulate standard YouTube embeds. We do have a cool tool to checkout if you want to embed standard YouTube videos in WordPress. Check out our YouTube-WordPress Plugin »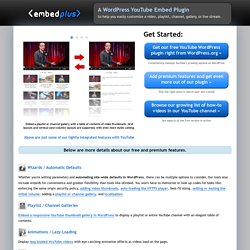 Big news: We're introducing a free plan! Here's a normal video we made that talks about the boring details ;) Why are we so excited to introduce something for free? Back when Brendan and I started Wistia many moons ago, we set out to build a business that would help everybody more easily use online video. Over time, "everybody" has evolved from just filmmakers and a few medical device companies who wanted to share video privately to companies all over the world using video in every marketing and sales effort imaginable. Today we have many thousands of customers, many millions of monthly views of our customers' videos, and yet as a company, we feel like we're just getting started.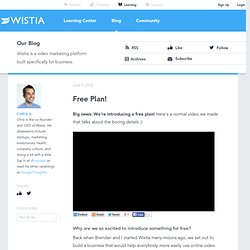 Free Plan!
Combine media from multiple sources in just one place Use Yokto's built in curation tools to search for video from all of your favourite web sources including YouTube, Vimeo, SlideShare, Dailymotion, plus many more all through a single, intuitive web interface. Drag & drop, point & click - the easiest way to build video players Yokto massively simplifies your online video publishing and distribution workflow. Using our easy to use web interface, you can quickly and easily create amazing video experiences. collect videos and presentations from all around the web with just a few clicks, organise them into playlists and channels using simple drag & drop and select from a wide range of pre-built video player templates and styles. Embed video and playlists with ease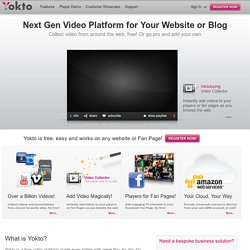 synchtube - Enjoy synchronized Videos With Friends
https://www.wevideo.com/account-setup
Broadcast Yourself.
Family Video Sharing for iPhone and Home Movies.