Psilocybin
Psilocybin. Psilocybin[nb 1] (/ˌsɪləˈsaɪbɪn/ SIL-ə-SY-bin) is a naturally occurring psychedelic compound produced by more than 200 species of mushrooms, collectively known as psilocybin mushrooms.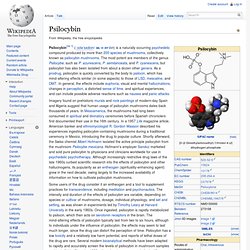 The most potent are members of the genus Psilocybe, such as P. azurescens, P. semilanceata, and P. cyanescens, but psilocybin has also been isolated from about a dozen other genera. As a prodrug, psilocybin is quickly converted by the body to psilocin, which has mind-altering effects similar (in some aspects) to those of LSD, mescaline, and DMT. In general, the effects include euphoria, visual and mental hallucinations, changes in perception, a distorted sense of time, and spiritual experiences, and can include possible adverse reactions such as nausea and panic attacks. History[edit] MUSHROOMS IN WONDERLAND | Brainwaving. Was Alice in Wonderland and Victorian fairy art and lore in general inspired by actual experiences with mind-altering fungi?
The first well-documented hallucinogenic mushroom experience in Britain took place in London's Green Park on 3 October 1799. Like many such experiences before and since, it was accidental. A man subsequently identified only as 'J.S.' was in the habit of gathering small field mushrooms from the park on autumn mornings, and cooking them up into a breakfast broth for his wife and young family. The Language of Psilocybin. Sacred Mushroom and the Cross (Part 1) 'Magic Mushrooms' Return to Psych Labs 40 Years After Leary. (Adds that psilocybin is a controlled substance in the sixth paragraph.)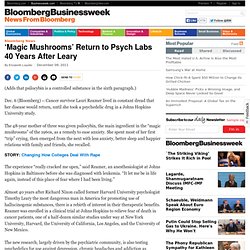 Dec. 6 (Bloomberg) -- Cancer survivor Lauri Reamer lived in constant dread that her disease would return, until she took a psychedelic drug in a Johns Hopkins University study. The 48-year mother of three was given psilocybin, the main ingredient in the "magic mushrooms" of the 1960s, as a remedy to ease anxiety. She spent most of her first "trip" crying, then emerged from the next with less anxiety, better sleep and happier relations with family and friends, she recalled. The experience "really cracked me open," said Reamer, an anesthesiologist at Johns Hopkins in Baltimore before she was diagnosed with leukemia. "It let me be in life again, instead of this place of fear where I had been living." Online Books : "PIHKAL" - The Chemical Story.
---