Psilocybin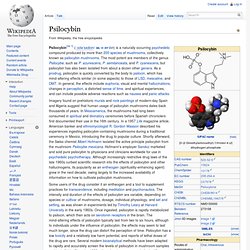 Psilocybin [ nb 1 ] ( pron.: / ˌ s ɪ l ə ˈ s aɪ b ɪ n / SIL -ə- SY -bin ) is a naturally occurring psychedelic compound produced by more than 200 species of mushrooms , collectively known as psilocybin mushrooms .
Was Alice in Wonderland and Victorian fairy art and lore in general inspired by actual experiences with mind-altering fungi?
MUSHROOMS IN WONDERLAND | Brainwaving
The Language of Psilocybin
Sacred Mushroom and the Cross (Part 1)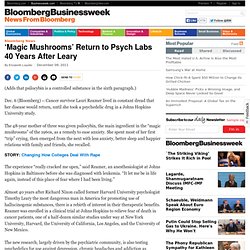 'Magic Mushrooms' Return to Psych Labs 40 Years After Leary
(Adds that psilocybin is a controlled substance in the sixth paragraph.) Dec. 6 (Bloomberg) -- Cancer survivor Lauri Reamer lived in constant dread that her disease would return, until she took a psychedelic drug in a Johns Hopkins University study.
phen-ethyl-amine \fen-'eth-al-a-,men\ n. [ phenyl fr.