Description board arduino
Arduino™ UNO. Arduino Uno est une carte microcontrôleur basée sur le ATmega328 (voir ici la Datasheet ATmega328).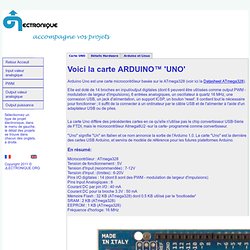 Elle est doté de 14 broches en input/output digitales (dont 6 peuvent être utilisées comme output PWM - modulation de largeur d'impulsions), 6 entrées analogiques, un oscillateur à quartz 16 MHz, une connexion USB, un jack d'alimentation, un support ICSP, un bouton 'reset'. Il contient tout le nécessaire pour fonctionner ; il suffit de la connecter à un ordinateur par le câble USB et de l'alimenter à l'aide d'un adaptateur USB ou de piles. La carte Uno diffère des précédentes cartes en ce qu'elle n'utilise pas le chip convertisseur USB-Série de FTDI, mais le microcontrôleur Atmega8U2 -sur la carte- programmé comme convertisseur. "Uno" signifie "Un" en Italien et ce nom annonce la sortie de l'Arduino 1.0.
BoardUno. Overview The Arduino Uno is a microcontroller board based on the ATmega328 (datasheet).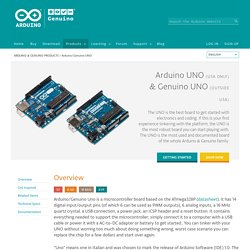 It has 14 digital input/output pins (of which 6 can be used as PWM outputs), 6 analog inputs, a 16 MHz ceramic resonator, a USB connection, a power jack, an ICSP header, and a reset button. It contains everything needed to support the microcontroller; simply connect it to a computer with a USB cable or power it with a AC-to-DC adapter or battery to get started. KesacoArduino.pdf. Description board.
---