Progressive Research Tools
This team pearls essential tools to help progressives find the info they are looking for.

-Anyone interested in building this up as resource for all progressives are welcome to join this team. :)
California Water Rights. The Right To Bear Knowledge "If you can't measure it, you can't manage it."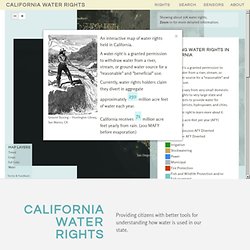 Peter Drucker The primary challenge with water in California is not its scarcity, but rather how we manage it. Many experts have mutually concluded, that a major first step to improving our management of water is by reforming how we account for it. Whether a lack of adequate statements of diversion for surface and subsurface waters, or the existence of a fine grained environmental monitoring network, it is clear that we could do a better job of recording and measuring. Statistical Information.
Economic Resources. Elections & Voting. The World Factbook. Mediamar. Corporate Investigative Tools. Search Articles & Publications. Watching the Media. Research Databases & Archives. Watching the Government. Public Records.
Law Blogs. A–Z Index. Law. Legal Libraries & Info. Privacy Tools. General/Non Specific. Investigative. Polling Info. Republican Watch. Bodycard 0223.
---