Python
Python
In this document, we'll take a tour of Python's features suitable for implementing programs in a functional style. After an introduction to the concepts of functional programming, we'll look at language features such as iterator s and generator s and relevant library modules such as itertools and functools . Introduction This section explains the basic concept of functional programming; if you're just interested in learning about Python language features, skip to the next section.
Functional Programming HOWTO
Я недавно написал в своем блоге Python History пост « The origins of Python's functional features » ( перевод ).
Устранение Хвостовой рекурсии / Python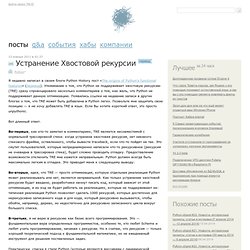 Twisted is an event-driven networking engine written in Python and licensed under the open source MIT license . Twisted makes it easy to implement custom network applications. Here's a TCP server that echoes back everything that's written to it:
The History of Python
Откуда идут «функциональные» корни Python / Python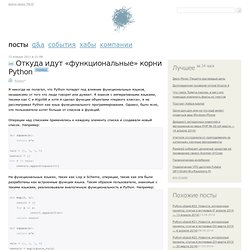 Я никогда не полагал, что Python попадет под влияние функциональных языков, независимо от того что люди говорят или думают. Я знаком с императивными языками, такими как C и Algol68 и хотя я сделал функции объектами «первого класса», я не рассматривал Python как язык функционального программирования. Однако, было ясно, что пользователи хотят больше от списков и функций.
Novices (and people looking for an argument) often ask, "What's the best programming language?" The answer depends on what we want to do. If we want to squeeze the last ounce of performance out of our hardware, then compiled languages like C++, C#, and Fortran are still good options, but if we want to write small programs quickly, and be able to manage the complexity of larger ones, then dynamic languages like Python, Ruby, R, and MATLAB optimize development time, which is often the biggest bottleneck for researchers.
Software Carpentry » Python