Professional development
Classroom Mosaic. TSDCurriculum-Instruction - TSD Tech Bootcamp Home. A Few Simple Ways To Introduce Reluctant Colleagues To Technology. (Cross-posted at TechLearning) Many years ago I helped operate a soup kitchen on San Jose's (CA) Skid Row.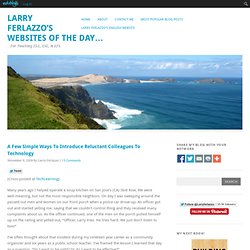 We were well-meaning, but not the most responsible neighbors. On day I was sweeping around the passed-out men and women on our front porch when a police car drove-up. An officer got out and started yelling me, saying that we couldn't control thing and they received many complaints about us. iPad. Apple's handheld and tablet devices can be valuable for teaching and learning.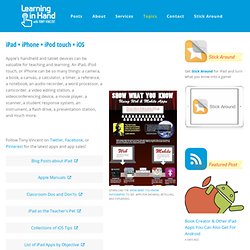 An iPad, iPod touch, or iPhone can be so many things: a camera, a book, a canvas, a calculator, a timer, a reference, a notebook, an audio recorder, a word processor, a camcorder, a video editing station, a videoconferencing device, a movie player, a scanner, a student response system, an instrument, a flash drive, a presentation station, and much more. IPad Tips & Tutorials | iPad Academy - Part 4.
Using the Back Button or Previous Page in the Safari Web Browser on the iPad A participant in my Master Class recently asked this question: How do I go "back" in Safari?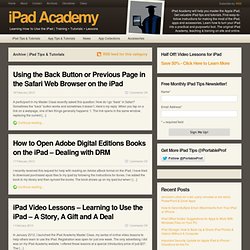 Sometimes the "back" button works and sometimes it doesn't. Here's my reply: When you tap on a link on a webpage, one of two things generally happens: 1. The link opens in the same window, replacing the current […] Continue reading... Apps for Professional Development. Twitter App (free) Twitter is one of the most active and beneficial social networks on the web.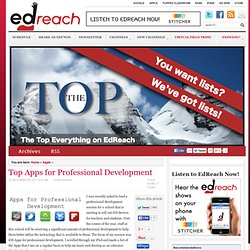 All educators would be wise to join the conversation. If you haven't used Twitter yet, I would recommend that you read these excellent blog posts: Google Voice (free) iPad Resources For School Administrators. iPad Resources for Administrators. School Leaders on iPads & Tablets. Apps for Principals. My 5 Favorite Tablet PC Tips for Educators. With all the growing interest in tablet-based computing in schools, I thought it would be timely to share once again "My 5 Favorite Tablet PC Tips for Educators".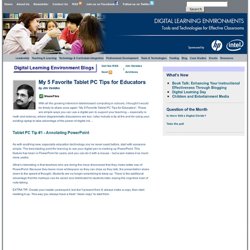 These are simple ways you can use a digital pen to support your teaching – especially in math and science, where diagrammatic discussions are key. I also include a tip at the end for using your existing laptop to take advantage of the power of digital ink… iPad Exploration. Apps Taskonomy.
---