Professional development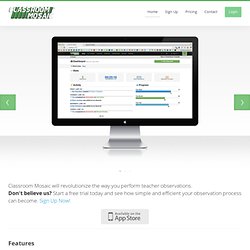 Classroom Mosaic
Completely Customizable Our new Template Builder puts the control in your hands. You can create a template based on your current observation form or design a completely brand new template. Whether you use State Standards or Common Core, you can design the template that fit your needs.
TSDCurriculum-Instruction - TSD Tech Bootcamp Home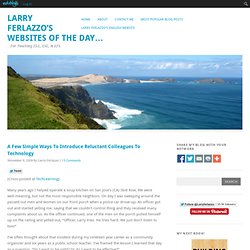 (Cross-posted at TechLearning) Many years ago I helped operate a soup kitchen on San Jose's (CA) Skid Row. We were well-meaning, but not the most responsible neighbors. On day I was sweeping around the passed-out men and women on our front porch when a police car drove-up. An officer got out and started yelling me, saying that we couldn't control thing and they received many complaints about us.
Apple's handheld and tablet devices can be valuable for teaching and learning. An iPad, iPod touch, or iPhone can be so many things: a camera, a book, a canvas, a calculator, a timer, a reference, a notebook, an audio recorder, a word processor, a camcorder, a video editing station, a videoconferencing device, a movie player, a scanner, a student response system, an instrument, a flash drive, a presentation station, and much more.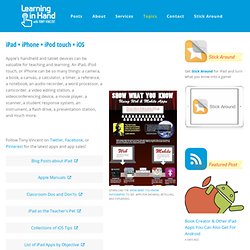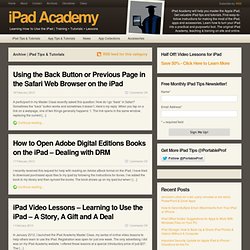 iPad Tip: Uploading A File to a Website. Try An Alternative to the Safari Browser Yesterday I received this request for help in uploading a resumé to an online job website. The Safari app doesn't support uploading a file from the iPad in this way. My suggested solution is to use an alternative web browser. This will not work in every case, but it may be worth a try.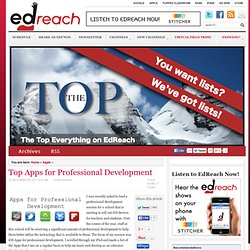 Twitter App (free) Twitter is one of the most active and beneficial social networks on the web. All educators would be wise to join the conversation. If you haven't used Twitter yet, I would recommend that you read these excellent blog posts: http://primarytech.global2.vic.edu.au/2011/04/04/top-10-twitter-tips/ Google Voice (free)
iPad Resources For School Administrators
"Using tablets in the classroom–whether iPads, Androids, or surging Windows devices–is largely a matter of workflow. If you can forgive a mixed metaphor, the traditional classroom sees the teacher as the both the director and the bottleneck of all productivity. They create assignments, assess proficiency, respond to assessment data, and refine planned instruction in light of constantly changing circumstances.
School Leaders on iPads & Tablets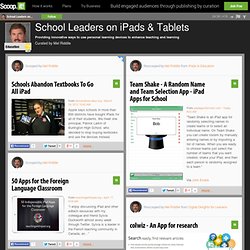 With all the growing interest in tablet-based computing in schools, I thought it would be timely to share once again "My 5 Favorite Tablet PC Tips for Educators". These are simple ways you can use a digital pen to support your teaching – especially in math and science, where diagrammatic discussions are key. I also include a tip at the end for using your existing laptop to take advantage of the power of digital ink…