Pollution - Period G
(NaturalNews) Exposure to air pollution in the womb can significantly reduce a child's IQ, according to a study conducted by researchers from the Mailman School of Public Health in New York and published in the journal Pediatrics . The researchers conducted the experiment on pregnant, non-smoking black and Dominican American women between the ages of 18 and 35 who were living in the New York City neighborhoods of Harlem, South Bronx or Washington Heights. The participants wore personal air monitors during pregnancy, providing the researchers accurate data on the women's exposure to a class of air pollutants known as polycyclic aromatic hydrocarbons (PAHs). The participant's children were then subjected to standardized IQ tests at age five. "These results provide evidence that environmental PAHs at levels encountered in New York City air can affect children's IQ adversely," the researchers concluded.
Air Pollution Can Reduce a Child's IQ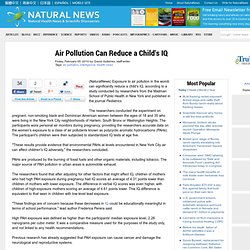 Pollution is the introduction of contaminants into the natural environment that cause adverse change. [ 1 ] Pollution can take the form of chemical substances or energy , such as noise, heat or light. Pollutants , the components of pollution, can be either foreign substances/energies or naturally occurring contaminants. Pollution is often classed as point source or nonpoint source pollution . Ancient cultures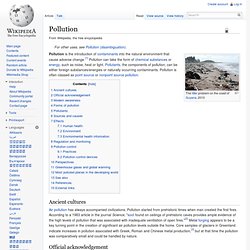 Pollution
Aug. 8, 2010 — Drought and the worst heat wave Russia has seen in 130 years have sparked a devastating outbreak of wildfires across the nation this summer, primarily in the country's western and central regions. According to wire service reports and Russia's Emergency Situations Ministry, as of Aug. 6, 2010, some 558 fires were burning. The fires have killed at least 52 people, destroyed some 2,000 homes and charred more than 1,796 square kilometers (693 square miles).
NASA instrument tracks pollution from Russian fires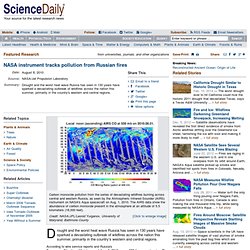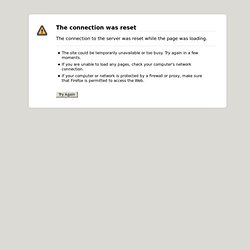 (NaturalNews) It seems like a healthy thing to do: getting outside. Maybe you like to go for walks or spend an hour gardening or riding your bike. Unfortunately, if you live where the air is polluted, you could be hurting your health by simply breathing the not-so-fresh air. That's the conclusion of a new Ohio State University Medical Center study –- the first ever to report a direct link between air pollution and high blood pressure, or hypertension. The results of the study are set to be published in Arteriosclerosis, Thrombosis, and Vascular Biology , a journal published by the American Heart Association The cardiovascular researchers exposed rats to levels of airborne pollutants inside chambers.
Air Pollution Raises Blood Pressure According to New Study
Warming, Overfishing, Plastic Pollution Destroying Ocean Life: Scientists
Natural gas industry freely pollutes Pennsylvania's drinking water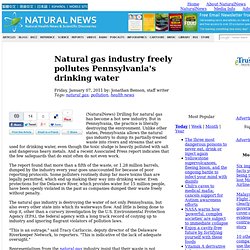 (NaturalNews) Drilling for natural gas has become a hot new industry. But in Pennsylvania, the practice is literally destroying the environment. Unlike other states, Pennsylvania allows the natural gas industry to dump its partially-treated waste into rivers and streams that are used for drinking water, even though the toxic sludge is heavily polluted with salt and dangerous heavy metals. And a recent Associated Press report indicates that the few safeguards that do exist often do not even work. The report found that more than a fifth of the waste, or 1.28 million barrels, dumped by the industry every year goes unaccounted for because of poor reporting protocols.
Air Pollution
Motor oil is one source of nonpoint source pollution. (Photo courtesy of NOAA) What is nonpoint source pollution? Nonpoint source pollution generally results from land runoff, precipitation, atmospheric deposition, drainage, seepage or hydrologic modification. The term "nonpoint source" is defined to mean any source of water pollution that does not meet the legal definition of "point source" in section 502(14) of the Clean Water Act. That definition states:
What is Nonpoint Source Pollution? | Polluted Runoff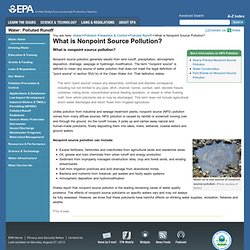 China air pollution: 'Slightly polluted' or 'hazardous'?
I visited the Beijing Municipal Environmental Monitoring Center (BMEMC) to find out. "We've been using equipment imported from the U.S. to monitor air quality ever since we set up in 1987," Vice Director Hua Lei tells me. "We use the same techniques as the American system."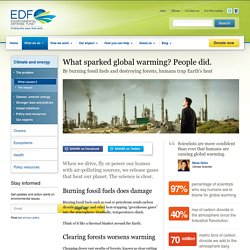 The theory of global warming is nothing new. The Nobel Prize-winning chemist Svante Arrhenius first proposed the idea of global warming in 1896. Carbon dioxide, he knew, traps heat in the Earth's atmosphere. He also knew that burning coal and oil releases carbon dioxide (CO 2 ). Arrhenius speculated that continued burning of coal and oil would increase concentrations of CO 2 in the Earth's atmosphere, making the planet warmer. It's called the greenhouse effect .
How we know human activity is causing warming | Environmental Defense Fund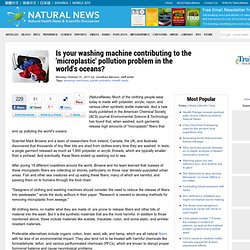 (NaturalNews) Much of the clothing people wear today is made with polyester, acrylic, rayon, and various other synthetic textile materials. And a new study published in the American Chemical Society (ACS) journal Environmental Science & Technology has found that, when washed, such garments release high amounts of "microplastic" fibers that end up polluting the world's oceans. Scientist Mark Browne and a team of researchers from Ireland, Canada, the UK, and Australia discovered that thousands of tiny fiber bits are shed from clothes every time they are washed.
Is your washing machine contributing to the 'microplastic' pollution problem in the world's oceans?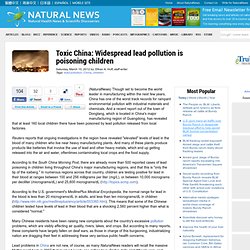 (NaturalNews) Though set to become the world leader in manufacturing within the next few years, China has one of the worst track records for rampant environmental pollution with industrial materials and chemicals. And a recent report out of the town of Dongtang, which is located in China's major manufacturing region of Guangdong, has revealed that at least 160 local children there have been poisoned by lead pollution released from local factories. Reuters reports that ongoing investigations in the region have revealed "elevated" levels of lead in the blood of many children who live near heavy manufacturing plants.
Toxic China: Widespread lead pollution is poisoning children
Infobase Learning - Login
Not a subscriber? Infobase Learning has databases and streaming video collections for every school, college, and library. Please note: we do not provide trial access to individuals or businesses. If you are a student or library patron, please contact and request a trial through your librarian. Sign up for a FREE TRIAL today!
coal power: air pollution
Burning coal is a leading cause of smog, acid rain, global warming, and air toxics. In an average year, a typical coal plant generates: 3,700,000 tons of carbon dioxide (CO2), the primary human cause of global warming--as much carbon dioxide as cutting down 161 million trees.
(NaturalNews) The Blacksmith Institute (BI), an international non-profit environmental health organization devoted to solving pollution problems around the world, in conjunction with Green Cross Switzerland (GCS), a group that helps clean up pollution, recently co-released a comprehensive report entitled The World's Worst Toxic Pollution Problems . In it, researchers explain how agricultural pesticides represent the number three worst pollution problem on the planet. The report was compiled based on data collected over a three year period from thousands of toxic "hotspots" around the world, all of which were in low- and middle-income countries. The team that compiled the report primarily analyzed how various pollutants affect local people groups rather than the world at large, which means the negative effects of these pollutants are far worse on a global scale.
Pesticides are one of top three 'worst toxic pollution problems' on planet, say non-profit groups
Pesticides and Consumers Mosquito Control About Pesticides about EPA's pesticides program , contacts , types of pesticides , frequent questions , fact sheets , information sources , Pesticide Program Reports , publications , hotlines , Pesticide News Stories , pesticide issues in the works Health and Safety human health issues , protecting children , protecting pets , worker safety and training , using pesticides safely , public health issues , illegal pesticide products , reducing risk , emergency information , resources
Pesticides
Smog hanging over cities is the most familiar and obvious form of air pollution. But there are different kinds of pollution—some visible, some invisible—that contribute to global warming. Generally any substance that people introduce into the atmosphere that has damaging effects on living things and the environment is considered air pollution. Carbon dioxide, a greenhouse gas, is the main pollutant that is warming Earth. Though living things emit carbon dioxide when they breathe, carbon dioxide is widely considered to be a pollutant when associated with cars, planes, power plants, and other human activities that involve the burning of fossil fuels such as gasoline and natural gas.
Air Pollution Facts, Air Pollution Effects, Air Pollution Solutions, Air Pollution Causes
Pollution, Water Pollution, Air Pollution | GreenStudentU.com
Pollution
Acid Rain? | Pollution
air pollution news and articles
Acid pollution in rain decreased with emissions, long-term study shows