Wikileaks
Treaty of Guadalupe Hidalgo | Famous leaks, security breaches in U.S. history. In March of 1848, reporter John Nugent obtained a copy of the treaty between the U.S. government and the Mexican government to end the Mexican-American War.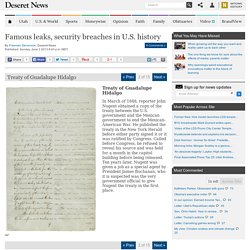 He published the treaty in the New York Herald before either party signed it or it was ratified by Congress. Called before Congress, he refused to reveal his source and was held for a month in the capitol building before being released. Ten years later, Nugent was given a job as a special agent by President James Buchanan, who it is suspected was the very government official to give Nugent the treaty in the first place. Not us, says WikiLeaks | The Hindu. WikiLeaks has released an annotated version of a leaked transcript of a documentary in a bid to counter a film — which opened on Friday — that takes a critical look at the anti-secrecy group.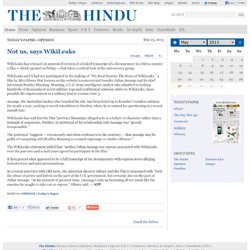 WikiLeaks said it had not participated in the making of "We Steal Secrets: The Story of WikiLeaks," a film by Alex Gibney that focuses on the website's controversial founder Julian Assange and its chief informant Bradley Manning. Manning, a U.S. Army intelligence analyst who admitted to leaking hundreds of thousands of secret military logs and confidential embassy cables to WikiLeaks, faces possible life imprisonment in a military trial to resume June 3. Assange, the Australian hacker who founded the site, has been holed up in Ecuador's London embassy for nearly a year, seeking to avoid extradition to Sweden, where he is wanted for questioning in a sexual assault case. WikiLeaks has said that the film "portrays Manning's alleged acts as a failure of character rather than a triumph of conscience. I am impressed with The Hindu reports on WikiLeaks, says Advani | The Hindu.
Senior BJP leader L.K.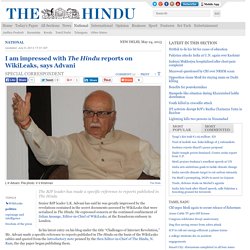 Advani has said he was greatly impressed by the revelations contained in the secret documents accessed by WikiLeaks that were serialised in The Hindu . He expressed concern at the continued confinement of Julian Assange, Editor-in-Chief of WikiLeaks , at the Ecuadoran embassy in London. WikiLeaks dumps 1.7 million "Kissinger Cables" Pentagon Suggests Sequester Would Impair Ability to Fight WikiLeaks. Pentagon builds cyber army (US government photo in public domain & posted by Fort Meade) Four days away from massive austerity that would result in cuts to the United States government, the Pentagon is suggesting the cuts would make it harder to fight cyber threats.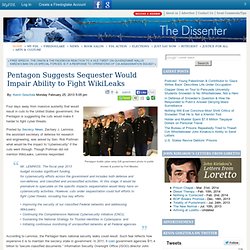 Posted by Secrecy News, Zachary J. Lemnios, the assistant secretary of defense for research and engineering, was asked by Sen. Rob Portman what would be the impact to "cybersecurity" if the cuts went through. Though Portman did not mention WikiLeaks, Lemnios responded: Over 1,000 days without a trial: Bradley Manning, WikiLeaks, and the culture of secrecy. 9inShare Jump To Close You could be forgiven if you've forgotten Bradley Manning.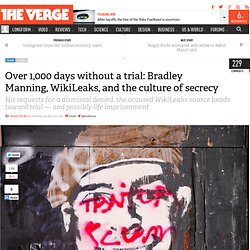 Even before his arrest in May 2010, the 25-year-old Army intelligence analyst could go unnoticed.
Bradley Manning
Confidential Wikileaks Cable (US Embassy in Nicosia) on Russian Money in Cyprus. Curiously, the imposition of a tax on money deposited in Cyprus banks will hurt many Russian tax evaders, as the Wikileaks released cable below highlights, the amount of money placed in Cyprus by Russians attempting to evade Russian taxes is significant relative to the overall Cyprus banking system.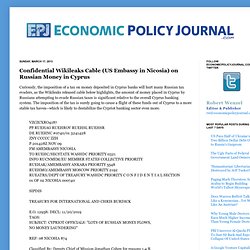 The imposition of the tax is surely going to cause a flight of these funds out of Cyprus to a more stable tax haven--which is likely to destabilize the Cypriot banking sector even more. PFC Bradley Manning WikiLeaks Court Recording  On the Tenth Anniversary of the US Invasion of Iraq: When WikiLeaks Exposed the 'War Logs' Share In this special posting, marking the tenth anniversary of the launch of the criminal Iraq war, here is an excerpt from my book, The Age of WikiLeaks, covering the release of the "Iraq War Logs" more than two years ago and the reaction.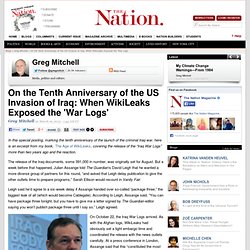 The release of the Iraq documents, some 391,000 in number, was originally set for August. But a week before that happened, Julian Assange told The Guardian's David Leigh that he wanted a more diverse group of partners for this round, "and asked that Leigh delay publication to give the other outlets time to prepare programs," Sarah Ellison would recount in Vanity Fair. Leigh said he'd agree to a six-week delay if Assange handed over so-called "package three," the biggest leak of all (which would become Cablegate). According to Leigh, Assange said, "You can have package three tonight, but you have to give me a letter signed by The Guardian editor saying you won't publish package three until I say so." Sundance 2013 WIKILEAKS Communique. Film Music Magazine's Bureau Chief, Michael Rogers and videocolumnist Leslie Harlow had the honor of interviewing Sundance 2012 Documentary Premiere feature, WE STEAL SECRETS: THE STORY OF WIKILEAKS' composer, Will Bates (composer of 2012 Sundance Alfred P.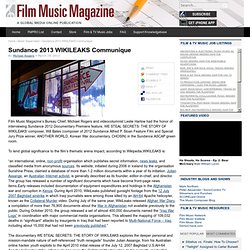 Sloan Feature Film and Special Jury Prize winner, ANOTHER WORLD, Korean War documentary, CHOSIN) in the Sundance ASCAP green room. To lend global significance to the film's thematic arena impact, according to Wikipedia,WIKILEAKS is: The documentary WE STEAL SECRETS: THE STORY OF WIKILEAKS explores the deeper personal and mission-mandate nature of self-referenced "truth renegade" founder Julian Assange, from his Australian online hacker youth exploits to the April 2010 initial release of the July 12, 2007 Baghdad U.S.AH-64 Apache helicopter strike, infamously known as the Collateral Murder video, to his currently residential realities.
The ingratiatingly at-ease Mr. Watch the Official Trailer for the WikiLeaks Movie "We Steal Secrets" 'We Steal Secrets: The Story of WikiLeaks' Trailer: Truth and Secrets. Information may be the most valuable commodity on Earth, especially when it pertains to the inner workings and policies of major governments.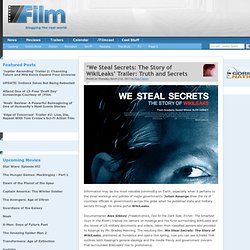 Julian Assange drew the ire of countless officials in governments across the globe when he published state and military secrets through his online portal WikiLeaks. Documentarian Alex Gibney (Freakonomics, Taxi to the Dark Side, Enron: The Smartest Guys in the Room) trained his camera on Assange and the furor surrounding WikiLeaks and the reveal of US military documents and videos, taken from classified servers and provided to Assange by Pfc. Marjorie Cohn: The Uncommon Courage of Bradley Manning. The Uncommon Courage of Bradley Manning Posted on Mar 1, 2013 By Marjorie Cohn This piece originally ran on The Huffington Post.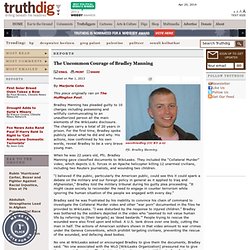 Bradley Manning has pleaded guilty to 10 charges including possessing and willfully communicating to an unauthorized person all the main elements of the WikiLeaks disclosure. The charges carry a total of 20 years in prison. Manning makes his plea for role in WikiLeaks documents | News | DW.DE | 28.02.2013. Manning entered his pleas on Thursday, ahead of his June 3 court martial for the biggest leak of government secrets in US history. Though he pleaded not guilty to aiding the enemy, Manning did cop to a series of 10 lesser charges related to misusing classified information. The documents he released to WikiLeaks, Manning said, "represent the underground realities of the conflicts of Iraq and Afghanistan.
" Manning, a private working in Army intelligence, was arrested in May 2010 while serving in Iraq and charged with downloading thousands of documents, diplomatic cables and combat videos and forwarding them to WikiLeaks. The website began exposing the government secrets that same year, outraging US officials. Manning admits leaking confidential US information to Wikileaks. US soldier Bradley Manning has admitted being the source of classified material provided to the Wikileaks website. In front of a military court, US army private Manning, 25, pleaded guilty to 10 out of 22 charges, saying he leaked the documents because he thought Americans had a right to know "the true cost of war". Accused of the biggest leak of state secrets in US history, Manning was arrested in May 2010 for sending Wikileaks thousands of intelligence documents, diplomatic cables and combat videos.
Manning faces a maximum of 20 years in prison for the offences he admitted – but will receive time off due to harsh treatment he suffered at Quantico Marine Base in Virginia where he has been held for over 1,000 days. For some of his imprisonment, Manning was in solitary confinement for up to 23 hours a day. Manning pleaded not guilty to 12 charges, including the most serious one of aiding the enemy, which could lead to a life sentence. Bradley Manning Admits Providing Files to WikiLeaks. Bradley Manning to admit partial guilt in WikiLeaks case. Army Pvt. Bradley Manning admitted in a court filing Tuesday to leaking at least some of the classified US military and State Department documents that made Julian Assange's Wikileaks a controversial sensation three years ago, in an apparent bid to get an opportunity to explain his motives.
Skip to next paragraph Dan Murphy Staff writer. Wikileaks Continues to Battle DDoS Attack. UPDATE: Wikileaks reported Monday evening that it was back online after a week-long DDoS attack. Whistleblowing organization Wikileaks says it continues to suffer a distributed denial-of-service (DDoS) attack. The organization first reported the attack, which has expanded to include affiliated sites, on Aug. 3. Why is America so afraid? - War Room.
This originally appeared at MondoWeiss I'm as thrilled as anyone by what I see in the Cairo streets, but when I turn on American television I see only grim faces. Robert Gibbs looked frightened during his delayed press briefing yesterday afternoon; he didn't know what to say. Obama's comments last night were equivocal and opaque: I'm with Mubarak, for now. This is his 9/11 — the day Arabs blindsided a president. How Twitter engineers outwitted Mubarak in one weekend | Technology | The Observer. BofA denies connection to proactive tactics to silence WikiLeaks. The leaked campaign to attack WikiLeaks and its supporters - Glenn Greenwald.
Revolution
The US embassy cables | World news. WikiLeaks US embassy cables: live updates | News. WikiLeaks | Media.
---