Empathie Compassion Altruisme
35 Stunning Moments When Humans Chose Compassion Over Violence. Despite our differences, we're all human beings.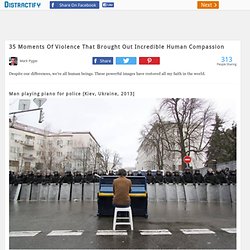 These powerful images have restored all my faith in the world. reddit.com Earlier this December, Ukrainians participated in their largest popular protest since 2004. The 2013 protests were shrouded with violence from both sides, including 200 protesters who commandeered a digger and attacked the presidential palace. The protests and riots followed the Government's decision to side with Russia rather than the European Union.
English. Vidéo. Animaux. Mesure de l'empathie. Nick Vujicic. RIFKIN - Empathy. Zach Sobiech. Marc VELLA. Empathy / Compassion /Altruism.
---