Plateformes codes Ressources
Tout ce qui est elié aux codes, aux hacking et aux plateformes utilisées .. (kinect..wiimote.. AR ...etc)
The Micro : une imprimante 3D fait un énorme carton sur Kickstarter. Ils ne demandaient qu'à recevoir 50 000 dollars en un mois pour passer à la production.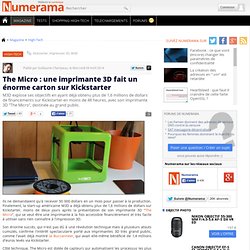 Finalement, la start-up américaine M3D a déjà obtenu plus de 1,6 millions de dollars sur Kickstarter, moins de deux jours après la présentation de son imprimante 3D "The Micro", qui se veut être une imprimante à la fois accessible financièrement et très facile à utiliser sans rien connaître à l'impression 3D. Son énorme succès, qui n'est pas dû à une révolution technique mais à plusieurs atouts cumulés, confirme l'intérêt spectaculaire porté aux imprimantes 3D très grand public, comme l'avait déjà montré la Buccanneer, qui avait elle-même bénéficié de 1,4 millions d'euros levés via Kickstarter. 100kGarages - Where projects are made by digital fabricators (fabbers) working with 2-D or 3-D digital fabrication tools.
Mobile OS _ android _ linux ...
OSs win linux ... Google Developers. App Engine. Libjingle Developer Guide - Google Talk for Developers. The libjingle SDK consists of C++ source code and documentation that enable you to design applications that connect and exchange data across a network (peer to peer data connections).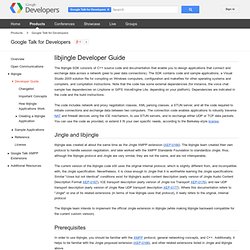 The SDK contains code and sample applications, a Visual Studio 2005 solution file for compiling on Windows computers, configuration and makefiles for other operating systems and compilers, and compilation instructions. Note that the code has some external dependencies (for instance, the voice chat sample has dependencies on Linphone or GIPS VoiceEngine Lite, depending on your platform).
Dependencies are indicated in the code and the build instructions. The code includes network and proxy negotiation classes, XML parsing classes, a STUN server, and all the code required to initiate connections and exchange data between two computers. Hackers.
Plateformes vision - outils (ex: proce55ing) AeroQuad - The Open Source Quadcopter. Kanban organizers projects web2 tools .. Fractals_softwares. Copyheart, un amour de licence libre.
Le Copyheart créé par Nina Paley véhicule un message : copier est un acte d'amour.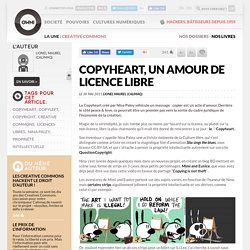 Derrière le côté peace & love, ce pourrait être un premier pas vers la sortie du cadre juridique de l'économie de la création. Magie de la sérendipité, je suis tombé plus ou moins par hasard sur la licence, ou plutôt sur la non-licence, libre la plus charmante qu'il m'ait été donné de rencontrer à ce jour : le ♡Copyheart. Son inventeur s'appelle Nina Paley, une activiste éminente de la Culture libre, qui s'est distinguée comme artiste en créant le magnifique film d'animation Sita sings the blues, sous licence CC-BY-SA, et qui s'attache à penser la propriété intellectuelle autrement sur son site QuestionCopyright. LeCollagiste VJ. La Ferme du web - Le net, ça se cultive ! Graphic GFX Sources More Than You Need!
---