Photography
Jynnbaby. Wrist Tattoos | Tattoo Designs. Chialynn. Mozilla Firefox-startpagina. Design. Guns. Have Gun, Will Travel. Video Game Development. Games. Killing time looking at funny pictures. Women's Apparel. Women. Women. Women. Random Sites. Funny. Chialynn. Japan - Vast Devastation.
The vast devastation wrought by the earthquake and resulting tsunami that hit Japan on March 11, 2011, may only be matched by the destroyed lives left in their wake.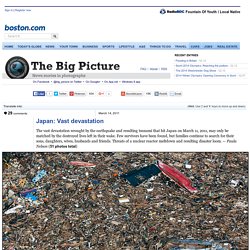 Few survivors have been found, but families continue to search for their sons, daughters, wives, husbands and friends. Threats of a nuclear reactor meltdown and resulting disaster loom. -- Paula Nelson (51 photos total) The rubble caused by an earthquake and tsunami fill the landscape in Yamada, Iwate Prefecture, Japan, Monday, March 14, 2011, three days after northeastern coastal towns were devastated by an earthquake and tsunami. (Associated Press/Kyodo News) Vulnerable by iavor. Animals_flowers (2).jpg (400×565) Celebration by ibrahim canakci. Rays of Storr by Gary Howells. TAT.TATTED UP <3 =) BACK TO THE FUTURE : Irina Werning - Photographer. I love old photos.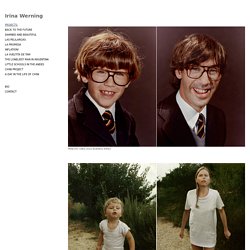 I admit being a nosey photographer. As soon as I step into someone else's house, I start sniffing for them. Most of us are fascinated by their retro look but to me, it's imagining how people would feel and look like if they were to reenact them today… Two years ago, I decided to actually do this. So, with my camera, I started inviting people to go back to their future.. Now its time for KOREA, TAIWAN AND TOKYO. v22_0RTXV9FO.jpg (991×618) 4 (800×533) z6ai02v2.jpg (1024×768) 75892671.jpg (777×537)
36 Pictures That Look Photoshopped – But Are Not. The power of Photoshop is amazing, but still it doesn't beat the power of imagination.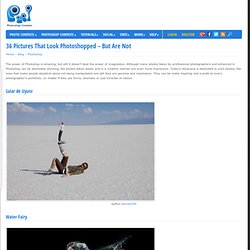 Although many photos taken by professional photographers and enhanced in Photoshop can be absolutely stunning, the photos taken wisely and in a creative manner are even more impressive. Today's showcase is dedicated to such photos, the ones that make people skeptical about not being manipulated and still they are genuine and impressive. 6a0120a721c2d7970b0133ed1604eb970b-pi (450×1500) Www.burnmonkey.com/burning_man_best/content/IMG_8031_large.html.
Www.burnmonkey.com/burning_man_best/content/IMG_3006_large.html. Joseph Cartright Photography. If Fire Was Made Of Water... [PICTURES] - Boredstop.com. Artistic-Photography-6.jpeg (1024×840) Aystein-Lunde-Ingvaldsen2.jpg (1024×682) Amazing Water Taps. 10 Best Ad Campaigns "Life's too short for the wrong job" Gone Away by MateuszMarek. Krakatau_fulle_big.jpg (1000×650) 2007 February 5 - Comet Between Fireworks and Lightning. Discover the cosmos!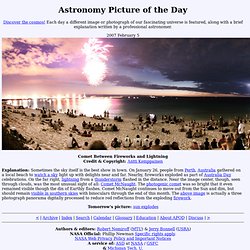 Each day a different image or photograph of our fascinating universe is featured, along with a brief explanation written by a professional astronomer. 2007 February 5 Comet Between Fireworks and Lightning Credit & Copyright: Antti Kemppainen Explanation: Sometimes the sky itself is the best show in town. Sts30nightlaunch_nasa.jpg (900×600) Impossible-places01.jpg (630×626) Timeofus-3.jpg (813×497) We__re_All_Mad_Here_by_Mesmeretics.png (1024×1453) CGPortfolio - I-CHEN LIN. Hello everybody This diagram is the cover of the ghost story book This is a kind of method that calls soul with the Pencil The ghost will enclose and write out information inside the Pencil I want to display the terrific feeling in the picture So the usage is blue and the green color And let two girl students have different expression movement and feeling The girl of the right side doesn't want to play to want to leave But the girl of the left side want to continue to play… Sorry My English is poor… Hoping everyone will like Part Reference and Create process My.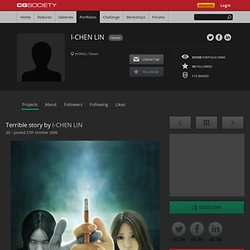 Eden I by `failingjune on deviantART. Tim Flach Photography | smashingpicture.com. All sizes | Ripples. Под пологом пьяного леса...#2 - Раздел макро. 4302006358_e18fbb8d89_b.jpg (1024×783) Landscapes, photos of landscapes, pictures - Waterfalls Havasu. Nature photography - pictures of animals, pictures of birds, pictures of butterflies, macro photography of insects, plant photos, pictures of mushrooms.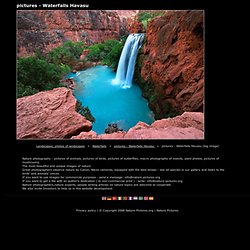 The most beautiful and unique images of nature. Great photographers observe nature by Canon, Nikon cameras, equipped with the best lenses - see all species in our gallery and listen to the birds' and animals' voices. If you want to use images for commercial purposes - send a message: info@nature-pictures.org If you want to get a file with an author's dedication ( to non-commercial print ) - write: info@nature-pictures.org Nature photographers,nature experts, people writing articles on nature topics are welcome to cooperate. We also invite Investors to help us in this website development. Awesome Illustrations by Ryan Mauskopf | smashingpicture.com.
We__re_All_Mad_Here_by_Mesmeretics.png (PNG Image, 1024x1453 pixels) - Scaled (52. DESKTOPOGRAPHY. Amazing,completely,mistakes,still-546b647cec1047e89815e163dd5be2b1_h.jpg (500×313) 29948_399875825811_644440811_4824606_7460329_n.jpg (604×453) 20051125-4530 Atlantis Interior.jpg (3008×2000) 4995792156_bbb23beb78_b.jpg (700×507) Horsetail Firefall. This Aurora Photo Is the Most Insane Ive Ever Seen.
25478_orig.jpg from we-find-wildness.com. Redhead Day 2010. Some people think that people with red hair aka Gingers don't have a soul and that is why the 18 year Youtube User Coppercap was mad, very mad.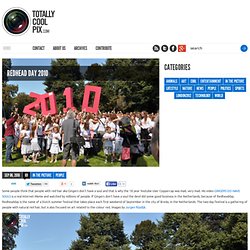 His video GINGERS DO HAVE SOULS is a real Internet Meme and watched by millions of people. If Gingers don't have a soul the devil did some good business in the Netherlands, because of Redheadday. Redheadday is the name of a Dutch summer festival that takes place each first weekend of September in the city of Breda, in the Netherlands. The two-day festival is a gathering of people with natural red hair, but is also focused on art related to the colour red. Images by Jurgen Rijsdijk. Women in Photography | The Nonsense Society. The following is an showcase of portrait photography featuring women.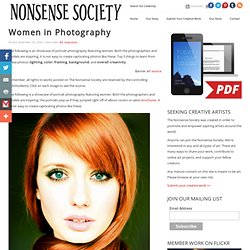 Both the photographers and models are inspiring. It is not easy to create captivating photos like these. Top 5 things to learn from these photos: lighting, color, framing, background, and overall creativity. Banner art source. Remember, all rights to works posted on The Nonsense Society are reserved by the controlling rightholder(s). 46b695a699577.jpg from llnwd.net. Baby Owls!: Pics, Videos, Links, News. 25 Stunning Infinity Pools Around the World. Visually stunning and always situated on a gorgeous backdrop, Infinity pools are surely the most beautiful man-made pools in existence.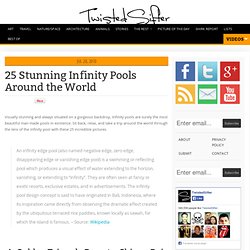 Sit back, relax, and take a trip around the world through the lens of the infinity pool with these 25 incredible pictures. An infinity edge pool (also named negative edge, zero edge, disappearing edge or vanishing edge pool) is a swimming or reflecting pool which produces a visual effect of water extending to the horizon, vanishing, or extending to "infinity".
They are often seen at fancy or exotic resorts, exclusive estates, and in advertisements. The infinity pool design concept is said to have originated in Bali, Indonesia, where its inspiration came directly from observing the dramatic effect created by the ubiquitous terraced rice paddies, known locally as sawah, for which the island is famous. – Source: Wikipedia. 50e8f523e8e30e0fda3bcb7baaeb668c_l.jpg from photohito.com. Magnificent examples of Macro photography | Pokkisam blog. Finest details which cannot be observed even through naked eyes can be captured with Macro photography.
They are mainly used to bring out the depth from the object or the place behind the lens. We see insects as a whole, we don't see the texture on their skin, the beautiful color of their eyes and many features of them, Macro view scrutinies all these features and projects back to us a different world of theirs in a detailed manner. Even a small dew drop on the leaves in the early morning speaks a lot about itself. How to - Macro Photography. 4 Dudes: Terry Alan Crews Shirtless.
Pradeep Gautam: Unbelievable Wonderful and amazing pictures you never seen before. Magic. On Black: "I just told you my dreams and you &#
14 Incredible Wood Sculptures Randall Rosenthal | OddMods - Furniture Mods, Interior Design, Architecture, and Design Inspiration. Amazing Sight in the South Pacific | Ash, Ocean, Island, Imagine, Being. Fascinating Underground Homes. Its a Mouse... Its a Deer... Its a Mouse Deer!
---