Digital Camera Reviews
WVIL unbelievable new camera at CES 2011. Camera Labs: Digital Camera, DSLR, and Lens Reviews. Recommended. Camera tech news. Camera Resource Page: Welcome. Camera image find Flickr. Digital Cameras: Digital Photography Review, News, Reviews, Forums, FAQ. Reviews | Photography - PopPhoto.com Offers Camera Reviews and Exclusive Photo Tips. For decades now, Popular Photography has tested cameras and lenses so that you can make a more informed decision about the equipment you use to capture images.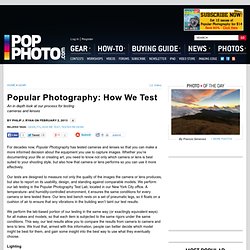 Whether you're documenting your life or creating art, you need to know not only which camera or lens is best suited to your shooting style, but also how that camera or lens performs so you can use it more effectively. Our tests are designed to measure not only the quality of the images the camera or lens produces, but also to report on its usability, design, and standing against comparable models. We perform our lab testing in the Popular Photography Test Lab, located in our New York City office.
A temperature- and humidity-controlled environment, it ensures the same conditions for every camera or lens tested there. Our lens test bench rests on a set of pneumatic legs, so it floats on a cushion of air to ensure that any vibrations in the building won't taint our test results. Dig Camera Image Comparison Page. Digital Camera Reviews - The Imaging Resource!
---