Photo
Pedrocampos. L'Image Rit ! Henri Cartier-Bresson. PIERRE DUMONT. Sarah moon, éléments de style. Par Henri Peyre © Sarah Moon Sarah Moon utilise le film Polaroid et la chambre photographique.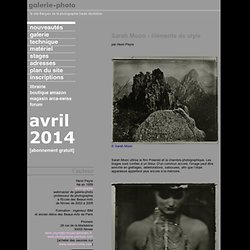 Les tirages sont confiés à un tireur. T. S. Abe. Fashion photography. Edouard Boubat. PROMENADE... Photos. G A L L E R Y. Lynn Davis Photography.
Photographes en Egypte au XIXe siècle. Miles Aldridge. NEON O'CLOCK WORKS - AVANT GARDE ARTISTS. Bill Burke. Home - World Press Photo. The Photographers of Magnum Photos. Olivier Martel. Lizzie SADIN. Olivier Föllmi. Wild wonders. Arrêt Sur le Monde. REZA - Destins croisés. Christopher Boffoli Photography. Atelier Robert Doisneau. Les 10 plus grands photographes du siècle : le grand classement des passionnés de photo ! Yann Arthus-Bertrand Photographe de talent et militant écologiste engagé, Yann Arthus-Bertrand a également un passé moins connu d'acteur de cinéma (« Dis-moi qui tuer », « OSS 117 prend des vacances »...), et de journaliste.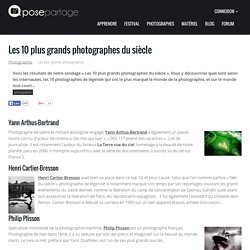 Il est notamment l'auteur du fameux La Terre vue du ciel, hommage à la beauté de notre planète paru en 2006. Il triomphe aujourd'hui avec la série de documentaires à succès Vu du ciel sur France 2. Henri Cartier-Bresson Henri Cartier-Bresson avait bien sa place dans ce top 10, et pour cause. MARC RIBOUD. MARC RIBOUD. YANN ARTHUS-BERTRAND. YannArthusBertrand.
---