Photo Effects
Thoppp.com. Photo Effects. Film Inspired Photo Borders In this Photo Effects tutorial I'll show you how to extract a photo border from it's background and make it infinitely more versatile for your photography projects.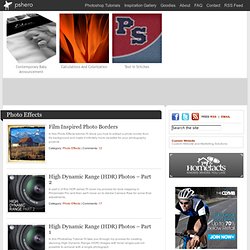 High Dynamic Range (HDR) Photos – Part 1 In this Photoshop Tutorial I'll take you through my process for creating stunning High Dynamic Range (HDR) Images with tonal ranges just not possible to achieve with a single photograph. Photoshop Photo Effects Tutorials. Photo Effects | 1stwebdesigner - Graphic and Web Design Blog. It may seem unimportant, but for a web designer, the ability to produce good-looking photos using Adobe Lightroom is an edge, particularly in attracting more clients.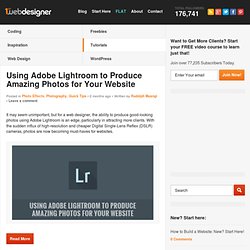 With the sudden influx of high-resolution and cheaper Digital Single-Lens Reflex (DSLR) cameras, photos are now becoming must-haves for websites. Read More Photoshop is revered as one of the best digital multimedia solutions software. So there is no question on what you need to know about Photoshop layers because there is always something to be learnt about this amazing software. It basically encompasses every design need there is. 11 Great Photoshop Photo Effects Tutorials | Design Shard. Photoshop Effects. Try some of our tutorials for Photoshop Effects.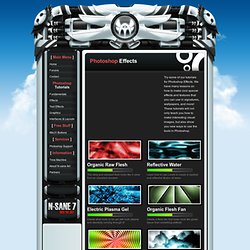 We have many lessons on how to make cool special effects and textures that you can use in signatures, wallpapers, and more! These tutorials will not only teach you how to make interesting visual images, but also show you new ways to use the tools in Photoshop. Organic Raw Flesh. Create A Simple Retro Photo Manipulation Using Photoshop. Published on Mon, Apr-04-2011 by Michaellee In this tutorial I will teach you how to create a simple retro Photo manipulation using Photoshop.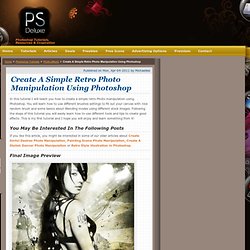 You will learn how to use different brushes settings to fill out your canvas with nice random brush and some basics about Blending modes using different stock images. Tutorials. Creating a Vector Composite Effect from a Photo. This tutorial will demonstrate how to take an image, in this case a woman's face, and give the appearance that it is entirely composed of vector shapes.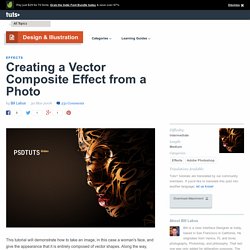 Along the way, we'll use some fairly basic techniques, including clipping masks and displacement maps, to achieve a unique effect! Step 1 To begin, create a new document of pretty much whatever size you'd like. I personally prefer a wider look for this effect, but any size should work. You should, however, probably stick to a landscape aspect ratio, at least for following this tutorial. 50 Imaginative Fantasy Art Tutorials for Photoshop. Natural imagination is the key to creating Fantasy art.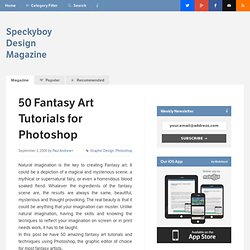 It could be a depiction of a magical and mysterious scene, a mythical or supernatural fairy, or even a horrendous blood soaked fiend. Whatever the ingredients of the fantasy scene are, the results are always the same, beautiful, mysterious and thought provoking. The real beauty is that it could be anything that your imagination can muster. 25 Cool Photoshop Photo Effects Tutorials. Published on Mon, Aug-10-2009 by Dainis With Photoshop Photo effects you can modify your usual image to professional and interesting photo artwork.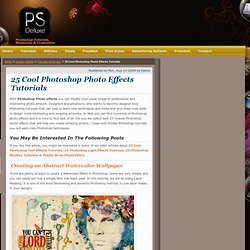 Designers and amateurs, who wants to become designer love Photoshop tutorials that can help to learn new techniques and tricks and give them new skills to design more interesting and amazing artworks. In Web you can find hundreds of Photoshop photo effects and it is hard to find best of all. For you we collect best 25 newest Photoshop photo effects that will help you create amazing photos. I hope with theses Photoshop tutorials you will learn new Photoshop techniques. Tutorials | Creative Nerds - Part 3. 70 Of The Best Photoshop Actions For Enhancing Photos. The compilation consist of 70 of the best Photoshop actions collected from all around the web from photo effects to actions for even creating photo borders, An essential design resource for all designers weather your an expert or an beginner.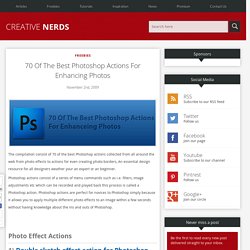 Photoshop actions consist of a series of menu commands such as i.e. filters, image adjustments etc which can be recorded and played back this process is called a Photoshop action. Photoshop actions are perfect for novices to Photoshop simply because it allows you to apply multiple different photo effects to an image within a few seconds without having knowledge about the ins and outs of Photoshop. Photo Effect Actions. Photo Effect. 100 Photoshop Tutorials For Learning Photo Manipulation. A large collection of only the best top quality 100 design tutorials which will teach you how to use Photoshop in order to manipulate photography, this large reference point showcases every aspect which is essential for creating good photo manipulation with each tutorial having an awesome outcome.
In this tutorial, you are going to learn how to use shapes and other objects to create a unique fashion poster scene. Utilizing Adobe Photoshop shapes is an awesome means for improving your designs and they can easily be used without spending too much time on them. The results of using shapes can be completely different every time depending on various factors such as what shapes you use, how many you use, and how you apply them to your work.
In this tutorial, you'll manipulate a photo with abstract elements to make it more interesting and active. Turn Photos of People into Line Art -Photoshop Tutorial. Tutorial Links: Page 1 | Page 2 Line Art Tutorial Recommended for Intermediate Level Photoshop Users First up I'd like to ease your mind and let you know that you don't need to know how to draw to complete this tutorial.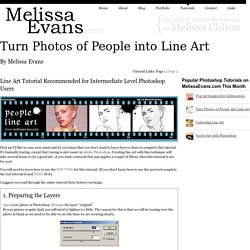 It's basically tracing, except that tracing is alot easier in Adobe Photoshop. Best Photoshop Tutorials and Tips Sites :: Best Sites List. List of Photoshop Tutorial / Tip / Lecture sites. You can use in Photoshop 4.0,7.0 ~ CS,CS2,CS3. This article is 8th one of Best Sites List Series1. Best Dual Monitor Wallpapers Sites List2. Best Wallpapers Sites List3. Best XP,Vista Icon Download Sites List4. Photoshop Effects.
---