Philosophy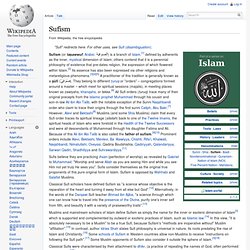 Sufism
Sufism or taṣawwuf ( Arabic : تصوّف ‎) is defined by its adherents as the inner, mystical dimension of Islam . [ 1 ] [ 2 ] [ 3 ] A practitioner of this tradition is generally known as a ṣūfī ( صُوفِيّ ). They belong to different ṭuruq or "orders"—congregations formed around a master—which meet for spiritual sessions (majalis), in meeting places known as zawiyahs, Khanqahs , or tekke. [ 4 ] Sufi turuq /orders may be either Sunnī , Shī'ī , or mixed in doctrine, [ 5 ] and may trace many of their original precepts from the Islamic Prophet Muhammad through his cousin and son-in-law 'Alī , with the notable exception of the Naqshbandi who trace their origins through the first Caliph , Abu Bakr . [ 6 ] Prominent orders include Ba 'Alawiyya , Chishti , Khalwati , Naqshbandi , Nimatullahi , Oveyssi, Qadiria Boutshishia, Qadiriyyah , Qalandariyya , Sarwari Qadiri , Shadhliyya and Suhrawardiyya . [ 7 ]
philosophyfaculty.ucsd.edu/faculty/rarneson/smarttheory2.pdf
The life and works of Alan Watts
Integration isn't Everything
We're told the spiritual path is all about integration. Without integrating spiritual insights into our daily lives, even the greatest of peak experiences is just a form of getting high, a narcissistic thrill that's enjoyable, potentially powerful, but ultimately valueless without an integration into daily life, relationship, social justice, and the world. True spirituality, and certainly Jewish spirituality, is not about retreating onto mountaintops, we say; it's about being in the world, and that means integrating the greatest of insights into "real life." Having spent the better part of a decade devoted to spiritual and inner work, I'd like to argue against this pervasive and seemingly indubitable proposition.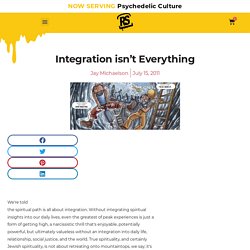 scan0001.jpg picture by MagneticNorth03 - Photobucket
The Blog : You Do Not Choose What You Choose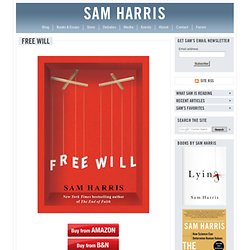 From the Free Press: A belief in free will touches nearly everything that human beings value. It is difficult to think about law, politics, religion, public policy, intimate relationships, morality—as well as feelings of remorse or personal achievement—without first imagining that every person is the true source of his or her thoughts and actions. And yet the facts tell us that free will is an illusion. In this enlightening book, Sam Harris argues that this truth about the human mind does not undermine morality or diminish the importance of social and political freedom, but it can and should change the way we think about some of the most important questions in life.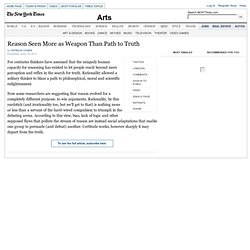 Now some researchers are suggesting that reason evolved for a completely different purpose: to win arguments. Rationality, by this yardstick (and irrationality too, but we'll get to that) is nothing more or less than a servant of the hard-wired compulsion to triumph in the debating arena. According to this view, bias, lack of logic and other supposed flaws that pollute the stream of reason are instead social adaptations that enable one group to persuade (and defeat) another. Certitude works, however sharply it may depart from the truth. The idea, labeled the argumentative theory of reasoning, is the brainchild of French cognitive social scientists, and it has stirred excited discussion (and appalled dissent) among philosophers, political scientists, educators and psychologists, some of whom say it offers profound insight into the way people think and behave.
People Argue Just to Win, Scholars Assert
Do You Believe In Free Will? Maybe You Should, Even If You Don't | Artful Choice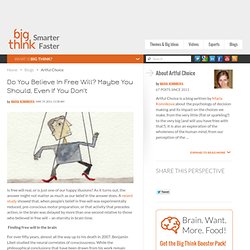 Is free will real, or is just one of our happy illusions? As it turns out, the answer might not matter as much as our belief in the answer does. A recent study showed that, when people's belief in free will was experimentally reduced, pre-conscious motor preparation, or that activity that precedes action, in the brain was delayed by more than one second relative to those who believed in free will – an eternity in brain time. Finding free will in the brain For over fifty years, almost all the way up to his death in 2007, Benjamin Libet studied the neural correlates of consciousness.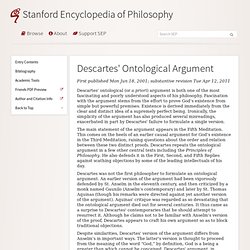 Descartes Ontological Argument (Stanford Encyclopedia of Philosophy)
First published Mon Jun 18, 2001; substantive revision Tue Apr 12, 2011 Descartes' ontological (or a priori ) argument is both one of the most fascinating and poorly understood aspects of his philosophy. Fascination with the argument stems from the effort to prove God's existence from simple but powerful premises. Existence is derived immediately from the clear and distinct idea of a supremely perfect being. Ironically, the simplicity of the argument has also produced several misreadings, exacerbated in part by Descartes' failure to formulate a single version.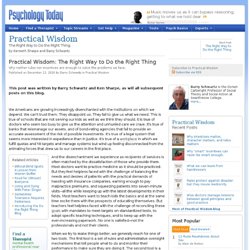 We Americans are growing increasingly disenchanted with the institutions on which we depend. We can't trust them. They disappoint us. They fail to give us what we need. This is true of schools that are not serving our kids as well as we think they should. It is true of doctors who seem too busy to give us the attention and unhurried care we crave.
Practical Wisdom: The Right Way to Do the Right Thing
Suppose it were known, by someone else, what you are going to choose to do tomorrow. Wouldn't that entail that tomorrow you must do what it was known in advance that you would do? In spite of your deliberating and planning, in the end, all is futile: you must choose exactly as it was earlier known that you would. The supposed exercise of your free will is ultimately an illusion. Historically, the tension between foreknowledge and the exercise of free will was addressed in a religious context. According to orthodox views in the West, God was claimed to be omniscient (and hence in possession of perfect foreknowledge) and yet God was supposed to have given humankind free will.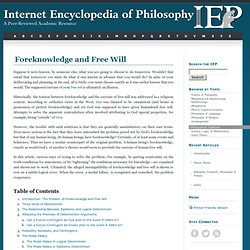 Foreknowledge and Free Will 
I met god the other day. I know what you're thinking. How the hell did you know it was god? Well, I'll explain as we go along, but basically he convinced me by having all, and I do mean ALL, the answers. Every question I flung at him he batted back with a plausible and satisfactory answer.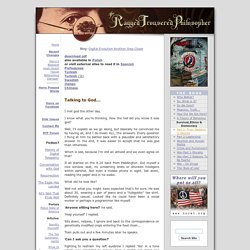 Ragged Trousered Philosopher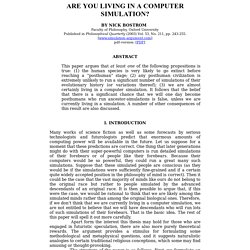 Are You Living in a Computer Simulation?
Many works of science fiction as well as some forecasts by serious technologists and futurologists predict that enormous amounts of computing power will be available in the future. Let us suppose for a moment that these predictions are correct. One thing that later generations might do with their super-powerful computers is run detailed simulations of their forebears or of people like their forebears. Because their computers would be so powerful, they could run a great many such simulations. Suppose that these simulated people are conscious (as they would be if the simulations were sufficiently fine-grained and if a certain quite widely accepted position in the philosophy of mind is correct). Then it could be the case that the vast majority of minds like ours do not belong to the original race but rather to people simulated by the advanced descendants of an original race.
Makes Me Think - MMT - Today's Thought-Provoking Life Stories
Videos/Forums/Debates/Lectures
by Isaac Asimov I received a letter from a reader the other day. It was handwritten in crabbed penmanship so that it was very difficult to read. Nevertheless, I tried to make it out just in case it might prove to be important.
The Relativity of Wrong by Isaac Asimov