Personal Learning Networks
Personal Learning Networks consist of the people a learner interacts with and derives knowledge from in a Personal Learning Environment. An important part of this concept is the theory of connectivism developed by George Siemens and Stephen Downes.This PearlTree contains information you need to know to develop your own Personal Learning Network. converge Nov 15
A Screencast and tutorial on Navigating this site is available here and on the Video Pagehttp://edupln.ning.com/video/a-screencast-on-how-to-1 Please feel free to make suggestions for improvement of this site. Profile PictureTo add a picture to your profile simply use any picture you have filed. If you need one, take a cellphone shot of yourself and email it to your own email account.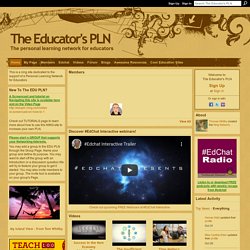 Handbook of Technological Pedagogical Content Knowledge
Integrating Technology in the Classroom Handbook ofTechnological Pedagogical Content Knowledge (TPaCK)for EducatorsEdited by the AACTE.Committee on Innovation and Technology Notes by Nada Salem Abisamra This page is intended to just give you an idea about some of the content of the innovative TPCK Handbookwhich is a WONDERFUL resource for any teacher or educational institution interested inintegrating technology in the classroom, in teaching for the future....My gratitude goes to Dr. Natalie Milman and Dr. Brian Casemore for giving me the opportunity to get acquainted with it.My notes are ... just notes I took while reading the handbook.So, they are not linear... they are not exhaustive... they highly reflect my personal interests and needs.N.S.A.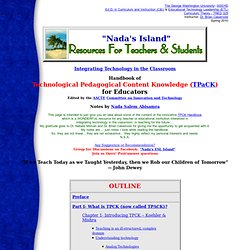 Building Your Personal Learning Network, Part 2
Grow Your Personal Learning Network
Personal Learning Network
Corporate Learning Strategies Daniel R. Tobin, Ph.D. Building Your Personal Learning Network Copyright ©1998 Daniel R. Tobin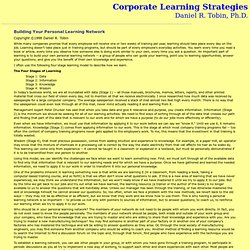 Building a Personal Learning Network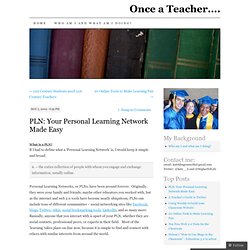 What is a PLN? If I had to define what a 'Personal Learning Network' is, I would keep it simple and broad: n. – the entire collection of people with whom you engage and exchange information, usually online. Personal Learning Networks, or PLNs, have been around forever.
Warlick's CoLearners
Many PLN Paths
Building your Personal Learning Network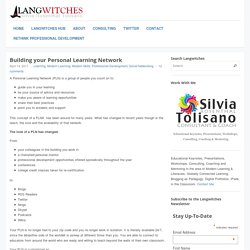 A Personal Learning Network (PLN) is a group of people you count on to: guide you in your learning be your source of advice and resources make you aware of learning opportunities share their best practices point you to answers and support This concept of a PLNÂ has been around for many years. What has changed in recent years though is the reach, the size and the availability of that network. The look of a PLN has changed.