Peinture - Painting
Peinture à l'huile - Oil painting
dessins et plaisirs
Palette de Sandy Taillan - peinture à l'huile
Gallica - Peinture à l'huile
Christina Grace Mastrangelo WHO: Christina Grace Mastrangelo WHAT: 10-Day Still-Life Painting Workshop WHERE: Wethersfield Academy for the Arts, Wethersfield, CT WHEN: March 18-22 and 24-28, 2014
Workshop : Tony Ryder, Part 1
When examining the tonal plan of my reference - whether it is a photograph or a live model - I frequently forget that what I am looking at is not an absolute whose values I must match exactly in my painting, but rather a guide for plotting value relationships. Too often, I have been a slave to my reference, when I should have intelligently manipulated the values I was observing in order to make a better picture. In his book, Creative Illustration, Andrew Loomis explains that there are specific relationships between the areas of shadow and light in a subject which are dependent upon the intensity of the illumination source.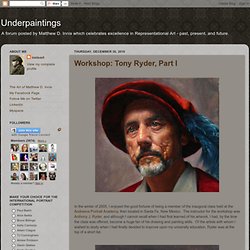 Un entretien vidéo avec le peintre Alex Katz par Melissa Unger et Gina Kehayoff La Galerie Thaddaeus Ropac présente une exposition d'œuvres récentes de l'artiste Alex Katz sur le thème de la danse : Face The Music. Alex Katz est né en 1927 à New York. Il commence à se faire connaître comme peintre dans les années 1950 et séduira d'emblée le futur « King of Pop » Andy Warhol pour ses portraits débarrassés de superflus picturaux psychologisants.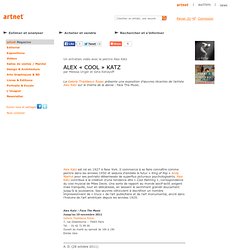 Alex Katz en entretien vidéo
Artistes - artists website
by Donato Why do I teach? This question is raised often as I perform many roles as a teacher; as an adjunct professor at the School of Visual Arts in New York City; as an illustrator in the Illustration Master Class; sharing online with professionals in the SmArt School; hosting various workshops around the country; providing professional lectures at conventions; and now a guest professor this Spring at my alma mater Syracuse University.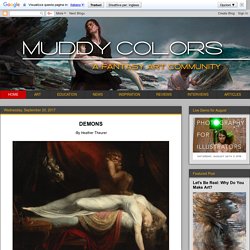 "Jacek Yerka was born in Toruń, Poland, in 1952 - where he later studied fine art and graphic design. According to Yerka, he was pressured by his university instructors to eschew detail and realism in favor of the fashion of the times - but did not relent, adhering to the meticulous classic Flemish technique that still typifies his work. In time they came to see him as a brilliant - though troubled - talent. Yerka graduated from the Faculty of Fine Arts at Nicolaus Copernicus University in Toruń, specializing in printmaking. He began working full time as an artist in 1980." via wiki, best bookmarks
Surreal Paintings by Jacek Yerka (10 total)