Outils de design pédagogique
Online e-Learning software for authoring >> easygenerator. Outils 2.0 pour creer un site web pedagogique. Enfin ! une plateforme de perfectionnement à distance et d'accompagnement offert « sans frais » aux organismes. C'est avec grand plaisir que la Maison des entrepreneurs du Québec annonce que sa plateforme de perfectionnement, d'accompagnement et de formation à distance est offerte sans frais à tous les organismes du Québec (associations, CLD, Universités, regroupement d'affaires, commissions scolaires, gouvernements).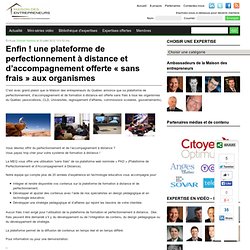 Vous désirez offrir du perfectionnement et de l'accompagnement à distance ? Vous payez trop cher pour votre système de formation à distance ! Mixed Grunge: Texture Pack. This free texture pack contains 7 unique mixed grunge textures that can be used in a variety of situations.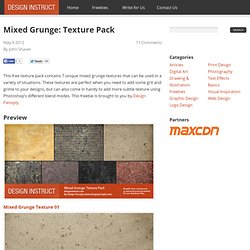 These textures are perfect when you need to add some grit and grime to your designs, but can also come in handy to add more subtle texture using Photoshop's different blend modes. This freebie is brought to you by Design Panoply. Preview Mixed Grunge Texture 01. iSpring Pro Authoring Tool Review. Sharebar One of the best kept secrets in our industry is the line of products made by iSpring.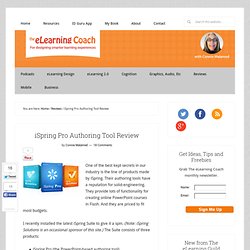 Their authoring tools have a reputation for solid-engineering. They provide lots of functionality for creating online PowerPoint courses in Flash. And they are priced to fit most budgets. I recently installed the latest iSpring Suite to give it a spin. Putting a Photeo Together (Part 2 of 5) by Stephen Haskin & Megan Torrance. "Generally the software you'll use falls into several categories, but there are a few programs that just can't be put into a category, so are a category of their own.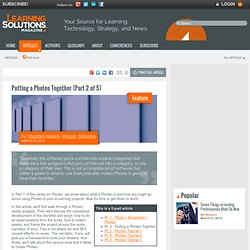 This is not a complete list of software, but rather a guide to what to use. Everyone who makes Photeo is going to have their favorites." In Part 1 of this series on Photeo, we wrote about what a Photeo is and how you might go about using Photeo in your eLearning projects. Now it's time to get down to work! In this article, we'll first walk through a Photeo needs analysis. Development Tips: A Little CSS by Mark Lassoff. "There are dozens and dozens of style rules that you can use that can control just about every possible variable in an element's appearance.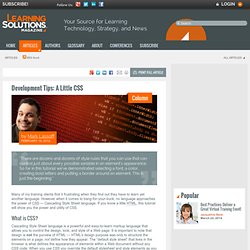 So far in this tutorial we've demonstrated selecting a font, a color, creating bold letters and putting a border around an element. This is just the beginning." Many of my training clients find it frustrating when they find out they have to learn yet another language. However when it comes to bang-for-your-buck, no language approaches the power of CSS — Cascading Style Sheet language. If you know a little HTML, this tutorial will show you the power and utility of CSS. Toolkit: News from the Tools Front by Joe Ganci. "New tools are coming at a rapid pace.
Plant your feet firmly on the ground, lift up your shield, and prepare for the onslaught. As each tool vendor marches forward with its two banners, Most Powerful and Easy to Use, the battle lines will be drawn." I have been spending so much time talking with eLearning development tool vendors lately that you would think I've become a bit obsessed.
You would not be far off the mark. Un guide sur les technologies et outils de formation en ligne. Les politiques de formation tout au long de la vie se déploient dans de nombreux pays.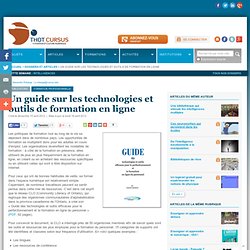 Les opportunités de formation se multiplient donc pour les adultes en cours d'emploi. Les organisations diversifient les modalités de formation : à côté de la formation en présence, elles utilisent de plus en plus fréquemment de la formation en ligne, en créant ou en achetant des ressources spécifiques ou en utilisant celles qui sont à libre disposition sur Internet.
Pour ceux qui ont de bonnes habitudes de veille, se former dans l'espace numérique est relativement simple. Cependant, de nombreux travailleurs peuvent se sentir perdus dans cette mer de ressources. Create m-Learning interactions for tablets, iPad, iPhone and smart-phones. With the increased use of smart phones and tablets in education, eLearning course developers are looking to effectively leverage mobile devices as new training mediums.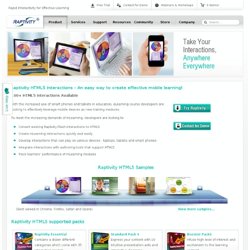 To meet the increasing demands of mLearning, developers are looking to Convert existing Raptivity Flash interactions to HTML5 Create mLearning interactions quickly and easily Develop interactions that can play on various devices - laptops, tablets and smart phones Integrate interactions with authoring tools that support HTML5 Track learners' performance of mLearning modules.
You Need to Know These Seven Tips If You Build Graphics for E-Learning. If you're building elearning courses, then you should expect to have a graphics editing program as part of your tool chest.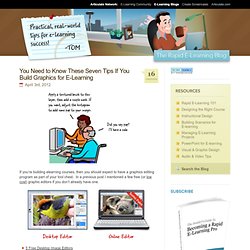 In a previous post I mentioned a few free (or low cost) graphic editors if you don't already have one. There's even a good discussion about graphics applications in the elearning community. Jump in and share a favorite of yours. There's a difference between having a graphics application and being a professional graphics artist. Many of us work alone and have to do our own graphics. Photos + Movement = Photeo (Part 1 of 3) by Stephen Haskin & Megan Torrance. "In eLearning, the idea is to create the opportunity for the learner to have an "ah-ha!"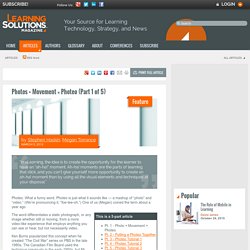 Moment. Ah-ha! Moments are the parts of learning that stick, and you can't give yourself more opportunity to create an ah-ha! Infographics & Data Visualizations. Advance Organisers. Isn't it nice to find out that something you have been doing all along has a jargon name? It's like M. Jourdain in Molière's Le Bourgeois Gentilhomme who was gratified to discover that he had been speaking prose all his life. Advance Organizers are like that: they are simply devices used in the introduction of a topic which enable learners to orient themselves to the topic, so that they can locate where any particular bit of input fits in and how it links with what they already know. (The name was coined by Ausubel.) Usages pédagogiques de Wordle. Les usagers du Web sont habitués à voir des nuages de mots clefs en ligne.
Cette forme graphique s'est développée avec des services collaboratifs tels que FlickR à travers l'indexation des images téléversées sur les sites de partage de photographies. Des générateurs de nuages de mots bien connus comme Wordle, Tagul ou encore Tagxedo, vont plus loin car ils permettent de créer des produits personnalisés à partir d'un corpus (extrait de texte), d'une URL ou d'un compte del.icio.us.
Utiliser Wordle en classe Les enseignants s'intéressent de plus en plus à ces générateurs. On constate un certain nombre d'applications pédagogiques qui vont du classique remue-méninges (brainstorming) à la réalisation d'affiches en passant par l'analyse "sémantique" d'un ou plusieurs textes (articles, discours). Outils auteurs VS enrichisseurs. CamStudio - Free Screen Recording Software. eLearning Art - training photos, training images, e-learning images, characters, and templates.
Storyboard avec un iPad. Cet après-midi, avec les étudiants du DMA Régie Lumière, j'ai testé l'application « Storyboards » pour iPad. C'est une application bien utile pour apprendre comment construire un story, et qui laisse 2 options à l'utilisateur : soit celui-ci sait dessiner et il effectue lui-même les croquis ; soit il ne sait pas dessiner et l'appli lui propose des personnages à placer dans un décor ! Quant aux décors eux-mêmes, il est possible de mettre une photo en arrière plan, qu'elle soit prise avec un iPad ou un appareil photo.. Learning HTML with Notepad. 10 Helpful Tips for Using PowerPoint for E-Learning. We all know that PowerPoint is an amazing tool in the world of E-Learning software. It allows us to connect directly with users, as well as share our message in a wholly unique and fully customizable way. But, as with any tool, there are good ways (and therefore not-so-good ways) to use it. So today, in hopes of helping you to solve the PowerPoint puzzle, I'd like to share a few tips that have worked for me along the way.
Nothing too fancy, just a great place to start when it comes to building presentations of your own! 1. 25 More Free Display Graphics for Your E-Learning Courses. In a previous post, I share 15 free display graphics that are commonly seen in elearning courses. In today's post, I'm adding a few more. The cool thing is that all of these are created in PowerPoint; so you can learn to build your own. The steps are simple. Development Tips: A Little CSS by Mark Lassoff. Is It Video Smackdown Time? Final Cut Pro X vs. The World by Stephen Haskin. Reverse Instruction Tools And Techniques (Part 2) – Screencasting. Blabberize.com - Got a picture? Blabberize it!
Story-boarding : 8 outils pour vos prototypes | Le blog du marketing interactif. Flash e-Learning Templates for eLearning course development. Gagner du temps avec un logiciel de gestion de projet. Royalty Free eLearning Media. TED: Ideas worth spreading. Stock Photo Sites. Google+ Hangouts: Six Practical Uses for Online Education by Jeremy Vest. Beginning Instructional Authoring: Selecting Self-Paced Authoring Tools (Part 2) by Patti Shank. eLearning Tools. E-Clippings (Learning As Art) Seven Top Authoring Tools by Joe Ganci. ZAKORITO, un LMS orienté certification. HTML5 Starter Pack includes 11 interactions which publishes the output in SWF as well as HTML5 formats. Free eLearning Templates | eLearning Templates.
Demo - easygenerator. Tools_Engagement_Making_Training_Conversation.pdf (Objet application/pdf) OUTILS DE GESTION DU TEMPS.
---